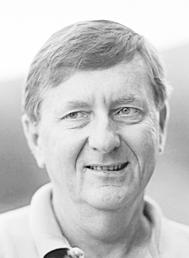 Christmas can't get here fast enough. We hypocritical slaves to marketing and materialism can finally put fake smiles on our faces and wish Peace on Earth and Goodwill to All to the opposite hate groups we've pounded the rest of the year.
Well, before smiling and uttering Merry Christmas or Happy Holidays across the metaphorical aisle, there's this; yes, they really are stupid.
A poll by The Economist two weeks ago revealed the political party, shockingly still known as Republican, that 53 percent of them prefer the presidential performance of a sociopath over that of Abraham Lincoln.
That's beyond stupid. It's topped only by the fake news in Völkischer Beobachte in 1937, where a National Socialist poll reported that 81 percent of Germans chose Hitler over Ludwig van Beethoven as the nation's most beloved historical person. The other 19 percent were eliminated in concentration camps, playing "Symphony No. 5" as background music to suppress the noise of machine guns.
What is the message from The Economist poll? One might choose between "what a great way to tweak coastal elites and set their hair on fire" or "we really are stupid."
I choose the latter. Results like this shine the spotlight on the failure of education in America over the last 30 years, at a minimum. It's well established we avert our eyes elsewhere when confronted by dreadful comparative world performances in math and science.
Add this poll as evidence of total failure to teach United States history. We are now paying the price for that failure. History and its educational sidekick, civics, have been on the outs for years, much to the chagrin of at least this old college history major. Yet, today it's "friends don't let friends become history majors," where you walk away with no job prospects while assuming at least $3,000 to $40,000 in college debt.
My own armchair history library at the moment is but 20 percent through Chernow's (965 pages) "Grant," 75 percent through the third 500-page volume of Schama's "History of Britain," and just 5 percent of Bob Ryan's recently-uncovered-after-15-years "Larry Bird."
As great as the books are to old people, there are alternative methods these days to put history front and center. Especially the mastery of Ken Burns and his priceless documentaries, and a flood of audio-visual topics anchored by historians with Ph.D. next to their names. I pray (in vain I fear) these historical tomes are watched and discussed in today's schools. Teaching history is meaningless and boring when its curriculum is limited to a 10 percent focus on who, what, when and where, when 90 percent of history is the why.
There is hope for an awakening, especially in America, as this unreality show plays out. If anyone in my family is reading this, forget my overextended armchair book pile. The most welcome package under the tree will be David Rubenstein's, "The American Story — Conversations with Master Historians." Rubenstein, co-founder of the world-renowned Carlyle Group investment firm, is giving back to our society in spades, with the focus on history.
Rubenstein initiated these congressional dialogues in 2013 at the Library of Congress, and the book is a compilation of those sessions, that draw each year the most bipartisan gathering of congressional representatives and senators imaginable in these times.
The man is a topic of his own. Go online (davidrubenstein. com) and discover the polar opposite billionaire vs. the sociopath we suffer each day.
How bad is the history quotient in America? Meet the Woodrow Wilson Foundation. Who's Woodrow? Pick 1. (a) former president of Yale University; (b) former president of the U.S.; (c) Hall of Fame 3rd baseman of Detroit Tigers; or (d) founder of the United Nations.
The foundation last fall sponsored a history-linked national citizenship test survey of 41,000 adults, which was released this past February. To pass, you needed to score 60 percent, or correctly answer just 12 of 20 multiple choice questions. Only 40 percent of the 41,000 passed the test.
Yet there was relatively good news for the 14th state of the union. The only state where a majority (53 percent) of citizens passed the test was Vermont. Not only were we No. 1, we were the Only One!
Nice going, but let's shoot for 80 percent next time. A knowledge and respect for our history is necessary to keep this democracy intact. The writer and philosopher George Santayana famously said, "Those who do not remember the past are condemned to repeat it."
Yet, go figure. The Oxford-educated (that's England, not Mississippi) Sen. John Kennedy (R- Louisiana) appears dumber than any of his constituents by continuing to claim Ukraine, not Russia, is taking us down. How dumb is that? His constituents were last in the citizen test survey, a 73 percent failure score.
Then there's the Senate leader, Moscow Mitch from Kentucky, who at the end of the day may have done more damage to America than the sociopath he's enabled. He's the favorite of the second dumbest state in the citizen test survey.
History will mock those two, just as world leaders now mock President Sociopath.
Right now, we are living and making history. Restoring historical legacy to its prominent top-shelf location should be on the minds of all as we move ahead.
•••
Finally, some year-end ODDservations:
• Doubling down on last May's column. Hey Joe Biden, my vote's right here for you and your running mate Kamala Harris, but only when you pledge to serve one term in Washington. Otherwise it's on to mayors not named Bloomberg: a generational winning combo, Mayor Pete and VP Cory Booker.
• And back 28 months to August 2017. The GOP gets TLC. Tender Loving Care really needs to be "The Lincoln Coalition," an inviting brand for centrists to create a political movement or a candidate-endorsing unit outside the 20 percent extremes on the left and right. It's no longer just a silly comment. We need a bridge.
• Oh yeah; Merry Christmas, Happy Holidays, Season's Greetings and, especially, Happy New Year.
---
Dave Matthews lives in Stowe. His column appears monthly. Email letters to news@newsandcitizen.com.