Engines will be revving and pulses will be racing at Farr Field when the 62nd annual Vermont Antique and Classic Car Meet rolls into Waterbury this weekend.
From Friday to Sunday, more than 600 classic cars, trucks, military vehicles, motorcycles and tractors will fill the space that is typically home to the town's regular swap meet on Route 2, just west of downtown Waterbury.
While the event has been going on for more than six decades, this is the second year it will be held in Waterbury.
In 2016, the show's longtime location at Nichols Field in Stowe was sold at auction, and the new owner decided not to host the event anymore.
"The increased size of the field has allowed us to increase the size of the auto flea market and the number and variety of our display vehicles, exhibits and vendors," said Jan Sander, president of Vermont Automobile Enthusiasts.
The event is open to vehicles manufactured at least 25 years ago, meaning no later than 1994; if that year doesn't seem so long ago, you're not alone.
"It's kind of hard to believe those are antiques now," said Bob Chase, who co-chairs the event.
All told, the event defines 36 classes of vehicles, all of which — except race cars and tractors — will compete for best in class. Classes encompass the full range of two- and four-wheeled transportation, from the Ford Model A and British sports cars to street rods and emergency vehicles such as fire trucks.
Chase said he wasn't sure his job duties would allow him to bring his 1941 Dodge military pickup, but did take the time to note one particularly unusual vehicle that is expected to be there — an unrestored 1910 automobile, originally sold by Sears.
"It looks like a horse buggy, but it's got an engine in it," he said.
While the veritable smorgasbord of automobiles is the main draw, there will be a host of other activities for visitors of all ages. For kids, there will be tracks for them to race Hot Wheels toy cars. There are also "valve cover races," in which a competitor has taken the valve cover from an automobile and put wheels on it, similar to a soapbox derby.
If you're looking to shop, a large flea market will have a wide range of auto parts and accessories, and a large tent featuring Vermont handmade crafts.
"It's the kind of thing for the ladies to do while their husbands are shopping at the flea market," Chase said.
For people with an antique vehicle to sell, there's the car corral, where buyers and sellers can horse-trade and perhaps make a deal. Car corral spaces are available for $40.
No need to worry about quenching your thirst or sating your appetite, because an array of food vendors will ply their wares from 7 a.m. to 6 p.m. each day.
And for a trip through the finest radiant raiment of the past, there will be a fashion show, with participants dressing in clothing that matches the era of their automobiles.
While Farr Field will offer something for everyone, from the greasiest gearhead to the most casual of enthusiasts, the festivities will not be confined to Farr Field.
At 3:30 p.m., a parade of cars will leave the field and head toward downtown Waterbury. The parade route will extend from North Main Street, just after Winooski Street, and continue south to Park Street, at which point the cars will drive around Rusty Parker Park and then exit onto Main Street heading north. Each car will be announced at the viewing stand located on the porch of the Waterbury Train Station.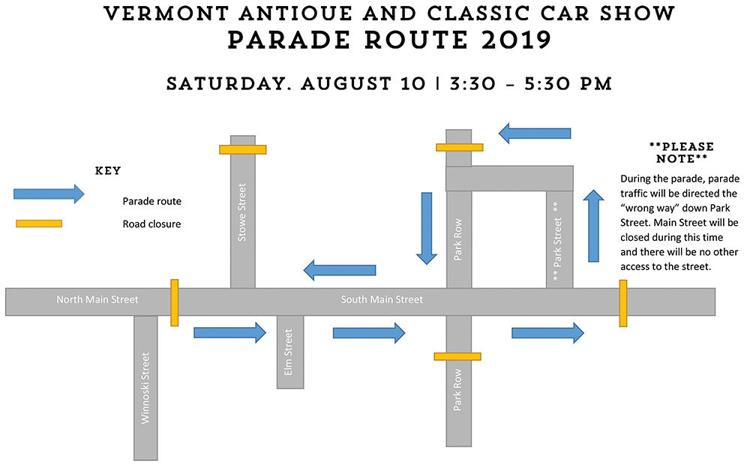 Immediately after the parade, Revitalizing Waterbury will host the Drive & Jive street dance. Beginning at 4 p.m., Lawson's Finest Liquids will open a beer garden on the patio in the park, and a caravan of food trucks — including Mediterranean Mix, The Melted Cheesiere and The Udder Guys —will be selling tasty food. Park Row Café will be open for the evening.
Children can enjoy a bouncy house offered by SunCommon, as well as the park's new playground. Also, as many as 50 antique cars will return after the parade and park on Rotarian Place and Park Row for up-close viewing. Owners will be on hand to talk about their prized vehicles.
For the "jive" portion of the festivities, DJs from WDEV will play music from the porch of the train station.
The event — sponsored by J.A. McDonald, Lawson's Finest Liquid and Community Bank, N.A., will run until 9 p.m.
If you have a classic car and would like to attend, you can register online for $30 at vtauto.org, which also includes a complete schedule of events. You can also show up and register the day of the event. Registration is free for autos manufactured on or before 1925.
Spectator admission is $12 a day, and children 12 and younger get in for free.