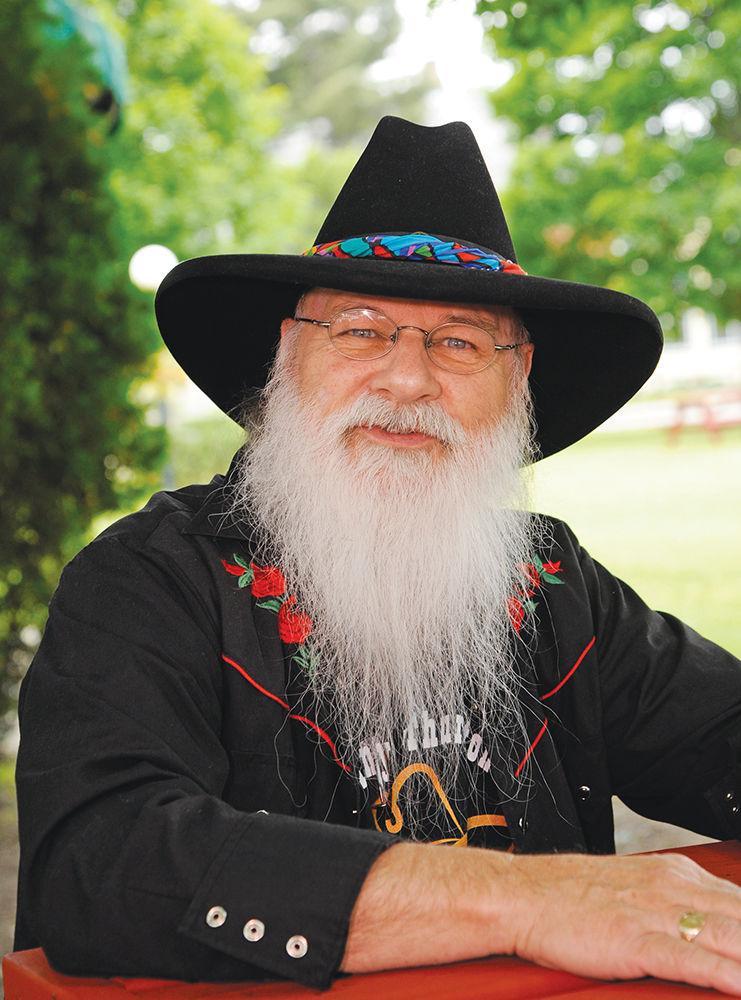 Jimmy T. Thurston, one of Waterbury's most prolific rock 'n' roll musicians, died on Dec. 15, 2019, but his name will live on.
A few days after his father's death, Jamie Lee Thurston, Jimmy T's son, woke up with an idea. His father was more to him than a musician; he was a teacher. It's that spirit that Jamie wants to preserve.
Jamie said he and his sisters, Debbie and Vicky Thurston, will organize a fundraiser for Thatcher Brook Primary School's music program.
"The idea just popped into my head," Jamie said. "What better way to carry on your dad's spirit and his name than to help fund the elementary school that we all went to and is in my father's hometown."
Jamie Lee has carved out a career as a country singer and songwriter, and is now based in Nashville.
Growing up, "I watched my dad the whole time. So I learned how to be an entertainer through him."
Jamie was on stage with his father from a young age and continued to play with him into his adult life.
"He had me singing 'Proud Mary' when I was 3 years old," Jamie said. "I remember standing on a chair."
He remembers walking around with a big guitar around his adolescent shoulders during sound checks, and picking up tricks from his father and bandmates.
"Growing up, his guitar players were my heroes."
They taught him chords and gave him pointers, but his father showed him the nuances of entertaining.
"He always taught me it was a professional thing," Jamie said. Covering the milk crates that were supporting the amplifiers, making sure all the microphone and instrument wires were well managed to keep the stage clean — these were the finer details of performing.
"If it's five people or 5,000 or 15,000 people, same show and everything," Jamie said. "I learned what I learned in the beginning through my dad."
Jamie eventually set off on his own musical career. He toured all around the country, but his father was always his coach.
"He would come all the time and have a notepad," Jamie said. "Always had ideas, always trying to help me out."
'I'll never forget'
Not every fledgling musician has a rock 'n' roll home life, but Jamie remembers a key moment at Thatcher Brook when he was young.
Jamie sang in the chorus and played the saxophone for a brief period, but "I just never took to it."
When Jamie tried to stop playing, his teacher pulled him aside and offered him a saxophone free of charge, telling him he needed to keep playing.
"I never took to the saxophone. I ended up starting to play guitar," Jamie said, but "I'll never forget what that guy did."
On Friday, Jamie spoke with Lizzy Carlson, Thatcher Brook's music teacher, about his fundraiser idea, and she told him a story about one of her students.
"There's a kid there that, you know, like somebody taught him an E minor chord at church and he just came in was so excited to show that to her," Jamie said, "She reminded me of that guy."
This is Carlson's fifth year teaching at Thatcher Brook. Her father sings and plays guitar and trumpet, and that shaped her childhood.
"I can remember singing around the campfire and with our family when the lights went out," she said. "I have so many joyful memories growing up and singing with other people."
She started taking voice lessons at 11. She picked up a few instruments along the way, but never stopped singing, and in high school realized she wanted to share that gift in a classroom, rather than on a stage.
"For me, it was more about just making music with other people and and helping to inspire others to love music," she said.
Carlson brings that passion to Thatcher Brook. Three years ago, she started a third- and fourth-grade choir, and last year she held a folk dance night, where children taught folk dances and songs to their parents. She arranged to have children talk with townspeople, take what they learned and write poems, and perform a concert at Waterbury Congregational Church with the guidance of Evan Premo of Marshfield's Scrag Mountain Music last April.
Carlson said it was a fantastic success and "I would love to do more integrating the arts and work collaboratively. Some people think some subjects are more important than the arts, and I don't think that anything is more important than anything else. It's all important."
Keeping the legend alive
Details of the Thurston fundraiser are still in the works. A statement from the principal said the money will provide music-lesson scholarships for students, but the details will be worked out after the holidays.
"The aim is to provide students with more music experiences and opportunities," Carlson said. "I think it's amazing."
Jamie plans to play a fundraiser concert for the school's music program, and "I'd like to keep it going from there. It keeps his legend alive. You just never know; this thing could create the next Ed Sheeran or the next Garth Brooks."
One thing's for sure: Jamie's father would be proud.
"My dad played there when I was a kid. I sang there in the gym," Jamie said. "I had to be in sixth grade back then."
He choked up a little bit over the phone. "I just had a vision of him walking into the gym there with everybody applauding because of what this fund could be able to do, and I think he'd be crying his eyes out."
James 'Jimmy T' Thurston
James Tyler "Jimmy T" Thurston Jr., 78, a legendary Vermont music icon whose career spanned more than five decades, died at his new home in Goshen, Vt., on Sunday morning, Dec. 15, 2019. He was a longtime resident of Waterbury Center.
He was born in Burlington Feb. 15, 1941, son of Pearl E. (Durett) and James T. Thurston Sr. Jimmy was previously married to the former Sandra Wimble, Maggie Pearo and Dawn McKenzie.
Jimmy attended schools in Waterbury and then went to work in the family painting business with his father. Although Jimmy later founded his own paint contracting business, his true calling was creating music.
His very first gigs were calling square dances. Organizers would pick him up from his family's farm on Loomis Hill in Waterbury Center, starting when he was 8 years old. A few years later, he was guest-performing as "Little Jimmy T" with Slim and the Ridge Runners, a band out of Stowe, at venues in central Vermont.
As he got a bit older, and after hearing the debut album of the Rolling Stones, Jimmy formed his first band, Jimmy T and the Cobras. Over the following decades, Jimmy's success as a performer and entertainer grew exponentially. He performed with the Jimmy T Band, Jimmy T and Little Wing, Boogy Beast and, most recently, Rip Van Winkle and the Sleepy Hollow Band. He was working on a new album when he died.
One of his many accomplishments was placing third in a national Battle of the Bands sponsored by Seagram's 7, competing against 1,500 other bands.
When not performing, Jimmy enjoyed deer hunting and fishing, and watching football, boxing and professional bull riding. He was a longtime member of the American Legion.
Survivors include his children, Vicky "Mushy" Cleland and husband Ernest "Ernie Ball" Cleland of Alburgh, Jamie Lee Thurston of Nashville, Tenn., and Deborah West and husband Larry of Summerville, S.C.; four grandchildren, Erin Pearl Raymond and her husband Travis, Derrick Cleland, Stuart Cleland and Kasondra West; three great-grandchildren, Landon Oliver, Harmony Cleland and Peighton West; two sisters, Virginia Atwood and husband Bill Fraties of Essex, and Brenda Viens of North Fayston; his companion, Diane Barker Bent of Goshen; and extended family.
Two brothers, Sidney Thurston and Wendall Thurston, died earlier.
Jimmy spent his life making music and friendships. As he would say, "Hooty Hoo!"
The Jimmy T Jamboree and life celebration will be held at the Hilton Burlington Lake Champlain Hotel, 60 Battery St., Burlington, on Sunday, Jan. 5, from 2 to 7 p.m.
Contributions in his memory would be appreciated to gofundme.com/f/JimmyTThurstonMemorialMusicFund. The goal is to raise $10,000 for Thatcher Brook Primary School.
Assisting the family is the Perkins-Parker Funeral Home and Cremation Service in Waterbury. To send online condolences, visit perkinsparker.com or the funeral home's Facebook page.