Dana Kaplan's 3-year-old son is obsessed with fire trucks. The highlight of his day is when he and his father drive past the fire station on their way home.
"I think about how he looks up to the folks who are at the fire station and their jobs," said Kaplan, the executive director of Outright Vermont, a group that supports and empowers LGBTQ+ youth. "I would hope that somebody who's in such a position of power, with such a public face and role, would recognize the impact of their actions, whether they were intended to be funny or not."
Kaplan was reacting to a meme he called homophobic that was posted by Hinesburg fire chief Al Barber on Barber's Facebook page April 2.
Ahead of an executive session selectboard meeting Wednesday night, the town's leaders anticipated talking about what to do next. The meeting took place after press time.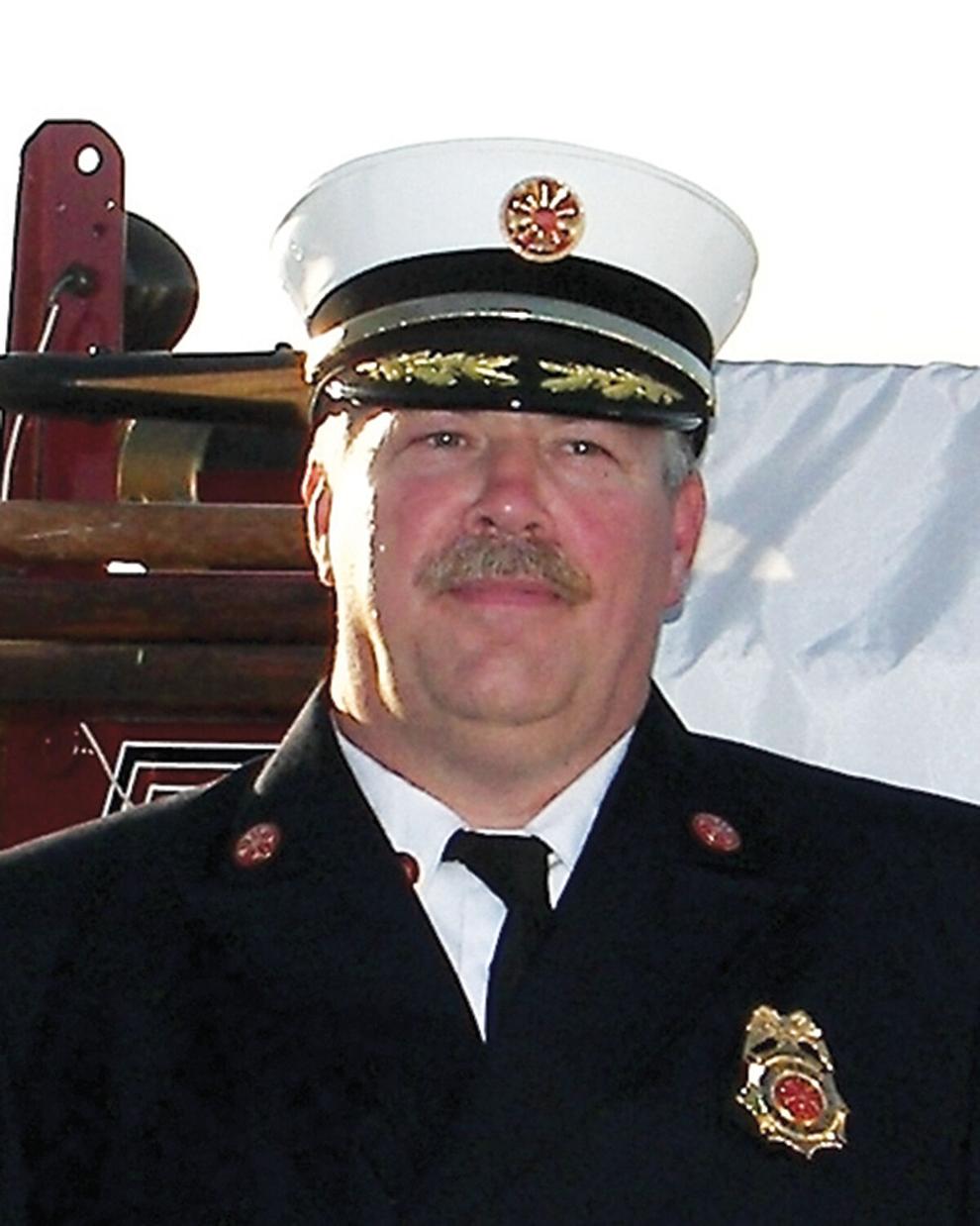 The meme Barber shared featured a picture of two men simultaneously eating a banana from opposite ends. It read: "How men that want to ban guns eat bananas."
The conversation began with an email to town officials, obtained by public records request, from Cathy Ryan.
The email, with a subject line "What Chief Barber thinks about guns and gays," read, "I thought you all should know what fire chief Al Barber thinks about guns and gays." The link to Barber's Facebook post was included.
Ryan then asked about how Barber became the department chief, if by appointment or election of firefighters, and said, "If there is no public response by town leadership, then that indicated you agree with this and are OK with it."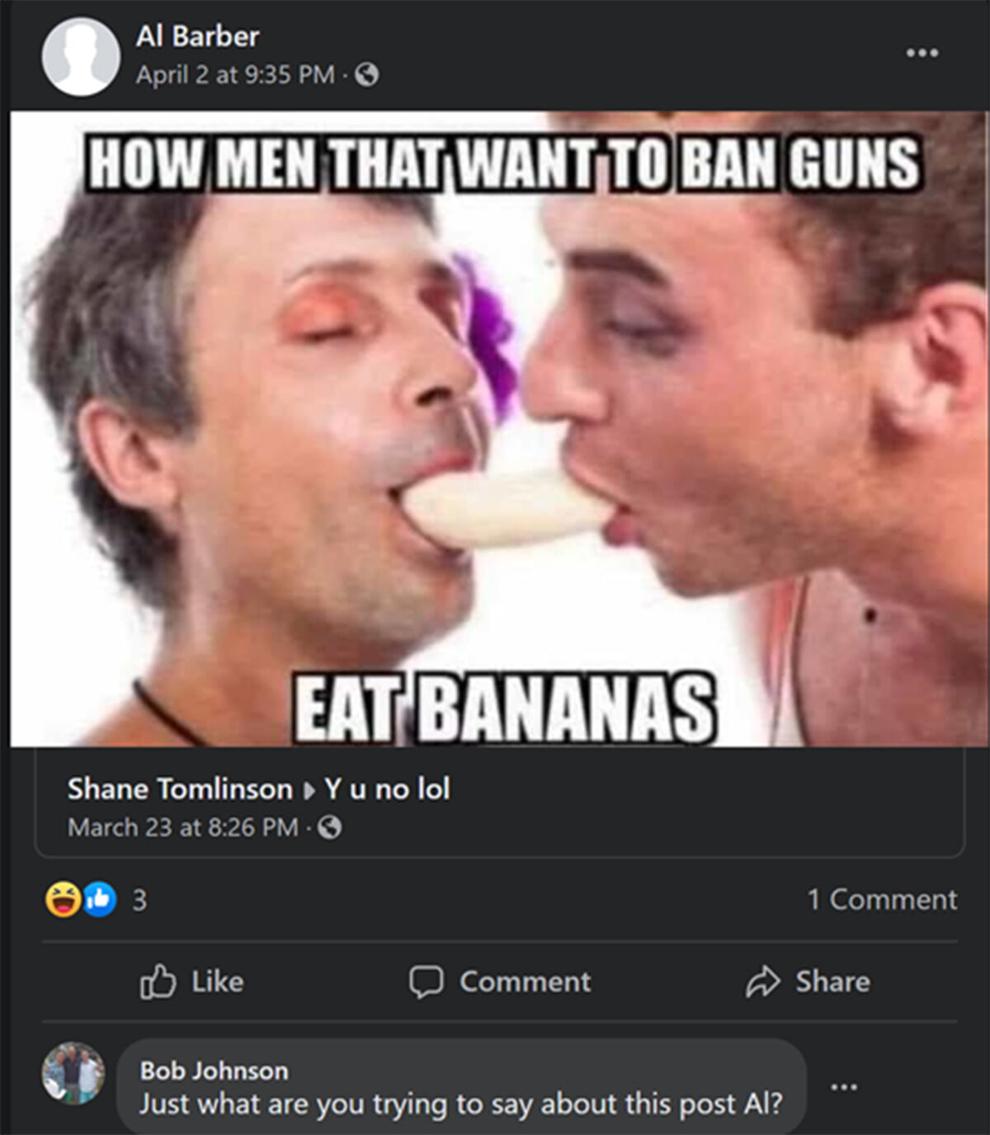 Shared without reading?
Asked about his decision to share this post, Barber said Monday he meant no "ill will."
"It was absolutely unintentional and there's people trying to make out that I'm homophobic and all that, and it's about as far from the truth as you could ever get."
Barber said he has performed civil union ceremonies and has relatives who are gay.
"There's a certain faction that is trying to make me out something that I'm not because they weren't happy with me," because, he said, they did not support the ask for a new ambulance service in Hinesburg, of which Barber is in charge.
Barber maintained that he shared the image without reading or looking at it. He does not remember posting it and had to search back through Facebook to find it when he got a warning about the post from the town manager.
Interim town manager Joy Dubin Grossman declined to comment on the case.
Barber said he closed his Facebook account and apologized to the selectboard.
Asked about selectboard action, Barber said, "It's a personnel thing."
There is no town guideline for what to or not to post, Barber said. The fire department prohibits "derogatory statements about the department, department actions or anybody in the department."
When asked if any Hinesburg firefighters were gay, Barber said, "I don't know, because it really doesn't make a difference to me. It doesn't matter one way or the other."
Given the chance, he said he wouldn't do it again.
The town of Hinesburg's personnel manual, under a subsection called public respect, reads, "Because the town must maintain public confidence, its work force is composed of responsible and professional individuals. All employees shall act in a responsible and professional manner."
A section on sexual harassment says responsibilities and procedures for management require, "Each supervisor has an affirmative duty to maintain his/her workplace free of sexual harassment and intimidation."
A computer policy prohibits "offensive, demeaning or disruptive messages" but doesn't explicitly include or exclude on- and off-the-clock behavior.
A personnel issue
Selectboard chair Phil Pouech and board member Merrily Lovell said questions about a personnel issue go to the town manager.
Messages left for board member Dennis Place were not returned by press time.
Maggie Gordon, also a board member, said late Tuesday she was "extremely" upset by the meme but declined additional comment ahead of the executive session.
Board member Mike Loner, when asked for his reaction, said, "At this point the selectboard is still deliberating on this. And we're asking any communication to be through the town manager at this time, which is Joy."
Dubin Grossman would not elaborate on what deliberations entailed, but said the board was to hold an executive session Wednesday, after press time.
When asked, "What is your reaction to the image, do you consider it homophobic?" Loner let out an audible sigh and said, "I'm trying to figure out whether or not I — I think I'm going to reserve comment until after the selectboard can deliberate."
The selectboard has not met with Barber yet, Loner said.
"Sorry to be vague. I want to make sure I follow the procedure on this one," Loner said.
Both Barber and Loner confirmed that he is still the chief of the Hinesburg Fire Department.
Potential for harm
"I think the bottom line is that this is somebody who's in a position of power who's charged with keeping our community safe. Literally," Kaplan said. "So there's a great impact on community members when a person in a leadership position outwardly posts something on social media."
Kaplan described the photo as homoerotic and said it was, "Essentially equating guns with a certain type of masculinity and therefore actually calling guys who don't believe in guns 'gay.' "
That, he said, is harmful, and called it a "cheap shot."
"There's direct harm to say that to be a 'real man' you have to believe in gun violence," Kaplan said.
Asked about his own view on guns, Barber said "Am I opposed to gun control? No, absolutely not."
He then backtracked, "I'm not in favor of gun control and I'm not against gun control. So, because it's one of those topics that there's an awful lot of gray areas, and to have a cut-and-dry, one single position, it really is, you know, it's not that simple."
Barber said he had shared a lot of things on Facebook he never read.
Lessons learned?
If Barber had children who were part of the queer community, he said he would be upset if someone posted the meme he shared.
"I have many gay friends," he said, adding that he felt he was being portrayed incorrectly by someone with "a pretty dark heart."
"I don't see people color-wise or sexual orientation-wise. People are people," Barber said.
He agreed the meme was homophobic and said, "Yeah, absolutely. That's why we took down the whole Facebook thing."
Kaplan said, "I don't know how you use social media without having eyes on the things that you're posting. It's really hard to believe. When you're in a position of power like that, you've got to be thinking ahead, you've got to be thinking about those impacts."
Making jokes based upon a certain group of individuals' identity is a form of harassment, he said: "The bottom line is there are millions of ways to be a man in this world."