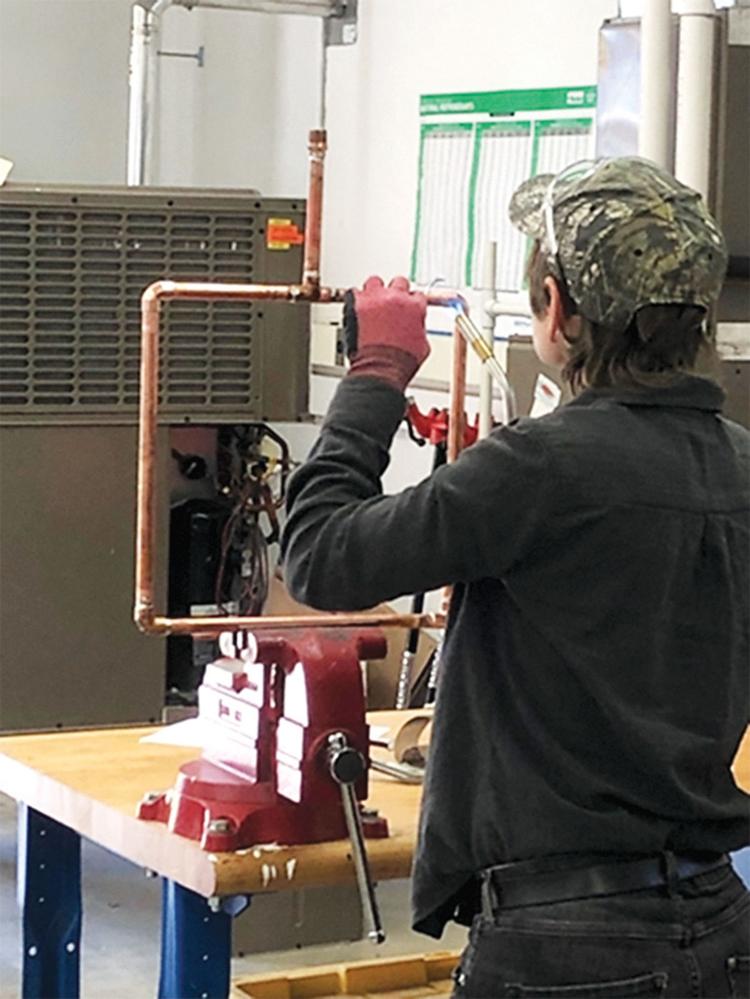 What if a woman could earn as much as a man? With the gender-based wage gap, it may seem like a pipe dream. But, Vermont Works for Women offers a solution through its Trailblazer's program, starting in South Burlington this month to prepare women for careers in the trades.
Construction, electrical work and plumbing are historically male-dominated fields. They are also often higher paid occupations, according to Trailblazers program director Missy Mackin.
"When you look at the statistics, the jobs that women are encouraged to go into in Vermont and really nationwide, those jobs are jobs that generally pay less," Mackin said.
While women in the United States earn on average 81.1% of what men make, in construction the gap is significantly less at 99.1%, according to the National Association of Women in Construction.
In general all jobs in the trades pay much more than minimum wage, which is $10.96 in Vermont. The goal of Trailblazers is to train women to be construction workers, plumbers or electricians, helping them attain better salaries.
"Our mission is to support girls and women in career exploration and job placement, so they can earn a living wage and achieve financial independence," Mackin said.
Almost 40% of women working full-time in Vermont do not earn enough to meet basic living expenses for a single individual, said Mackin, citing statistics from Change the Story, a regional initiative working to "align philanthropy, policy and program to fast-track women's economic well-being in Vermont," according to the program's website.
Change the Story has three core partners – the Vermont Women's Fund, Vermont Commission on Women and Vermont Works for Women.
Women are also more likely to hold part time jobs year-round. "When we talk about the gender gap, that doesn't even take into account people who "choose" not to work full time because they can't afford childcare," Mackin said.
The sad truth is that women who work full-time in Vermont earn less than men in every county in the state, at every age and at every education level, according to a 2019 report from Change the Story.
In Chittenden County, they found women earn on average 20% less than men, second only to Orleans County where the gap is 25%.
It's also expensive to live here: "We joke about how it's a lifestyle choice," said Mackin, who moved to Vermont from coastal New Jersey many years ago.
Vermont's cost of living recently ranked 40th best in the nation, with the state ranking 37th most affordable overall by U.S. News and World Reports.
This means it is less expensive to live most other places in the United States.
Consumer prices are higher here than the national average and wages are likely to be 20% lower than they are elsewhere, according to the Public Assets Institute in Montpelier.
Of the cost of living, Mackin said: "We are struggling with that as a state right now, how to get people to stay here."
One of her solutions is to get women involved in the trades, as the industry has predicted growth in the future.
"Until now the construction trades really have not utilized half the population. By ignoring half the population that is female, they have kind of got themselves into a bit of a bind here, because they need people," she said.
One of Change the Story's most striking findings is that 60% of the state's wage gap is linked to two factors: time in and out of the labor force and occupational segregation. This is why a program like Trailblazers could really change things for women.
The program leads to state and nationally recognized certifications including NCCER Core Curriculum, OSHA 10, First Aid and CPR, which are requirements for many jobs.
Trainees are offered the opportunity to job shadow and obtain mentors and are provided certain supplies such as work boots, which would be required at most job sites.
The program will be hosted at the North Atlantic States Regional Council of Carpenters Hall in partnership with the organization.
Tuition is $2,500, but Mackin said participants are encouraged to apply to the Vermont Student Assistance Corporation for tuition relief.
In the past, the program was fully funded through a government grant, but Mackin said the organization is trying to secure new funding.
"We are the only organization in Vermont that does workforce development specifically for women," Mackin said, explaining why it was important to fund. The organization does more than help women obtain higher paying jobs, it also helps diversify historically male-dominated fields.
Kim Hokanson, Vermont Business Representative for North Atlantic States Regional Council of Carpenters, stressed the importance of diversifying the workforce. "It's long overdue that women are able to access the same quality pay, healthcare, and pension as our male counterparts," she said in a news release. "Now, women of all races, ages, shapes, and sizes are taking the field by storm."
Sexism can still be a problem for women on the job, but Vermont Works for Women offers support. "All of the instructors are females and each have been in their trades for a number of years. They all have their own ways of dealing with sexism," Mackin said, adding that many younger employers have caught up with the times and treat female employees equally.
"It feels like some of the younger employers (and I am using that word intentionally) are more attuned to accepting diversity and understanding that respect is about respecting everyone on the job," she said.
Women can face certain challenges in construction that are unique—and they have nothing to do with being able to perform the job, according to Mackin. "The bathroom issue is one," she said. Often women are working outside and there isn't a toilet. While it might be easy for a man to just use the nearest tree, it's not so simple for women.
"It's not something the men particularly have to think about," Mackin said. "There certainly are some coworkers who might think it's funny [that a woman can't use the bathroom] and might make a joke about it and that's a problem."
On the whole, Mackin said employers have been receptive and excited to work with women from the Trailblazers program. "I've had employers say to me that they like teaching our graduates how to weld, because they listen and do it carefully," she said.
This 10-week program began March 2 and goes through May 2.