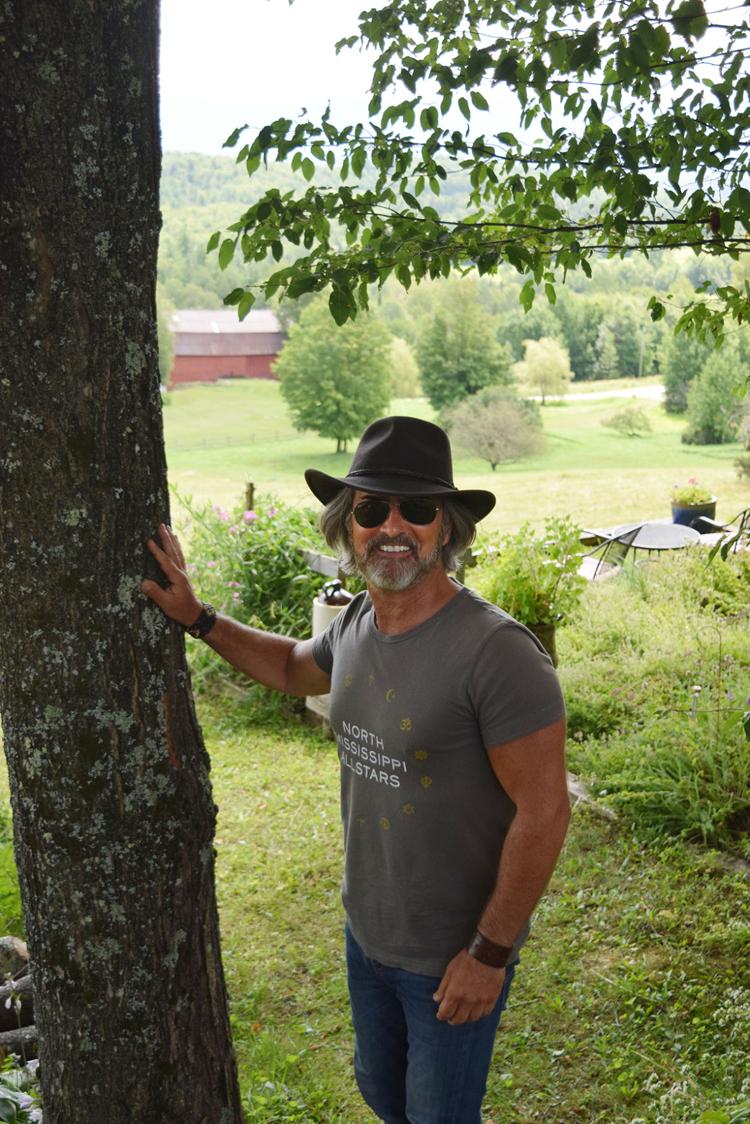 John Fusco says you know it when you've made it.
He ought to know.
Fusco spent about an hour last week on his 200-acre farmstead off Stagecoach Road in Stowe unspooling the story of his life, from a rebellious teenager with a fierce love for his father's forbidden Hammond T-200 organ to his current eagle-eyed focus on the X-Road Riders, the band he's brought together, digging up friends from every chapter in his life.
Fusco, leonine, with a ramrod-straight spine and a cowboy's bearing, talks like someone with a bit of patina on his soul. He's built like his house, the outside a New England façade and the inside pure southwestern Americana.
It fits him; Fusco is the quick-draw pen behind the Western movies "Young Guns" (1988) and "Young Guns II" (1990). He cut his screenwriter's teeth on "Crossroads" (1986), a script he'd written for a film school competition; he won, and netted a pair of Nissans and a screenwriter's credit on a cult film.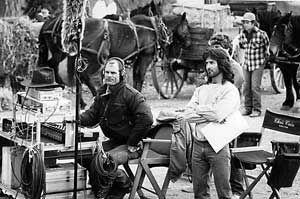 It also rolled out the red carpet Fusco, then just 25, would walk for the rest of his life, tracking Vermont dirt with every step.
Fusco, 60, was born in rural Connecticut to a father who presided proudly over a junkyard and a camp in Stockbridge, Vt.
"I always had one foot in Vermont, in a little cabin on the Tweed River," Fusco said. "My first real love was writing. I used to get up early in the morning and you know those marbled composition notebooks? I would get up before anyone else and I would sit in some quiet corner and I would write short stories and give them titles and chapters.
"That grew into a real love for movie narratives. I started to really appreciate movies and wanted to make movies. My mother had a Super 8 camera, pre-video, and every Tuesday on her shopping day she would buy me 50 feet of film and I would write scripts and recruit the kids in the neighborhood."
Fusco, at 10, was already well-equipped for the director's chair.
"I even had a megaphone. When I see those kids today, grown up, they're like, 'You were like a tyrant of a director,'" he said with a laugh.
"I started directing these things, and just thought, this is what I want to do," he said.
Fusco's mother was behind him 100 percent, but his father, who was "very practical," tried to discourage his son from pinning his hopes on such a high-up and unlikely star.
"He grew up Italian-American in the Depression. You can't blame him, but as I got older, I just stuck to my dream, and (he said), 'That's not going to happen, and you've got to start thinking about business administration or taking over the family junkyard.'
"I was like, 'No, I want to do this,'" Fusco said.
The young rebel Fusco describes is still close to the surface. His gray gaze is unflinching and self-assured, and though he laughs when he describes teachers' attempts to "school (the writing) out of me," it's clear his passion for what he does is just as potent as it was then.
"I had one teacher that fanned the flames of that passion. … She was the first teacher who recognized that just because I flunked math, it didn't mean I didn't have a talent for English, and that people have different types of learning styles. She would sit down with me and say, 'Let's find a way for you to pursue this.'"
Fusco started hanging around local garage bands, bringing in lyrics he'd written during school.
"Next thing I knew, I was involved in music," he said.
After repeated tussles with his dad after sneaking the Hammond T-200 out of the house for gigs, Fusco, then 16, had had enough and ran away from home, taking his dedication for the blues and little else.
"I really wanted to know what was underneath the blues, what was underneath the heart of this type of blues rock like the Rolling Stones were doing, and all these rock musicians who were creating something all brand-new by playing the music of these obscure blues legends," so he headed for the South.
"That started a whole odyssey for me of traveling through the South," working at gas stations and doing odd jobs "to stay alive," and riding railroads.
"I would travel through the South and in these hobo jungles. I was exposed to blues, and I started to track down these old blues masters, African-American elders in areas of Mississippi, Louisiana and New Orleans," he said. "My high school was being a student of the blues under a lot of these old masters, and just learning about the truth of it."
'Crossroads'
Anyone who's seen Fusco's first film, "Crossroads," will find this story familiar.
"Crossroads" is about a 17-year-old music student who leaves to try to track down a "lost song" by one of his heroes, Robert Johnson. Along the way, he meets other blues legends while living like a hobo in the South.
The real Fusco returned home at 18 and renewed his connection to a few of those garage bands he'd played in. One of those bands was the opening act for a bigger group, which asked Fusco to go on the road with them.
At first, he loved being part of a touring band, but "I remember sitting in the back of that bus. They were all in their 30s and 40s and tattooed Lynyrd Skynyrd types, and I was a 19-year-old kid. I was always writing in the back of that bus. I would call home from payphones to check in on my family, and I found out my grandfather died. … We were very close, and so I was heartbroken, and said, 'I need to get home.'
"I stayed awake all night long on that bus, traveling, sleeping, bus full of smoke, and I just started doing this soul-searching. I always describe it today as half meditation, half prayer, and it was deep soul-searching," Fusco said.
He realized he'd been happiest when he was writing his short films, and decided to go back to school and study filmmaking.
Beginnings
Fusco started at a small community college, where went to a college play and was "blown away" by a woman in the cast.
"She's the one who designed this house," he said with a wry smile. He and that woman in the cast, Richela Renkun, got married on the set of "Crossroads." Columbia Pictures had picked up the screen rights after Fusco wrote it in a course at New York University's film school.
Renkun had pushed Fusco to enroll at NYU, and she did too. The couple, both from blue-collar backgrounds, found liberation in exploring their artistic fervor together, and stayed afloat by picking up jobs in the city.
Then came "Crossroads" and a "very large, mind-blowing sum" from Columbia Pictures. He didn't know what to do with himself.
"I was tending bar and I had student loans and suddenly, it was a game-changer," he said.
Agents pressured Fusco to move to Los Angeles, and he and Renkun tried that for a little while but realized "the shallowness of certain parts of Hollywood" didn't agree with them.
So Fusco reached deep into his roots. He and Renkun took a holiday in Vermont, and bought a home on Worcester Loop.
"My agents about had cardiacs" when Fusco told them he wasn't coming back to Los Angeles, but he was implacable, and there was more; another shock was coming those agents' ways.
"They said, 'So what are you going to write on spec?' and I said, 'A Western.' The color just bled out of their faces," Fusco recalled. "They were like, do you realize the Western has been dead for 20 years? … They were like, you're hitting all the wrong boxes. You're moving out of town, you're going to write a Western on spec. Basically, they were saying, 'This is career suicide. Goodbye.'
"Well, I went back, holed up in the cabin and started writing a script called 'Young Guns.'"
You might have heard of it.
"Young Guns" came out in 1988 and opened No. 1 at the box office, netting $45.6 million, and Fusco was asked to write the sequel just a year later.
Fusco's filmography also includes Netflix's "Marco Polo," on which he was writer and producer; 2002's "Spirit: Stallion of the Cimarron"; and this year's "The Highwaymen," about Bonnie and Clyde.
Still at the Crossroads
Fusco's writing has taken him all over the world, but in many ways, the writer with the gait of an old-time gunslinger is still standing at that crossroads he crafted in 1986.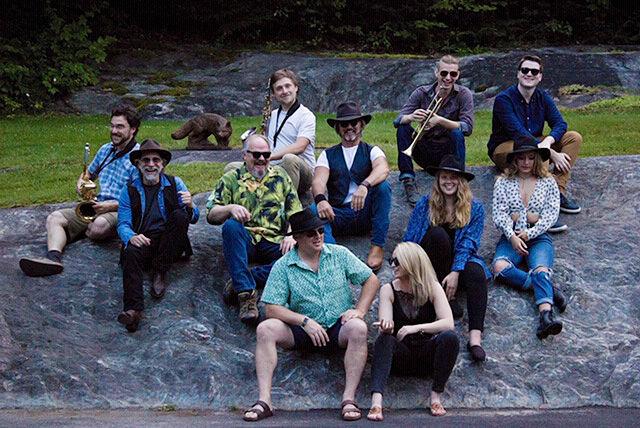 His band, The X-Road Riders, put out its debut album this year, and unsurprisingly, it's bluesy, folksy and gritty in all the right places.
People familiar with Fusco's style will find his affinity for catchphrases — "the man takes a drink, the drink takes another and the drink takes a man," from the album's second track, "Drink Takes the Man," a lyric taken from a conversation Fusco had with an Irish friend about drinking culture.
He put the band together after work on "The Highwaymen" brought him back into the world of music, and he found himself as immersed it in at as he was at 16.
"I just started to feel music again in a different way," he said.
The X-Road Riders include shadowy figures from Fusco's past, as well as new friends.
He pointed to a young man he called "Baby J," alias of Bradley Jewett, outside working on Fusco's grounds; he plays saxophone in the X-Road Riders.
And there's Cody and Luther Dickinson of the North Mississippi Allstars, musical legends in Fusco's book (he was wearing the band's T-shirt during this interview.)
Fusco can't wait to tear up the stage in Stowe this Saturday. The band rehearses for hours in his old horse barn.
To return to his roots, Fusco said, "It means a lot to me."
---
Update from print: The Nov. 1 event at ArtsRiot is called Salvation Farms Aid; it's inspired by but not affiliated with the Farm Aid nonprofit.