When the idea of a feature story on water skiing was pitched, my first inclination was to keep my head down and avoid eye contact with the editor because it sounded like one of those "learn by doing it" stories.
But alas, she already had her intended writer/victim picked out, so I reached out to Waterbury natives and water-skiing savants Bruce and Donna Epstein to see if they'd be willing to take me out on Waterbury Reservoir to learn the basics.
Bruce was more than willing to show me the ropes — including the one I'd be hanging onto for dear life — but he would only be teaching, not demonstrating, because of a recent knee surgery.
My worries that said knee surgery was made necessary by a water skiing injury went unspoken, and I let him know that would work just fine.
How hard could it be, anyway?
And so it was that my former coworker Caleigh Cross, who would be taking photographic evidence of the expedition, and I found ourselves meeting the Epsteins at the Blush Hill access on the Waterbury Reservoir on a Thursday afternoon in August for a crash course in how to glide on water on moving sticks.
Water skiing 101
Trying water skiing for the first time is best done in the care of experts, and Bruce and Donna are just that. Along with skiing recreationally, the pair are both accomplished competitive water skiers. Regulars at the national championships in the past, both had finished as high as second in their respective divisions at the national championships, and they're both currently officers with the Green Mountain Water Skiers Club — Bruce is the president and Donna is the secretary.
Under Bruce's tutelage, with Donna chipping in her recommendations from the driver's seat, I set out to learn the basics before actually getting in the water.
• Sit back over your skis, tips up out of the water, and let the boat pull you up. DO NOT pull on the rope yourself as you stand up. That only serves to push your skis forward and out from under you, and you quickly end up on your backside, back in the water.
"Don't be in a hurry," Bruce said.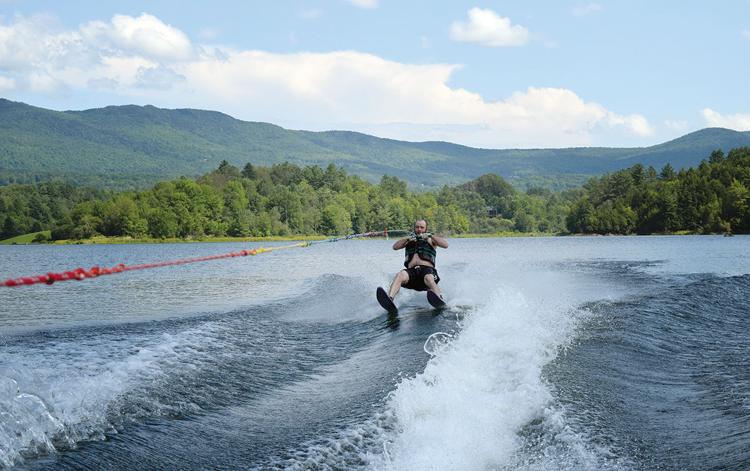 • Keep your arms straight, outside your knees, with the rope between your skis, and get ready to get pulled up.
• Once you're up out of the water and cruising, keep your knees slightly bent, with your elbows tucked at your side.
"It's important to be balanced," Bruce said. "Feel what's going on, and just have fun. Enjoy the moment."
• Once you're up on the skis, you can switch your grip: Both hands can stay on top of the handle, or you can hold it more like a baseball bat.
• Just slight modifications in your body stance and pressure on the rope send you skimming — or in my case, tumbling — across the waves in one direction or the other.
At the end of that rundown, Bruce casually mentioned that most guys aren't able to make it up and out of the water their first time on skis.
"Women are better first-time learners," he said. "Because they listen."
Thanks for the encouragement, Bruce.
After the rundown it was a time for a dry run, so I sat, rope in hand, on the boat's center console and Bruce pulled me up, like the boat would.
"Keep your back a little straighter," he advised.
Then, with that oh-so-short test run out of the way, it was time to squeeze my feet into the skis and lower myself into the water.
Bruce patiently watched and waited while I floundered around, attempting to get situated with the rope between my skis, the tips just poking up out of the water.
At long last, I was ready, and Bruce began to let some rope out as the boat idled away. I promptly lost my balance and rolled over sideways, swallowing a goodly amount of the Waterbury Reservoir as the skis refused to stay under me.
After several minutes of splashing around, trying to get back in position, I finally had the rope back between my skis and my arms extended, praying I kept my balance long enough for Donna to hit the gas.
I did, and she did, and I was just emerging from the water like a soggy bag of suet when I broke rule No. 1 and pulled on the rope. I immediately leaned too far back, fell sideways and snowplowed up a decent wave before I sank beneath the surface.
"This is not going to work out," I thought to myself, smiling at Donna as she circled the boat back to me.
It took two more tries before I managed to overcome that first instinct of yanking on the rope as soon as something unexpected happened; on the second go I got up out of the water completely before falling backwards, everything but the tips of my skis submerged in milliseconds.
On the third try I made it up out of the water and was cruising along merrily, albeit a bit hunched over in fear, before I hit the boat's wake and gave the rope a hearty tug to send myself back down again.
"Well, that's progress," I thought as Donna patiently circled back again.
"I think I've got it," I yelled, giving a thumbs up, only then noticing that I'd somehow managed during the last tumble to peel off a small corner of my thumb, which was now bleeding profusely. No time to dwell on the matter, though, because the boat was accelerating and I was able to get up out of the water and swing out to the right of the boat.
"Now this, this is more like it," I thought, blinking to clear the water out of my eyes.
More than content to stay out on the starboard side for the remainder of the run, I saw that Bruce had other ideas and was pointing to the left of the boat, directing me to cross the wake at whatever speed we were going (too fast, was my first guess).
I hesitantly gave it a try, got a fierce case of the speed-wobbles when I hit the wake, and side-planted one more time.
On the fifth attempt I seemed to forget everything I'd just learned, and barely made it up out of the water.
At long last, on the sixth try, I was able to get up out of the water, stabilize, and then ski back and forth across the wake a few times.
"Keep the elbows tucked at your side," I kept telling myself. "And stand up straight."
We reached the dike and boat launch at the end of the reservoir and were taking a wide sweeping turn when my body decided it had had enough, no matter how much fun actually skiing was, and I dropped the rope and sank gracelessly into the water just as we started to hit someone else's wake.
Learning to water ski recreationally is one thing, but competitive water skiing is something else entirely; it almost appears to be a differen…
"Time for a break," I told the Epsteins, and Cross spent the next 15 minutes taking her own crack at water skiing.
Her attempts gave my aching muscles just enough to time recover to the point where I could again stand up in the boat without my legs collapsing like jelly, and when she finished I geared back up and hit the water again.
Still mentally preparing myself, I gave everyone in the boat the still-bloody thumbs up, and off we went. I got up out of the water successfully, and to my utter surprise we zipped off down the lake while I crossed and re-crossed the wake over and over, fighting off the occasional case of the wobbles with more luck than skill or effort, and even switching to the baseball-bat style grip that Bruce had recommended once I was feeling comfortable.
"This is pretty great," I thought, despite the fact that my shoulders and upper back felt like they were on fire.
Donna and Bruce later told me that our trip back down the lake came at a faster clip — we topped out around 26 mph on the way back — which actually makes it easier to stay on top of the water.
Before I knew it, the Blush Hill access came back into sight; my legs decided then that enough was enough, and I took one last tumble into Waterbury Reservoir.
After treading water for a minute, recuperating, I climbed back aboard the boat and we headed for shore, sans any broken bones or other injuries, and short just one fleshy corner of my thumb.
---
Editor's note: Our reporters do the legwork so our readers can learn! Got an idea for something new for them to try or check out? Email hannah@stowereporter.com.