"All the redemption I can offer, girl, is beneath this dirty hood."
They say the sense of smell is the one most linked to memory.
If that's the case, then the whiff of gasoline, exhaust and spilled Budweiser down the front of a shirt is bound to bring some people back in time to the first time they visited Thunder Road Speedbowl.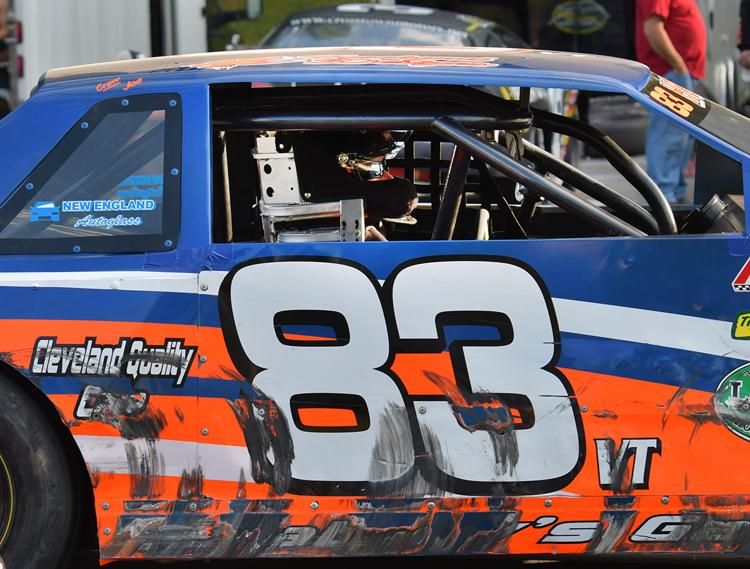 "The atmosphere, the racing and the people at Thunder Road is unbelievable. I was hooked the second I walked in," said Bunker Hodgdon, a racer from Wolcott, a town that has produced an extraordinary number of race car drivers for a population of just about 1,700. "The smells of burning rubber and race fuel, man, there's nothing like it."
The oval quarter-mile track in Barre, up on a hill not too far from the gaping granite chasms that once lent the town a national reputation for quality stone, is still running races after almost 60 years. There have been some changes since Ken Squier and Tom Curley sold the place in 2017, in an effort to make it more kid friendly.
But honestly, it's always been kid-friendly, in the way that riding BMX bikes until dark or jumping off of swings in the playground or walking along the train tracks and putting quarters on the rails are kid-friendly pastimes.
Sometimes, those childhood trips to Thunder Road, the "nation's site of excitement," turn into a love affair with the smell of engine fluids and hot rubber. Sometimes, those kids hop in their own cars and take a whack at it.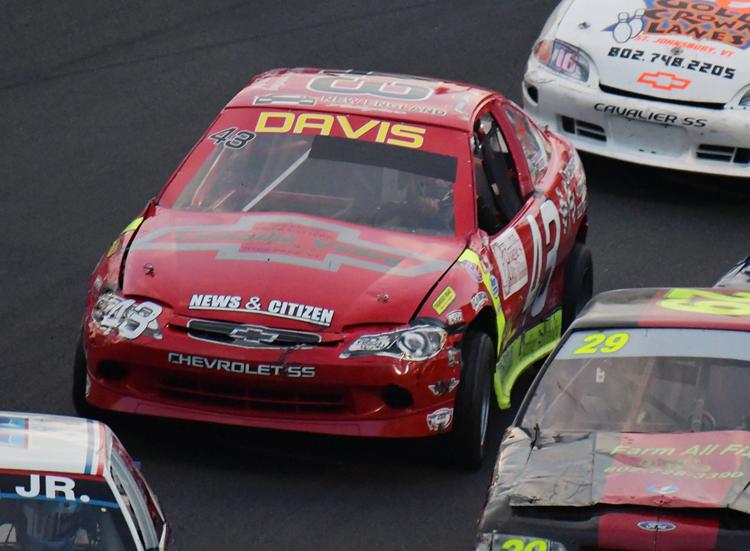 Jamie Davis is 38 years old and has been racing at Thunder Road for more than 20 years. Do that math. Davis thinks he first went to the speedbowl when he was six years old, with his grandpa. They ended up going again the week after that, and the week after that, and the week after that, like so many turns around the track, always going back.
Davis is now one of the more highly-decorated racers at Thunder Road, with two points championships under his belt and 50 to 60 trophies trying to find a place to be seen. He says he's the only still-active racer in the Street Stocks division with two titles, and he hopes to be the first ever to win three.
It probably won't be this year; he's currently in third place in the season standings, with two races to go, and Thursday night races are in the rear-view mirror.
The old with the new
The Thunder Road Speedbowl was built in 1960 by Ken Squier, a Waterbury native who also founded the Motor Sports Network a decade later. He bet against the odds that people would actually watch and listen to the entire Daytona 500 at home if given the chance.
The network called its first Daytona race in 1970 and has touted itself as "the voice of NASCAR" since then.
Squier started on the air at the age of 12 at WDEV, the Waterbury radio station owned by his dad, Lloyd, and later owned the station himself, selling it two years ago.
He and longtime business partner Tom Curley sold Thunder Road in 2017 — they actually sold it once in the late 1970s but bought it back four years later.
New owners Cris Michaud and Pat Malone have made some changes to the track in order to make it more spectator friendly, including better lighting.
But the big change was the full-perimeter concrete wall. Love it or hate it, drivers have had to adjust to it, making for more crashes than usual. And, really, when you're not behind the wheel, you want to see a crash or two at a stock car race.
Davis said "some changes have been good and some take some getting used to," but he said he trusts the new owners. Especially Michaud, one of Thunder Road's most familiar faces — he's a three-time track champion, or "King of the Road," and has served as race director for several years.
Ken Squier may have sold the oval and the radio station, but he hasn't left either of them.
Lee Kittell, program director for WDEV, calls races at the speedbowl occasionally, but still chats after each race with his old boss, who offers tips.
"I've had a little practice at it now, so I got the hang of it," Kittell said. "The good thing is that every race I go and sit at the feet of the master."
Kittell grew up in Jeffersonville, the westernmost Lamoille County town with sometimes closer social ties to the Burlington area than to the rest of Lamoille County. He said he didn't go to Barre very much, although he did start listening to it more often when he started working at Morristown's WLVB, a sister station in WDEV's Radio Vermont group.
There, he listened to the great Dave Moody call the races on the radio. Moody also got his start under Squier, announcing high school basketball and other sports, as well as calling races at Thunder Road. Now, he's one of the most familiar voices in racing, working as the lead turn announcer for Motor Racing Network.
Moody's and Squier's advice to race announcers like Kittell?
"You're just telling stories," he said. "Watch the lead but keep an eye on the back of the pack, but also keep a third eye out for the contact."
From junkers to Tigers
Most of the time, racing is just a hobby, and an expensive one at that. Hodgdon, for instance, drives entirely different vehicles in his day job as a member of the Stowe Highway Department.
"Dump truck by day, race car by night," he said.
Hodgdon, 39, has run a lot of cars in a lot of divisions, and he's only been racing since 2006.
He started off in the Junkyard Warriors division, which is the typical entry level for racing at Thunder Road. Now re-named the Road Warrior category, the rules remain the same: any American or import car can be used in this division, provided it's only 4 cylinders and is modified for safety and fairness —roll cage installed, doors welded shut, all windows removed except for the windshield, working brakes, no antifreeze.
Hodgdon was the points winner in 2007, his second year in the Warriors division. He drove a Volkswagen.
Moving up to Street Stocks for a decade, Hodgdon drove a Dodge Daytona and then a Ford Mustang. He only named one of his cars, a Monte Carlo named Pia.
"That stood for 'Pain in the Ass,'" he said. "It was a love-hate relationship."
The other divisions are the Flying Tigers and the ACT (American Canadian Tour) Late Model division. Both of these involve faster cars but also come with much longer lists of requirements to keep the playing field more even.
Hodgdon is in his first full year as a Flying Tiger, and he's found the faster cars something of an adjustment, getting into more wrecks than he's used to, which leads to more repairs.
"Some people don't even touch their own cars. Unfortunately, I have to fix it and drive it," he said. "It's a very spendy sport."
Davis drives a Chevy Cavalier, which he built brand new in 2011. He's had to fix the front end and the back end a few times, but said, "It still runs just about as good as it did when I first ran it."
There's also the Enduro, the annual 200-lap race that is everybody's guilty pleasure. This monster crowd-pleaser issues practically no limitations on what kind of vehicle that can be entered — no "sports cars," but just about any other 4-, 6- or 8-cylinder vehicle is fair game. Even vans are allowed in.
Some cars don't even make it out of the starting gate, and a lot of them are pumping brake fluid or leaking antifreeze.
"It's complete mayhem, just an ongoing car wreck for an hour and a half," Kittell said.
Fast families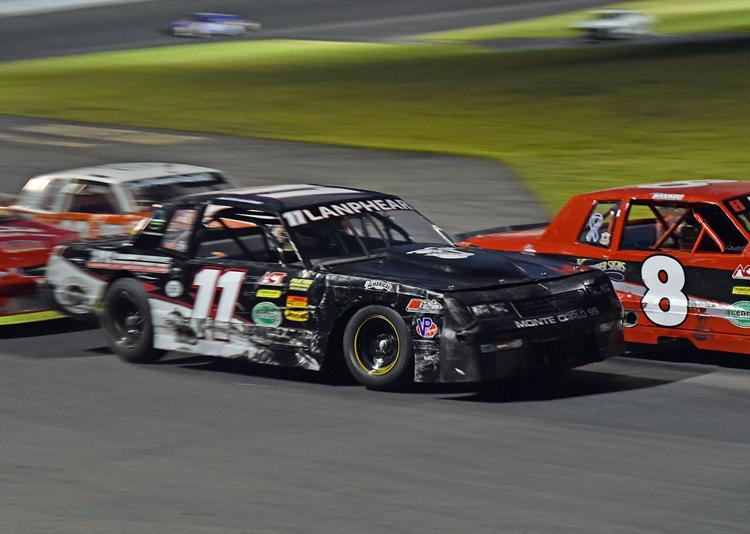 Morristown native Brandon Lanphear races in the Flying Tigers division. At least he does at night. During the day, he works on the family dairy farm off Randolph Road.
"I've lived with cows and race cars my whole life," Lanphear said.
That's about as literal of a statement as you'll ever hear. Brandon is 24 years old and has been racing for 4 years. His father, Dwayne, has been racing for more than three decades. Do that math.
Last year, the father and son Lanphears raced in the same division all season, which was a treat. And at one point there were three different father-child combinations on the track — that included the Woodards from Waterbury, with dad Jason and daughter Kelsea, and the Martins from Craftsbury, dad Mike and son Stephen.
It's very much a family tradition with Thunder Road drivers. Hodgdon's dad Archie raced, as did his uncles.
Davis said his dad raced for a year, but the family — going back to his grandpa and now with his kids and wife — has seemingly always had a spot at the track going back decades.
The grandfather that took young Davis on all those trips to the track never got to see him race at the speedbowl. Davis's first race was the week after his grandpa died, on the 4th of July.
He got second place that day, and won the next race.
"I kind of felt like he was watching over me," he said.
Lanphear's dad, on the other hand, was well-known at Thunder Road, and it wasn't for his cool, calm demeanor. In an interview on Thunder Road's "Unbuckled" series last year, the elder Lanphear said he would get booed so often that one time he stopped a trackside interview to shout at a booing race fan in the stands, "Love me or hate me, you're watching me."
It worked for him; Dwayne Lanphear won the ACT Tiger championship in 1989, the International Series in 1990 and the Thunder Road championship in '91.
"Yeah, I probably earned some of it, but I didn't think I was THAT bad of a guy to race against. I was a hard-nosed racer, kind of like a Dale Earnhardt, where second ain't good enough," Dwayne said. "A lot of people are going to Thunder Road that haven't been there in 15-20 years because I'm there."
Brandon describes himself as more of a strategic driver, racing clean and picking and choosing his battles in the No. 11 car, the same number his dad used to run. He's not one to just run someone into the wall, but he knows what needs to be done sometimes to get by a competitor.
"You've got the bumper for a reason," he said. "But every racer's different on how much they want to use it."
Hodgdon said he sees himself as right in the middle, style-wise.
"I drive with respect to those who show respect to me," he said. "But, I'm not afraid to throw fenders around and tell people how I feel."
Note: The Stowe Reporter has been one of Jamie Davis's sponsors for about a decade. "It's done good by me so far," he said.
When you go to Thunder Road, whether pulling onto the track, strapped into your car, or sitting atop the new wall at Turn 3, you're entering a…