With the rise in popularity over the past half-decade of obstacle-course races like Spartan, Tough Mudder, and American Ninja Warrior, there's naturally a subset of races for the younger crowd.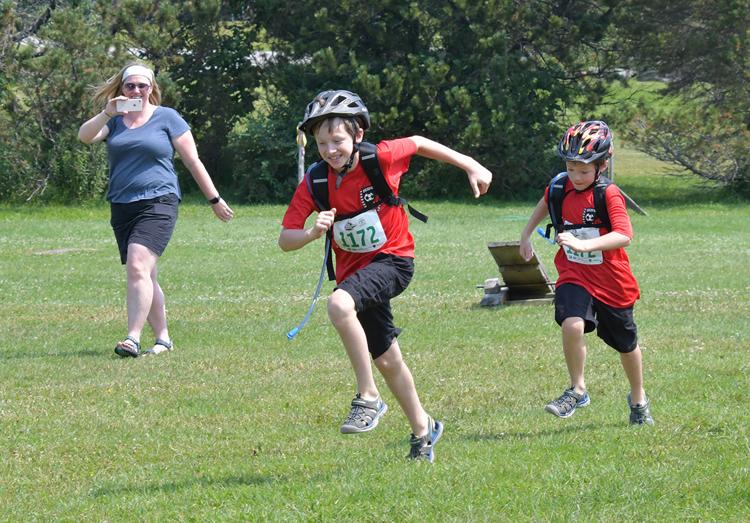 Held for the fifth year at Trapp Family Lodge this past weekend, the Kids Adventure Games threw everything they could at the junior warriors in a 2.5-mile course designed onsite last week, and the kids relied on each other to make it through.
There were cargo nets, a slog through a bog, a bicycle course, walls and balance beams and a slippery slide to the finish.
Billy Mattison — he makes sure to note the spelling, saying of a particular Adam Sandler film, "That movie is the bane of my existence" — is the course designer and helped found the event.
Mattison said the course had about 300 feet of vertical. The first section included up-and-over obstacles such as a cargo net and "slip walls," followed by a swamp crawl, and two sets of slack line courses, one over a mud pit, and one a "jungle walk" where the kids walk from tree to tree.
Many of the obstacles are all but impossible for one kid to do, and that's planned on purpose.
"It's all about teamwork," Mattison said. "They've got to work together to get over them."
After that first section, it was on to the bikes, where the kids did a loop that included a zip line, blow-dart-gun hunt and a catapult launch.
It ended with a water slide back down near the start/finish area, and up to the chapel to ring the bell, indicating course completion.
Mattison said he used to compete against a lot of the people now involved in running the event back in the day, in races like the Eco-Challenge.
"I just put in things along the way that I liked to do as a kid," he said.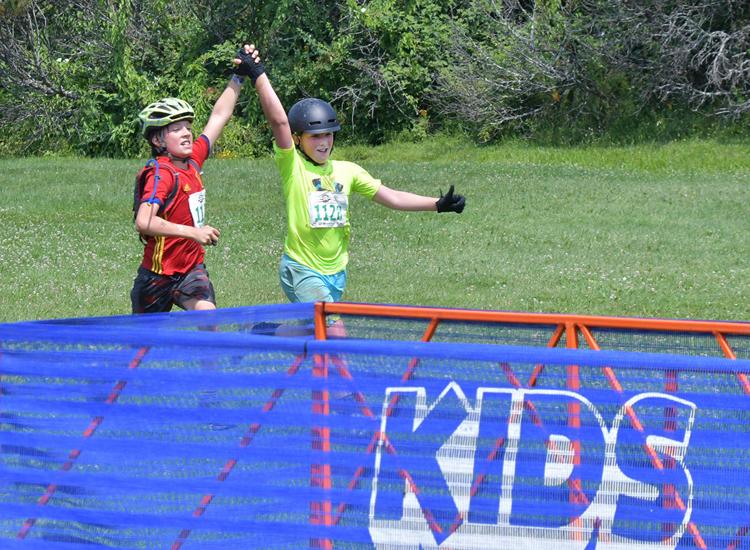 Mattison points out there is a difference between obstacle-course races and adventure races like this. The key difference is you've got to find you own way though this one.
The course does give some indication, with blue flags, which way to go, but the only true way to keep on course is to refer to your map. Each team is given one, and a volunteer checks off each obstacle. Protecting the map adds an extra element of responsibility, especially when there's a point where the competitor is completely underwater.
Of course, this being a group of kids aged 6-to-14, they are helped out by the course workers.
"We don't want them to wander off into Lake Champlain or anything," Mattison said.
Lauren Stagnitti, director of the outdoor center at Trapp Family Lodge, said there's a strong local showing, and many families from elsewhere in New England make their whole vacation out of it. This makes the event grow every year.
"Local kids get excited, especially the ones who have done it, and shared it with their friends," Stagnitti said.
It's a win for Trapp Family Lodge too. Stagnitti said it's good to have these kids come here and have a good time, and they're going to grow up and bring their kids here.
The parents often already have a recreational bent, and are happy to see their kids relish in the outdoors. Actually, they're just a little jealous, too.
"Adults all want to do it, they really do. They all want to be a part of it," Mattison said. "And what they don't realize is these kids are actually fast. A lot of the parents would not beat their kids."
Originally, five years ago, the games were going to be held at Stowe Mountain Resort, but the state and federal forestry departments put too many restrictions on them — they couldn't walk in the creek, for instance.
"Here, we're sending them through a swamp," Mattison said. "This is really one of our favorite places to come to. Trapps lets us do whatever we want, pretty much."
The Kids Adventure Games started 10 years ago in Vail, Colo., where Mattison is from, and now has races all around the country. Each one has a little something different for the racers, and not just the elements planned by the organizers. Mother Nature can be the great unknown.
The weekend before last, at Lost Valley in Maine, it was 95 degrees, and it "felt like 110."
Other times, it gets cold in the summer. In a race at Big Sky, Montana, it snowed 8 inches. Still, 100 percent of the teams showed up and only two kids didn't finish.
"This is the toughest kids race in the state of Vermont," Mattison said. "You don't want the same course over and over. You've got to change it up, and next year it will be different than this year."