Stop me if you've heard this one before.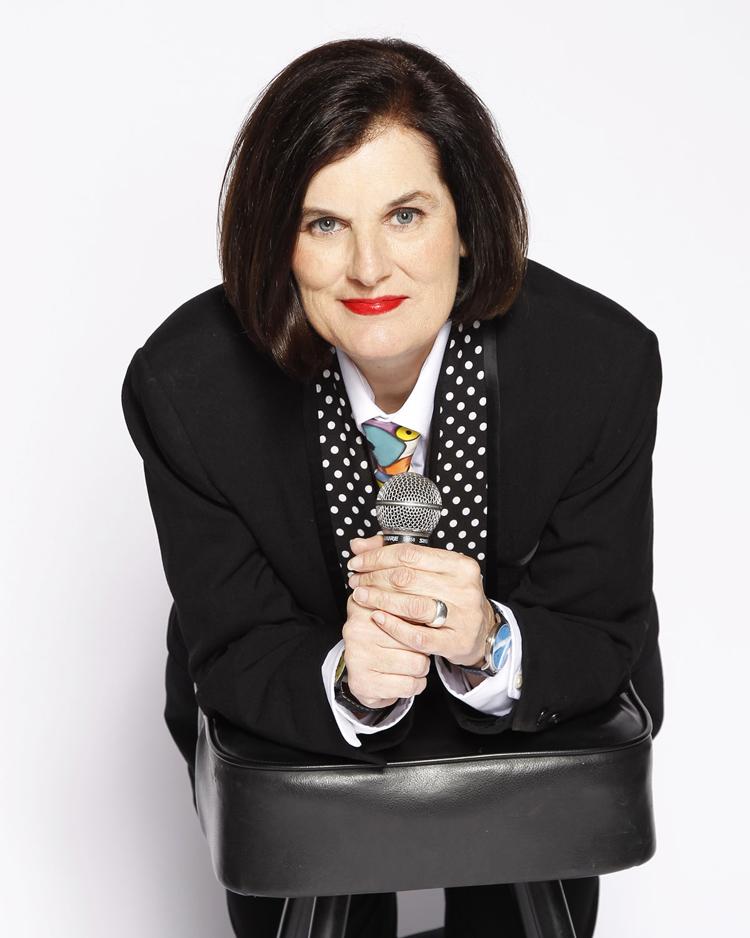 Stand-up comic and beloved radio personality Paula Poundstone will take the stage Friday night at Northern Vermont University-Johnson, bringing decades of stage experience and the rapier-sharp wit she displays most weekends on the NPR quiz show "Wait Wait … Don't Tell Me!"
Poundstone has been telling jokes for more than four decades and has performed for an array of late-night television hosts, including David Letterman, Stephen Colbert and Carson Daly.
In 1992, she provided backstage commentary during the presidential election on "The Tonight Show with Jay Leno."
It was also in 1992 that Poundstone became the first woman to host the White House Correspondents' Association dinner, which — until the current administration — included the presence of the president of the United States.
Poundstone recalled her reluctance to take the gig, noting her opposition to the policies of then-President George H.W. Bush, as well as performing for a good-ol' boys club that didn't even allow women in the room until 1961.
However, all of those concerns went out the window when she received an invitation to meet Bush at the White House.
"When I got that call, I could not stash my spine under my bed fast enough," Poundstone said. "I flew to the White House, and George Bush was very charming and accommodating."
At a certain point, however, she wondered why she had been invited.
"He didn't say what he wanted for the longest time, and finally I asked him if he's trying to soften me up," Poundstone recalled. "He said, 'No, but the last performer at this thing was very blue, and that didn't go over very well.' I told him that wouldn't be a problem with me and he said, 'Good, then, say whatever you want.'"
Poundstone regularly shares her political views as a panelist on "Wait Wait … Don't Tell Me." Over time, she has seen her fan base grow, but not exactly merge.
"I've been a stand-up for 41 years, and I started doing 'Wait Wait … Don't Tell Me' 18 years ago, I think, and I started getting these NPR fans. There are still people who come to my shows who have never heard of 'Wait Wait … Don't Tell Me' and there are 'Wait Wait … Don't Tell Me' fans who have no idea I'm a stand-up comic. I'm not sure what they have in common. They do get along very well, I must say."
Poundstone's comedy delves into her personal life with observations on parenting and frank discussions of past alcohol abuse, and as she tells her tales of wonder and woe, she draws great satisfaction from her connection with the audience.
"It's the best feeling in the world to say something funny and have people laugh, and one of the things it does, for the group in front of me and certainly for me, is it ties you to humanity," Poundstone said. "You're like, 'Oh! I'm not the only one!'
"I go on stage at the worst time of my life when it feels like everything's falling apart and I tell a few jokes about it and it's great. It makes everything doable."
Poundstone is also known for her crowd work, and her ability to ask an audience member what he or she does for a living and riff on it for minutes at a time.
There is one vocation, however, that defies humor.
"Sometimes, the answer I get is software developer, and when I get it, my eyes begin to slowly glaze over and I quickly say, 'What do you do with your free time?'" Poundstone said. "There is something about it that is dull beyond belief. The thing about software developers is even they don't want to talk about it."
In addition to stage and radio, she hosts a podcast, deprecatingly titled "Nobody Listens to Paula Poundstone."
"I thought it was going to be easy, but it's actually a lot of work. Eventually you get to the point where you sit in the studio, and that's fun," she said. "I tape in a small studio in North Hollywood and we have a musician each week. We can only fit one instrument, so sometimes it's just a tuba."
Like her stage work, the podcast is unique and idiosyncratic — she employs naked hand puppets in an all-audio format — and it gives her an ability to explore humor in a way that differs from stage or radio.
"If I'm on stage in front of a crowd, I get a reaction from the crowd, and sometimes the reaction is that it wasn't funny, but you get that immediate feedback.
"With the podcast, I get no measure of how it's going, and the good news is that it's so freeing," she said. "Because there's no audience to respond, if I think of some goofy thing, I can just play it to the hilt and nobody's going to say it's not funny, and even if they did, I'm not going to hear it."
While she's thriving in the world of radio and online media, Poundstone said people need to get out of their homes and connect with each other the good, old-fashioned way.
"You don't have to come see me — although I'd love it if you did — but people need to make sure they are going out, that they are being with other people in a group, strangers perhaps," she said. "Now, with all this electronic stuff, people are so isolated and people are depressed at numbers unheard of in this world and I swear it's because we mistake social networking with social life. It's great to come out and laugh for the night. You don't have to do it with me, but do it with somebody."