He has the perfect blend of seriousness and ridiculousness. He's unfailingly dedicated to his students. All in all, Jeff Grogan is just outstanding.
Grogan, who has taught at Stowe Middle School for 20 years, has been honored with UVM's Outstanding Teacher award.
"He is the perfect man for the job," said Charlie Gordon, a colleague of Grogan's who teaches eighth-grade math and English at the middle school. "He is the ultimate middle school teacher. You could put him in the high school or the elementary school, and he would do well. But, he's got the perfect mix of seriousness and ridiculousness that you need as a middle school teacher."
Gordon, himself a longtime veteran of the middle school, was on the committee that hired Grogan back in 1999.
"I worked on the same educational team as him for many years," Gordon said. "He is unfailingly dedicated to his students."
For the past two decades, Grogan has taught science, and currently teaches seventh-grade English and literacy. The 52-year-old grew up in Connecticut, but spent summers in Hyde Park.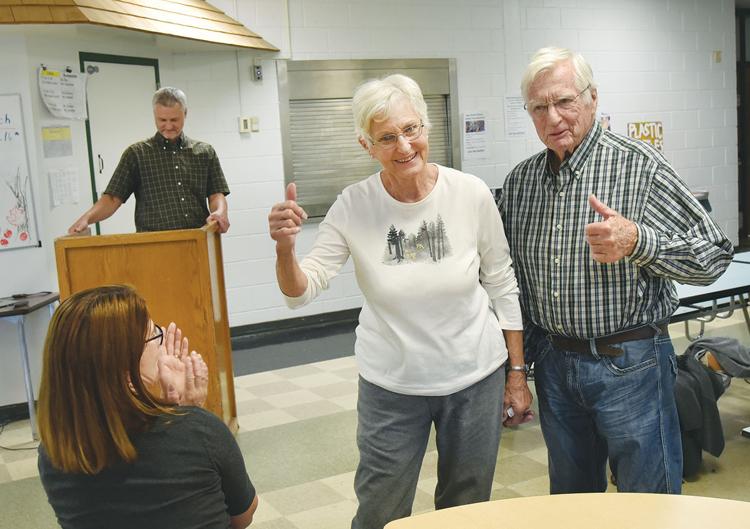 "My dad was a teacher and we would come up and camp in a hunting camp every summer," Grogan recalled. "I live on that land now."
Being an educator is a tradition that runs in his family; in addition to his father, his mother also taught, as does his sister.
The UVM Outstanding Teacher Award is given annually to faculty members who demonstrate excellence in one or more of the five standards for Vermont educators — learning, professional knowledge, advocacy, colleagueship and accountability.
Grogan received the award last week during a ceremony at the school; however, he was notified — in a roundabout way — before that.
"The principal said the award was for someone in the building and started profiling who it was, and by the end, I knew it was me and my jaw hit the floor," Grogan said.
Middle school Principal Dan Morrison spoke at length about the many strengths that Grogan brings to the school.
"Jeff will give up his downtime to be available for students, parents, colleagues or even to hear his principal's newest 'aha moment,'" Morrison said. "He has an infectious energy that all students gravitate toward. His students arrive early, some as early as 7 a.m. His students are often the last ones at recess because they don't want to leave the classroom. They simply can't get enough."
Grogan is the longest-serving member of the school's leadership team and he serves as a mentor to new teachers.
For his part, Grogan had nothing but glowing things to say about the school and his colleagues.
"It clicked right from the get go, with my job interview," he recalled. "They liked me and I liked them. I've been supported from day one by my colleagues. I've been here 20 years and there are people who have been here longer than me. It's like a family here."
While he has one of those mad scientist-like classrooms that you might find at any middle or high school — Morrison calls it an "evidence-based classroom" — in a larger sense, Grogan's students learn in a setting as large as the great outdoors.
One of the first things he did upon joining the staff of the middle school was to plant a garden, which he uses for lessons and is the setting for the school's Garden Club.
"He's developed this incredible garden," Gordon said. "It's become the foundation of his science teaching, and he has kids out there spring, summer and fall, cultivating the garden and teaching them lessons."
Grogan also leads an annual week-long trip for seventh-graders to Nature's Classroom in Ocean Park, Maine, where students engage in what he referred to as "experiential learning."
"We will visit the beach and collect shells to learn about bivalves and mollusks, or we might visit a marsh to learn about estuaries," Grogan said.
After taking a class at the University of Vermont about the ecology of Lake Champlain, last year — for the first time — he brought students out on a boat to study the lakes flora, fauna and water quality.
"Education, when it's hands on and in real life, means so much more," Grogan said.
Grogan is one of two teachers within the newly formed Lamoille South Supervisory Union to receive the award.
William "Bill" Fishell, who has been at Peoples Academy Middle School since 1996 and who currently teaches humanities, was also honored.
William Fishell, who has taught at Peoples Academy Middle Level since 1996, has been selected to receive a UVM Outstanding Teacher Award.
"Jeff and Bill create classroom environments that encourage students to face new challenges and build the confidence to succeed," said Lamoille South Superintendent Tracy Wrend. "They exemplify the excellence of LSUU educators and are outstanding leaders."