"I wasn't thinking about running, since I was still fairly new in town," said Linda Martin, remembering how she was coaxed into running for election as Wolcott's town clerk, a post she held from 1986 until Town Meeting Day in March.
That's about as Vermont a statement you'll hear, when "fairly new" in a rural burg means you've been there six years — Martin and her family moved to Wolcott from Connecticut at "the very end of '79."
But she was working part-time at the Center for Northern Studies, mostly staying at home with two young daughters, so she wasn't exactly a known entity.
"A group of citizens approached me and asked me if I would run," she said. "I think they were looking for someone who didn't have ties and relatives, you know, a new face with new ideas, I guess you'd say."
Four people were running for town clerk that year — Mary Harris, Candy Lamarche, Barbara Tallman and Martin. The previous town clerk, Nellie Andrus, had hand-picked Lamarche as her successor, and Lamarche had actually been appointed to the position when Andrus retired the fall before Town Meeting Day 1986.
"We all had to stand up in front of the stage for people to look at us," Martin said, laughing at the memory of being showcased before the voters, rather than being able to actually campaign or say something about themselves. "I didn't know many people. I was very nervous."
Since she wasn't "the chosen one" of Andrus, who had logged more than three decades as Wolcott town clerk, Martin's training was pretty brief.
"I was given the combination to the vault and that was it," she said.
Things weren't as complicated as they are now — "a lot of pressure from the state" — but there were no computers to speak of, so everything was either handwritten or typed. She used to do payroll for both the town and school employees, figuring out all of the withholdings manually.
Martin estimates Wolcott's population was 800 when she started. Now, it's more than doubled, to about 1,800.
"There was a period, I remember, where there was a lot of subdivisions. There was a growth spurt. It's really kind of flattened out lately."
As the town got bigger, Martin took it on herself to make sure the clerk's office grew and evolved, too.
"You know, just trying to make the office more professional, to stay on top of all these changes," she said. "As the state requires more, it's a protection for the citizens from liability and so forth."
The next generation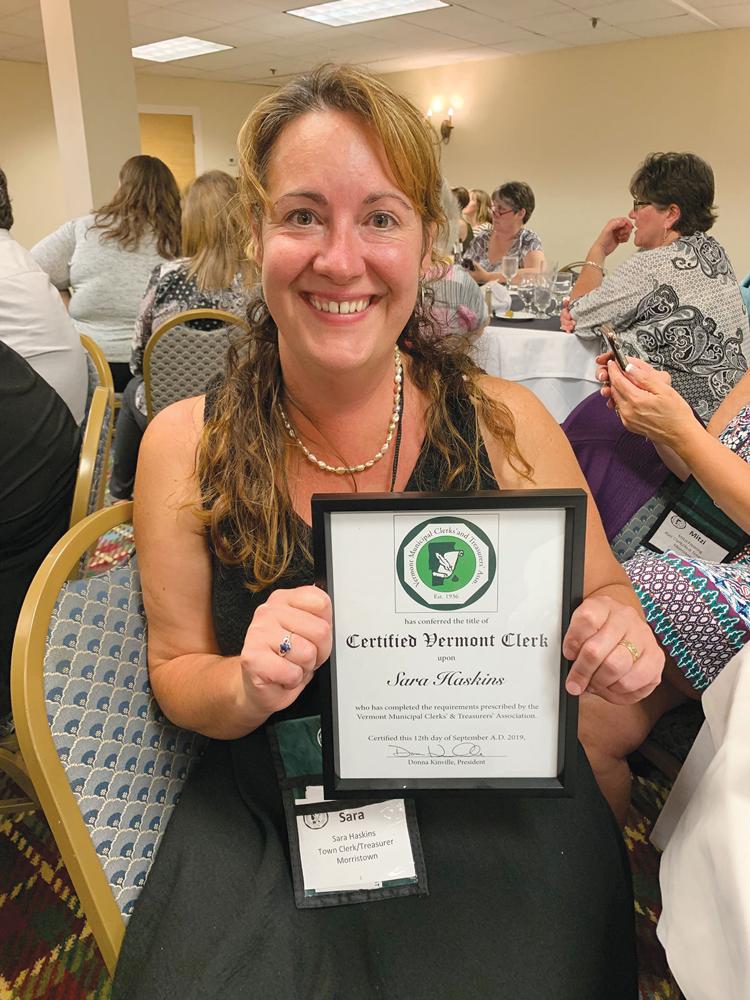 Martin's daughter, Sara Haskins, spent a lot of time in the Wolcott town clerk's office when she was a kid, although not as much as she now spends in the Morristown office, where she's been the town clerk for three years.
Sense a trend? So does Haskins.
She's worked in various aspects of municipal government for 15 years, first in Johnson for a few years and since in Morristown. But she got her first experiences in municipal minutiae at the ripe old age of 10.
"I'd mail tax bills," Haskins said. "She would bring stuff home and I'd stuff envelopes."
Haskins helped out with zoning and assisted in laying out the annual town report.
When she'd come home from college, she had new skills she'd learned, particularly the computer kind. She remembers, either in high school or college, becoming proficient in the New England Municipal Resource Center's accounting software, omnipresent in cities and towns, used to manage things like land records, tax bills and dog licenses.
When Haskins became Morristown's clerk, she and Martin would compare notes. And it wasn't just daughter leaning on mother; Haskins was coming into things with fresh eyes and the technology know-how that often comes naturally to late-era Generation Xers.
"You can't go to college to get a degree in this," Haskins said. "So, we'd rely on each other."
Haskins went to Wolcott's town meetings all the time as a kid — and as soon as she turned 18, she worked the voter checklists.
"For me, it really wasn't a chore. It was like a holiday," she said. "There'd always be yummy food, and you'd see everybody you knew."
Although Haskins has been going to town meetings practically all her life, she wasn't there when her mother was elected as Wolcott's town clerk.
"I was in fourth grade, and babysitting," she laughed. "I didn't want to be there, I was so nervous. But I also wanted to be there, but, again, I was so nervous."
When Haskins was running for the clerk position in Morristown, she remembered that year, and decided she wanted her family with her.
"She's a very smart girl, and organized, just like her mother," Martin said. "I'm very proud of her."
"Moms usually know best," Haskins said. "I love it, and I can't imagine not working for my community."
From the vault
One of a town clerk's most important duties is making sure some incredibly old documents in the town vault remain safe.
Martin, interviewed shortly before Town Meeting Day this year, before coronavirus barred anyone from entering the town clerk's office, gently displayed Wolcott's oldest land record book, with an entry from 1794, faded script still legible on the luxurious linen paper, bound in red leather. That's 13 years after Wolcott was chartered.
She pulled out the oldest vital record she can find, a birth registrant of "somebody Thompson, it looks like," from May 16, 1769. That's when Wolcott was part of Orleans County, before Lamoille County was even carved out, she said.
"I respect those documents, and I respect that they're organized and kept safe, preserved," she said.
Although so much of what Martin does is in the digital realm, there are still land records bound in leather, pages yellowed but still intact, having passed through — for the most part — respectful hands throughout the centuries.
Haskins has the same respect for the public record. For her, the Wolcott vault held treasure.
"I remember wanting to go in the vault all the time as a kid," she said. "She said, 'yes, but only if I go in with you.'"
Enough's enough
The past few years have been stressful for Martin, as the select board asked her to do things that normally fall under its purview, not the town clerk's. She said she even wrote a letter to the board in 2017, asking it to relieve some of her workload, such as figuring out the town's certificate of highway mileage or other duties that should be done by the road crew or the board.
"I feel like I'm not able to spend my time doing what I'm supposed to be doing because I'm doing town select board work," she said. "Everyone just kind of expects that I'm here in the center and I'm going to do that."
Martin also went through a fairly public — for eastern Lamoille County, anyway — falling out with her longtime assistant, Belinda Clegg. Unlike the Nellie Andrus spurning 34 years ago, Martin actually saw Clegg as her heir apparent, and had been training her for years to succeed her.
And then last year, something, the details of which remain murky, went sour. Martin decided she wanted to serve one more term, and Clegg felt it was her time. Words were said, some in private, some in public, and Clegg was relieved of her duties by her boss and friend.
Heck of a way for Martin to start another three-year term.
So, she decided to retire a year into it, and run for select board, where she can have a chance to set the vision for the town she's been serving for three decades, instead of doing all the heavy lifting.
She was elected at town meeting. Clegg, who had waited so long, was elected to replace her as town clerk.
Big picture
Martin got her taste for crafting policy during a dozen years in the Vermont House of Representatives, from 2005 to 2017, serving on the House Government Operations Committee.
She'd been urged to run by Susan Bartlett, then Lamoille County's state senator.
"Everyone's always asked me to," Martin said, laughing. She discovered later that lawmakers are always on the lookout for like-minded people to serve. "It's kind of a job of legislators, to find those of the same kind."
In her 12 years in the House, Martin's name was attached to hundreds of bills and resolutions. She had a particularly big impact in the realm of public records — not surprising from a town clerk with an august respect for the things in the vault.
Martin hopes to see a renewed sense of community in Wolcott, and she thinks holding one of the five select board seats will put her in a stronger position to foster big-picture thinking.
"I think we need to do better in rewarding or appreciating our volunteers, get volunteerism back up again, which we don't have anymore. Maybe it's just a sign of the times," she said.