A new exhibit at Grass Roots Art and Community Effort, or GRACE, in Hardwick brings together a contemporary artist's Cuban work with selected work from a legendary outsider artist in an unlikely yet effective show that bridges the gap between the organization's past and present.
"WonderLands" presents Morristown painter James Rauchman's oil paintings, born from his decades-long love affair with Cuba, alongside the cartoonish drawings of Gayleen Aiken, an eccentric folk artist who achieved widespread acclaim in her lifetime after being discovered by the GRACE artist workshops before her death in 2005.
The exhibit will open with a showing of Rauchman's film "San Lazaro's Night" on Friday, May 19 at 6 p.m., at the Mill Street gallery and the show will be on view through the end of June.
The exhibit was curated by Lisa Wolfgang, formerly a director at River Arts in Morristown, on behalf of Rural Arts Collaborative, which oversees workshops and exhibits at GRACE and other art initiatives in the Greensboro-Craftsbury-Hardwick region.
At first blush, the pairing isn't immediately intuitive. Rauch-man's pieces are lurid, evocative oil paintings in which fabrics flow and colors burst from revelers and dancers enacting the rituals of Santeria, an Afro-Caribbean religious tradition that combines elements of Yoruba customs with inflections of Spanish Catholicism.
His work on display at GRACE is clouded in city darkness, allowing contrasting colors from women's dresses, a goat's slit throat and a religious altar, among other objects to burst from the canvasses.
The paintings, as well as the short film, were drawn from Rauchman's decades-long infatuation with Cuba, its culture and the relationships he's developed there over the years. In one painting, a figure that looks a great deal like Rauchman dances as one of the crowd, face obscured in the motion.
Over the years, his fascination with the Communist island country and its aesthetic stasis characterized by mid-century cars and appliances has grown into an appreciation for a remarkable way of life.
"In some strange way, I discovered freedom there, which is so weird, because it's so repressive in so many ways, but it offers things that the United States has closed off from us, things about spirit, things about art and living your life artfully. There's a luxury of time because it isn't segmented in the same way," Rauchman said.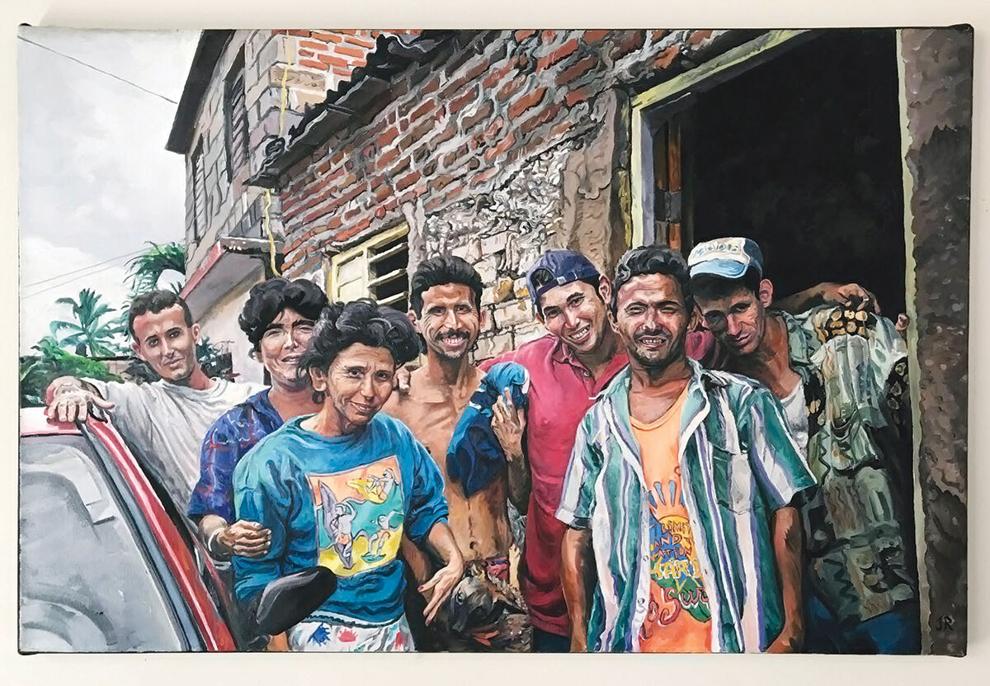 Where Rauchman's work is multicultural, vibrant and realist in sensibility despite his Impressionist-indebted technique, Aiken's is pure id, the work of an obsessive artist with a clear vision and unrelenting adherence to it.
Aiken grew up in an old house in mid-century Barre, when it was still a superpower in the granite industry. An only child, Aiken invented the Raimbilli Cousins, a cast of fictional relatives that included her alter-ego "Gawleen," that populated her crayon and colored pencil works for the rest of her life.
She even made cardboard cutouts of the cousins, some of which are on display in the exhibit.
After a turbulent childhood that saw her leave school in the eighth grade in part to care for her ailing mother, she was eventually discovered by Don Sunseri, who headed the GRACE organization in the 1980s, according to "American Folk Art: A Regional Reference, Vol. 1."
Sunseri championed Aiken's so-called naive art, replete with repeated themes and images drawn together to form an uncanny mirror to the granite quarries of her childhood. This made her into "Vermont's Grandma Moses" and an established outsider artist whose work was shown in New York City galleries.
By pairing Rauchman and Aiken, Wolfgang is drawing together two artists who have exhibited widely and, though they worked in very different artistic traditions, together form one representation of what it means to be a Vermont artist.
At one point in the exhibit, the two artists intersect.
In Rauchman's "Abrazo," a roomful of people is depicted together but separate in a party scene. One couple is wrapped in an inebriated embrace, others are clearly interacting with other figures just out of the frame. A seated figure looks directly at the viewer, to striking effect.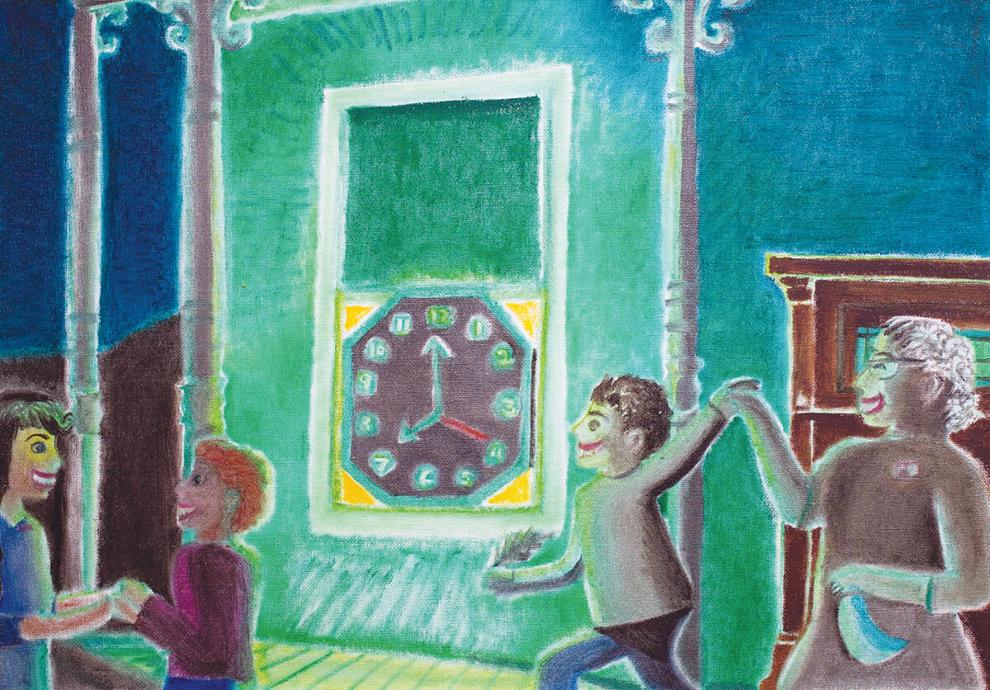 In Aiken's "Cousins Gawleen, Johnio Gawliver…," the cousins dance in a darkened room, lit only by a glowing green clock, an image that appears often in her paintings, along with the Nickelodeon piano just visible in the corner of the drawing.
In both works, there's a sense of levity and an eerie calm, hinting that both works share a similar emotional palette, even if they couldn't be further apart from one another, materially, culturally and aesthetically. If the viewer looks closely, they can see that, like the artists featured in the exhibition, the works are in conversation across a vast chasm, but are still within earshot of one another.