What goes down must go up. At least, that's the case with an 1843 carriage barn on Sunset Street in Stowe.
Taking down a 177-year-old structure can be done very quickly. One could take an excavator, bulldozer or wrecking ball and just have at it, knocking walls, floors and ceilings down in dramatic clouds of dust, workers wearing hard hats to protect themselves from flying bits of debris.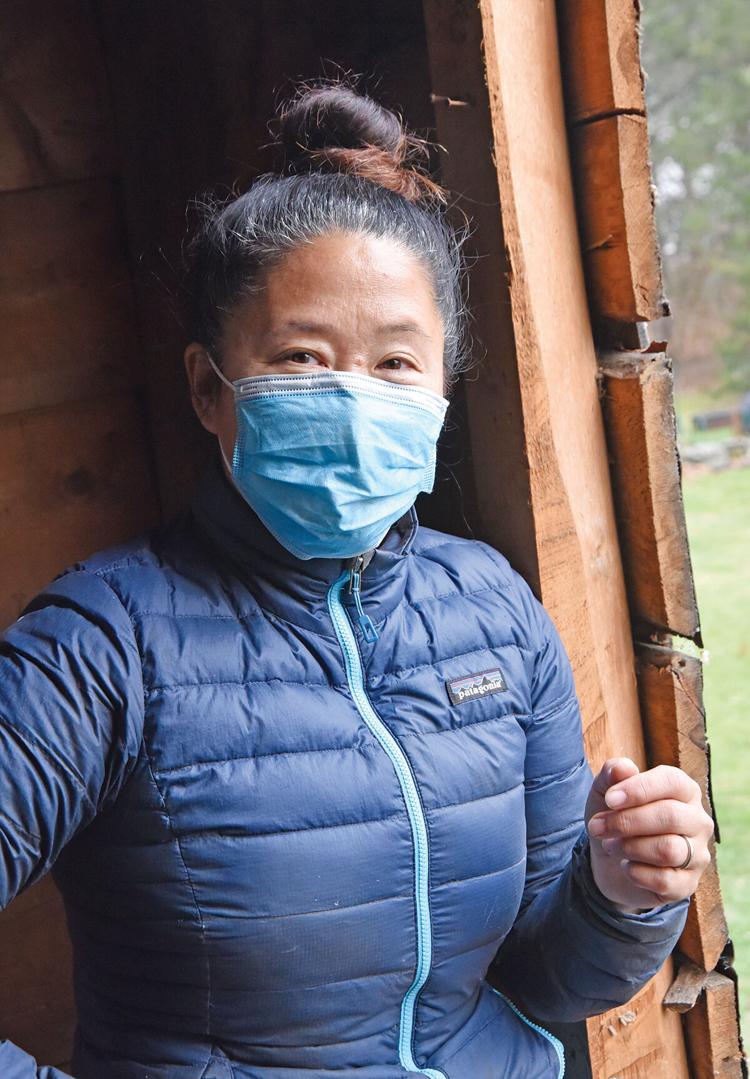 Or, one could approach it more gingerly, piece by piece, nail by nail. Rebecca Chase estimates she personally pulled at least 2,000 nails out of her and husband Rob Foregger's historic barn. They hired Aaron Flint Builders of Waterbury to do the rest.
"I do love being part of it, sneaking in there whenever I can and sweeping up or carrying stuff, or whatever I can do," she said. "I'm like the kid sister."
The crew gingerly took down the barn in just under a month, and saved as much of the material as they could, sending the heavy support beams to the Fontaine Sawmill, where they were placed in a 25-foot-long kiln in order to bake out the bugs. Chase said the beams will come back in January, and the barn will go back up, with many of the same pieces it had when it was sitting there, slightly sagging, as recently as early autumn.
The builders are just as eager as Chase to salvage as much as possible. It's one thing to save the wood beams. It's another to take care to not break off the tenon on one beam that slips into the mortise of another.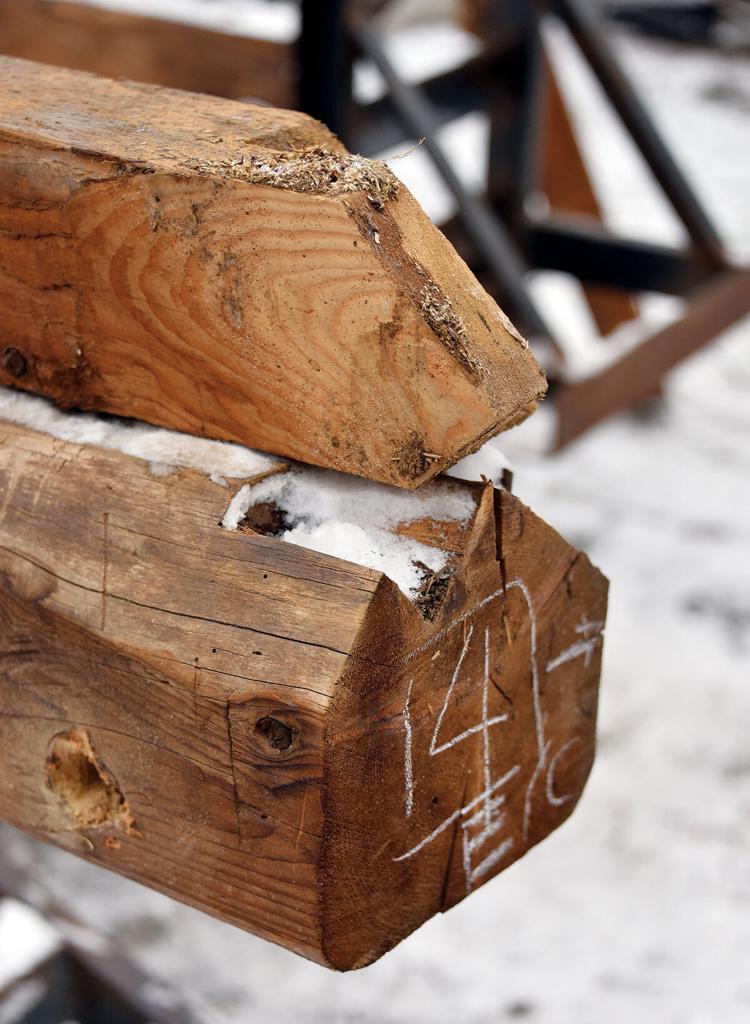 "It was a point of pride for them," she said. "We had a long discussion about it before we even started. I said. 'This is what I hope for, and I hope you can join me on that journey, to be respectful. Because we're trying to preserve something here.'"
Figuring out when the barn was built took a little sleuthing on Chase's and Foregger's parts, along with some help from the Stowe Historical Society. Luckily, the historical society had done much of the work earlier this decade — it performed more than two years of deed research on some 400 houses and other structures in town and sold oval plaques indicating the year the structure was built. The Sunset Street home was built in 1843.
"As we excavated, it just became apparent that it would have made perfect sense for the two to go up at the same time," she said.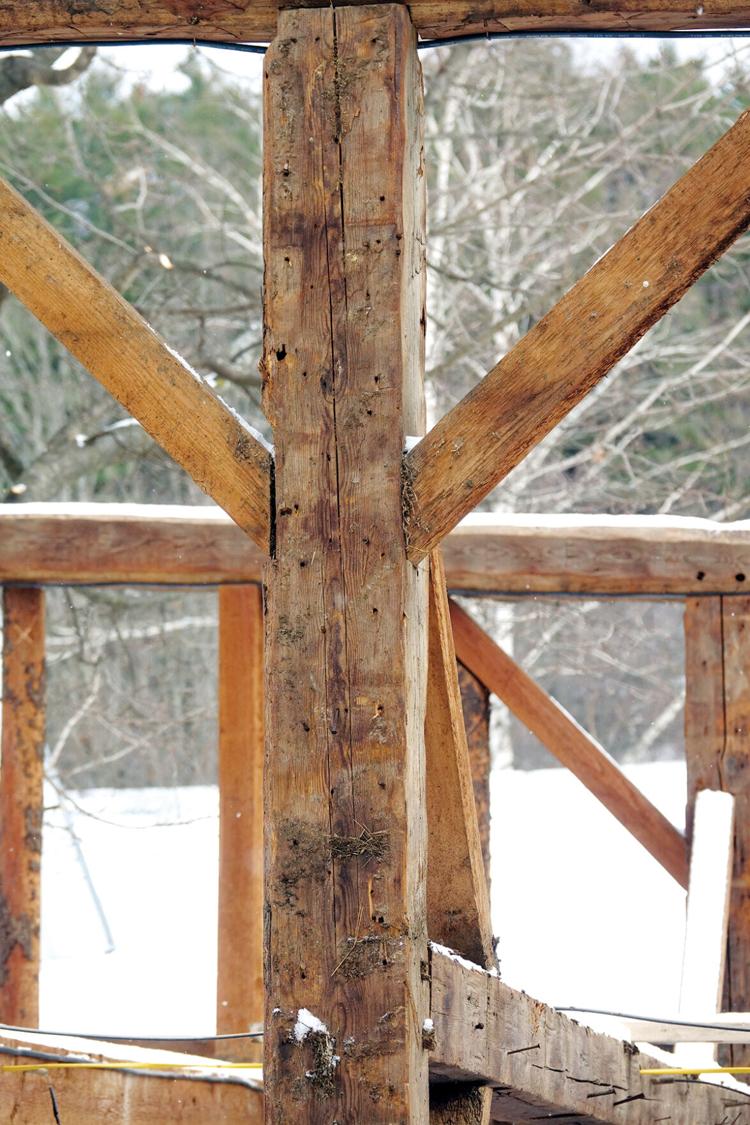 The architectural archeology showed more modern boards in the back of the barn, from an addition that had been built much later. Chase thinks the more contemporary parts went up in the 1940s.
Someone from the state agency of commerce and community development took a look at the structure and suggested it was originally a true carriage barn. That type of barn did just what the name suggests — store an owner's horse-drawn carriage. The yellow and white building next door is also a restored carriage barn, but one that got its restoration done much longer ago. Chase and Foregger's barn was beyond repair.
"We had several carpenters and builders come by, and the consensus was because enough hadn't been done 70 years ago to shore it up, it was more like, 'You still have to take her down and put her back up,'" Chase said.
Chase and Foregger moved into the house in 2012, right after they got married. They'd been renting the place next door, and they had no idea their new place was something of a fixture. It had housed a yoga store in the front and a hair salon upstairs. Sometimes, people came right on in, not realizing it was now their home.
"One guy showed up for his appointment and was trying to go upstairs and I was, like, "Buddy, whoa, whoa, whoa,' " she said.
When the barn is re-erected, it will look very much the same from the outside, although white with green trim instead of the yellow barn people have been used to seeing. The inside, though, is still in the graphing paper stage.
Chase said they haven't determined exactly what they want the interior to look like, and have been sketching different variations on New England or Pennsylvania Dutch architecture.
"The inside doesn't matter, as long as you're using the original material," she said.