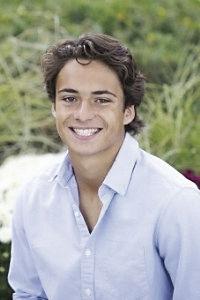 What kind of person is Alex Tilgner, who graduated this month from Stowe High School?
Just ask his coaches.
"He's just one of my all-time favorites as a human being," said Brian Buczek, who was Tilgner's varsity soccer coach for three years. "As a coach, he's the kind of kid you want people identifying with your program."
"Great kid; he's a leader," said Adrien Melrose, who coached Tilgner on the Peoples Academy-Stowe High hockey team. "You always know what you're getting from Alex. He's always giving you 100 percent and will do whatever he needs to win."
"He's one of my favorite athletes in the last seven years of coaching the high school team," said Stowe High tennis coach Jamie Watson. "I can't say enough amazing things about him."
"You'd really have to go very far to find a more genuine young man than Alex," Buczek added. "He's just so real."
Tilgner played three seasons of varsity tennis, soccer and hockey, plus a season of golf. His teams won three state titles in soccer, one in tennis, and were runners-up three times, in golf, hockey and tennis.
Tilgner was the Division 1 Player of the Year in hockey and was picked for the Division 2 All-State Soccer Team.
But athletic excellence doesn't begin to define Alex Tilgner.
Tilgner's father, David, was diagnosed with brain cancer several years ago. After a two-year battle with the disease, he died in 2017, when Tilgner was entering his sophomore year.
Tilgner turned down a chance to play hockey in prep school so he could stay close to his mother, Lori, and little sister Kate.
"With everything going on with my dad, it just wasn't reasonable for me to leave home," Tilgner said. But he'll leave this fall; he's headed to Northeastern University in Boston.
Losing a father
Tilgner got an early start on hockey excellence. He played for several traveling hockey teams including the Green Mountain Glades in middle school and the Vermont Flames during his freshman year. That was a huge commitment, and he knows he couldn't have done any of it without the support of his family, and his father in particular.
"Going to Boston every other weekend, leaving Friday afternoons and getting back Sunday afternoons. Just the driving was a big commitment," he said. His dad typically drove.
"He was always my biggest supporter. Whatever I wanted to do, he would let me do," he said. "He took time off from work to drive me, took calls in the car on Fridays. He put everything into helping me do what I wanted to do.
"I'll always appreciate that."
David helped coach Alex in youth hockey in Stowe, and Heath Eiden, another youth coach, remembers how close father and son were.
"His character, just like his dad," Eiden said. "Very heartfelt, loyal, he always respected the fundamentals of the game and the beauty of the sport."
"A lot of what I play is because of him," Alex said of his father. "He's the motivation for a lot of what I do now."
Sports provided an escape for Tilgner as his father got sick and then died. And then they provided support.
Brian Buczek "was a big help. He pulled me aside and was always talking to me," Tilgner remembers. His father "loved watching me play sports, so when I was out on the field, I was always thinking of him."
Tilgner tried to keep his emotions in check through his first season without his father, but when the Raiders won the state title, "I remember breaking down and crying."
Staying in Stowe
Prep schools were beginning to recruit Tilgner when his father was diagnosed with cancer. That forced him to make a choice.
"With everything going on, I didn't want to be away from home," he said. "I wanted to be emotionally supported by them, to support them and to take on more responsibilities with my dad being sick."
Eiden has no doubts that Tilgner could have been done well in prep hockey. "To lose a father at such a young age, it is amazing that he persisted, carried on," Eiden said. "He never made it about himself, but I think he used that as strength to inspire others."
Tilgner has no regrets. "Looking back, I'm pretty happy I did stay. The athletics at Stowe are second to none, the academics too." And he was home.
A quiet leader
All his coaches believe Tilgner is one of the best leaders they've ever seen in high school athletics, and his teammates agree: He was elected captain of both the soccer and hockey teams his senior season.
"He wasn't the big pep-talk-speech guy but more of a by-example, day-in and day-out, set a great example for his teammates," Watson said.
"He's a man of few words, but of great substance. When he said something, people looked at him," Buczek said. "It always felt like he was in charge. … He's your friend, but would push you when you needed to be pushed."
Tilgner said he's always tried to lead by example, even as a kid. The communicating also comes naturally.
"Playing defense in soccer, you're always talking anyway," Tilgner said. Beyond that, he's always felt he should lead by example: "Work harder, which helped my work ethic. I always felt like I had to go to the next level with my effort."
In hockey, "he was a goal scorer, but he would hit, block shots, kill penalties, lead by example," Melrose said. "I'll always remember those players, the star players who are still being physical like that. Not afraid to get ugly, get his hands dirty. That's what stands out the most to me about him."
Mature beyond his years
Buczek sees Tilgner as a bit of an old soul, based on how he looks at things and works through them methodically.
Buczek has also coached college soccer, and "you see that kind of maturity in a 24- or 26-year-old as a college soccer coach, the type of player who has decided to go back to school and wants to play soccer.
"It was always pretty cool to see him in pressure situations," Buczek said. "In the toughest situations, he was one of our calmest players."
Buczek remembers a scrimmage against South Burlington three years ago. Buczek decided to give Tilgner, a sophomore, his first start as a wing fullback.
"Everyone looked at me like I was nuts," Buczek said. The Raiders took a beating that day, but "no one scored from his side. Even as a young player he was able to undertake a great deal of pressure and handle it very calmly."
A multi-sport star
Lots of athletes specialize in a particular sport, but not Tilgner.
"Hockey was the leader in my mind, but I would never give up tennis, soccer or golf to just play one sport," he said. "I've always love playing multiple sports."
Buczek calls Tilgner one of the best all-around athletes he's ever coached, "and to be the best player in hockey in Division 1, and he's a heck of a good tennis player and a heck of a good golfer."
Tilgner had a great stat line in his senior year of hockey, but Melrose thinks when and how he scored a goal, or assisted on one, says more.
"No garbage goals. Whenever we needed a goal, he was either scoring it or setting it up," Melrose said. "He's a winner."
And he earned other coaches' respect. The small-school Peoples Academy-Stowe High team had an uphill battle to play for the Division 1 hockey championship, but Tilgner "was a big factor every time we won. The other coaches acknowledged that," Melrose said.
Tilgner also scored the 100th varsity point during his senior season — "a great accomplishment, to average over a point a game for your career," Melrose said.
A memorable season
The state championship game, played at the University of Vermont's Gutterson Fieldhouse, was one Tilgner will remember forever.
"It was a surprisingly good season. Just to be able to keep up with Essex, BFA, and make it as far as we did was very cool," he said. "Playing in the Gut was the coolest experience."
The best memory from a high school career littered with them?
"The soccer team this year, moving up to Division 2 and winning the title there," he said. Stowe had won seven straight Division 3 crowns before moving up to D-2; the team didn't miss a beat, going undefeated and winning an eighth straight title.
"We were such a tight crew," Tilgner said. "To go undefeated senior year, after moving up a division and winning the D-2 state championship, it doesn't get much better than that."
Family
After his dad died in 2017, "my mom and my sister never stopped supporting me, never held me back from playing multiple sports all the time," Tilgner said.
He excelled in the classroom, too. He graduated with a GPA of between 3.8 and 4.0 — Tilgner said it's pretty hard to figure out an exact GPA with the new proficiency-based grading system — and he credits his mom for that.
"I'm always going to appreciate how important schoolwork was for her," he said. "It would have been easy playing all those sports to let school slip, but my mom kept me focused."
Tilgner's younger sister is headed to Stowe High School just as her brother leaves, and he expects her to do well.
"We have a little rivalry; she's definitely as passionate," Tilgner laughed. His sister plays hockey and soccer, but he thinks soccer is her first love. She even plays the same positions as her brother in both sports.
"Keeping that in the family," Tilgner said.
His mother serves on the boards of several local organizations and Tilgner spends a lot of time volunteering.
"I like to get involved in the community a lot," he said.
Moving forward
Tilgner plans to study engineering at Northeastern in the fall. His first choice? "I'm leaning toward civil engineering," he said. His father earned a degree in civil engineering, with honors, from Princeton University.
Buczek looks at things this way:
"If you've got a son, you hope they turn out a certain way. I'm positive his dad is looking down, that these 90-degree days are his dad beaming down, so proud of what his son has accomplished."