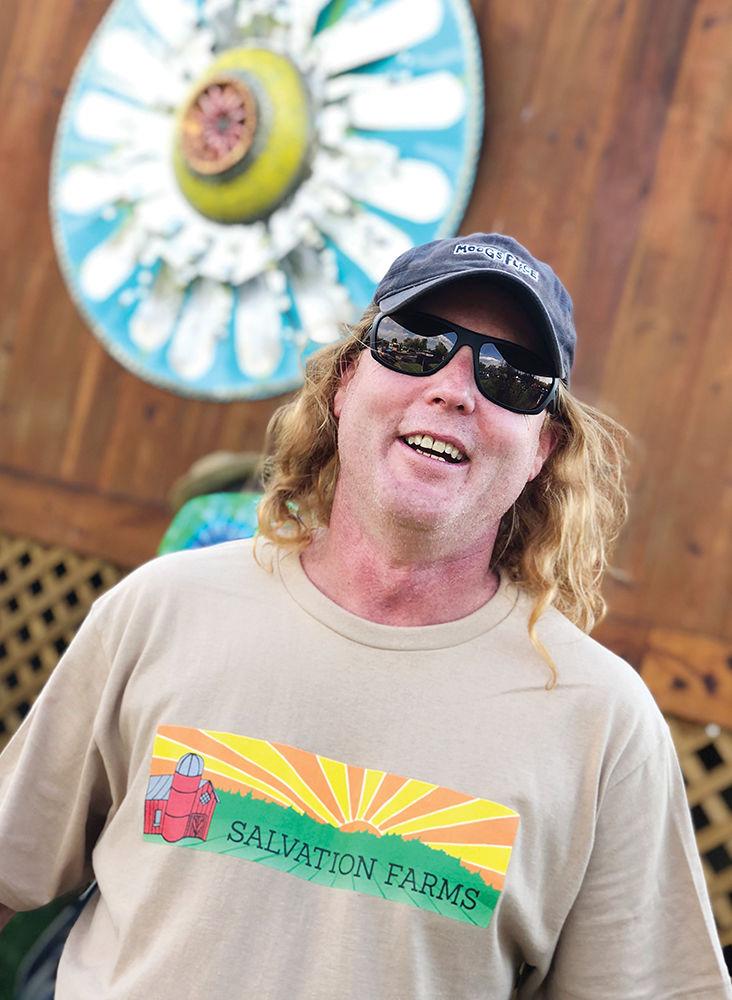 It is a bit like magic.
After the Hogback Snack Bar closed, new owners reopened the space under a name familiar to diners and fans of live music in Lamoille County.
Located on Route 15 just west of Johnson village, Moog's Joint is named after Tom Moog, owner of Moog's Place in Morrisville, which offers pub food, drinks and live music nearly every night of the week.
Moog — who shares ownership of his new location with John-Paul Arenas and Arenas' brother-in-law, Andrew Palladino — said he and his team have been busy since they opened the doors in late August.
"I would drive by and I would see this building empty, and just knowing it needed to be opened, and once we opened those doors — it's been no honeymoon — we had a built-in, immediate crowd coming back to see us night after night," Moog said.
Arenas, originally from Pawtucket, R.I., moved to Vermont in 2003. He has cooked at the defunct Inn on Trout River in Montgomery and managed Don Pedro's Taqueria in Winooski.
"I was about to start a food truck of my own this summer, and Tom and I started talking about different restaurant themes and lo and behold, this place became available," Arenas said.
Arenas discussed the tie he shares with Moog and Palladino.
"One common theme between all three owners is we're all live music lovers," said Arenas, who plays guitar in Green Mountain Freight, a band that blends original songs with Americana and rock 'n' roll.
Much like Moog's Place, Moog's Joint includes a stage for live performers. There is also a piano in the corner, where house pianist David Langevin tickles the ivories.
"At any given time of the day, David walks in here and this room ignites with his playing," Moog said.
Moog's Joint is really leaning into its food. The restaurant has partnered with Tony and Joie Lehouillier from nearby Foote Brook Farm to keep food local.
"Everything we can, we are using fresh from their farm in this restaurant, and it shows in the food," Moog said.
The menu includes Creole fried rice with shrimp and sausage, rosemary pork tenderloin, and apple cider-brined chicken.
The food comes compliments of chef Matthew LeBlanc, formerly of Harrison's Restaurant in Stowe, and Glen Wetherby, who previously cooked at the Brewster River Pub and Brewery in Jeffersonville.
Behind the bar, you'll find Don Horrigan, who previously worked at Claire's Restaurant and Bar in Hardwick and who co-owns Sumptuous Syrups, which produces premium farm-to-bar cocktail syrups in small artisan batches through the Vermont Food Venture Center in Hardwick.
"Tom has a huge reputation in the area for good service, so I didn't really have a chance to say no to this," Horrigan said. "It was like magic. One of the first times I walked in, I saw Matt in the kitchen, who I worked with at Edson Hill, and meeting J.P. (Arenas), we all just clicked right away."
"When Don says 'magic,' he's not lying," Moog said. "I didn't know I was taking the keys to this building, and no idea that John-Paul, Andrew and I would come together. Also, there's magic in this building."
The restaurant opened in 1968 as the Red Barron. Other incarnations include the Long Trail Tavern, the Landmark Tavern and, most recently, Hogback Snacks.
For many, the opening of Moog's Joint was like watching a friend who had moved away come back to town, a little better dressed, a bit more modern, and more refined in its tastes.
People pointed to where the old woodstove used to be, and talk about burning their hand on it, or leaving their hats and gloves and coats around it to dry out a particularly nasty winter night where the only neon for miles was beckoning through the snowflakes.
Along one of the scrubbed clean walls is the ghost of the old jukebox, the 1980s-1990s quarter-operated style that would accept dollar bills if you coaxed them flat. Plenty of country on that music maker, but this being a college town, you'd likely also find the latest Phish album — a quarter could get you a 30-minute version of "Tweezer" and cue the inevitable "blah blah hippies" grumbled into a plastic pitcher of Natty Light, the special on Tuesdays.
College professors would hold advanced-level classes there in the afternoon, when most of the students were 21.
Today, the interior is a far cry from those dive-bar days, with a large centrally located table — nicknamed Bertha — that draws together diners who might have arrived as strangers but leave as friends.
The amenities don't stop with the interior. Outside, there's a patio and a grassy put-in area for boaters looking to launch a canoe or kayak on the Lamoille River.
"We've already taken in some Long Trail hikers who were weary and went down there and set up their tents," Moog said. "They come in here, they drink some pints, eat some pasta and call their moms."
"And they love the WiFi," Arenas said.
For the past six years, Moog's Place has hosted Hammerjam, an all-day music festival to raise money for the Lamoille County Chapter of Habitat for Humanity. Moog said he would like to do the same sort of thing for Johnson.
"I want to do a lot for Johnson, for the kids, for the athletic programs and people around here who might need financial assistance, like what the United Way does with firewood," Moog said. "We want to create new events here, so we can raise awareness and money for good causes and bring the town of Johnson together."
Moog's Joint is open from 3 p.m. to close, seven days a week.