Spruce Peak is once again bringing a concert to music lovers, and anyone else who happens to live on a side street in Waterbury.
The Stowe arts organization is rolling out the second of its summer "Music in Motion" series all over the crossroads community, all on the back of a flatbed truck.
The band — Chad Hollister and Primo — gets rolling Saturday, July 18, at 7 p.m., starting in Pilgrim Park and ending, well, that's a secret and it's a key part of the show.
Round and round and round it goes; where it stops, nobody knows.
Spruce Peak offered its first drive-by concert last month in Morrisville, and the Waterbury entry will follow a similar format. The band sets up everything it needs to put on a show — guitars, amps, mics, speakers — on the back of a flatbed truck. That truck then takes a spin through town, reaching top speeds that wouldn't keep up with a dedicated power walker, often stopping for a few minutes to play a song for people who are on their porches or lawns, before slowly continuing down the street.
Where else are you going to hear the lead singer and guitarist introduce a key member of the band this way?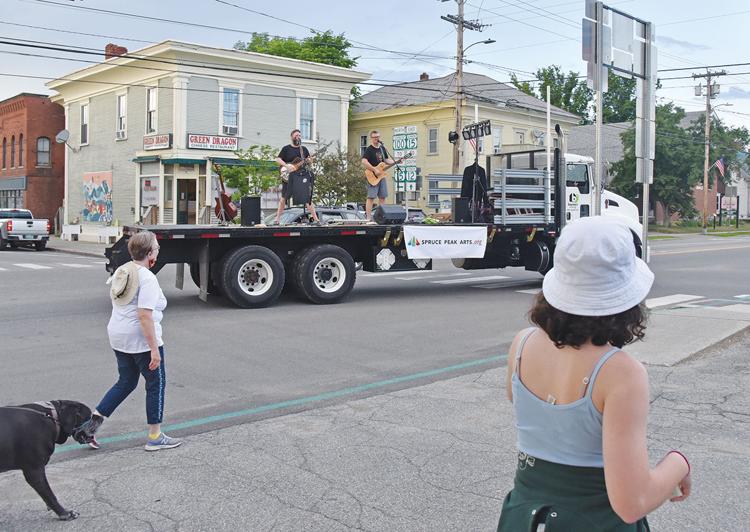 "That's our driver," Hollister shouted from the "stage" during last month's event. "He's got our lives in his hands."
There's a sort of Pied Piper feel to the event. As the flatbed and the two musicians atop it snakes its way through side streets, it attracts listeners who follow it all the way through town. Anyone with a step-monitoring device could probably log a mile or two following the music.
For those unsuspecting homebodies, the flatbed with Hollister and Primo might seem like a bluesier, rocking-er version of the ice cream truck. The kids will run to meet it, and the parents will smile and wave as it goes by.
If it's nice weather, a good evening to grill outdoors is made even better by a duo of talented musicians playing some dinnertime tunes.
Hope Sullivan, executive director of Spruce Peak Performing Arts and the brains behind the drive-by concerts, entered the Morrisville event not knowing how things would pan out. Would the weather cooperate? Would people come outside and enjoy the show? It did, and they did.
"Before the first concert, I said please, please, please," Sullivan said. "I had no idea if people would pay attention."
Sullivan said Waterbury is a little hillier than Morrisville, so the village drive-by portion of the concert will likely be a little shorter, but more time will be dedicated to the event's "drive-in portion," where people can walk or drive to wherever the band ends up, and listen to the second half of the show in one spot.
She won't describe the route ahead of time, or divulge the location of the concert's second, stationary half. Part of the secretiveness is to build surprise for people around town, but part of it is also to discourage people from flocking to town for a rock concert. These things are designed for the locals, a way for Spruce Peak to bring music to a town in a sort of community-building experience.
"I can tell you, we'll be avoiding construction as much as possible," Sullivan said.
A couple of middle- and high-schoolers from Peoples Academy in Morrisville livestreamed the show last time, and they'll be doing it again this Saturday.
"They followed the whole time and filmed it," Sullivan said. "We're very well-documented.
Hollister and Primo were selected for an encore performance largely because they're popular regional musicians who put on a good show that's palatable to a wide audience, with original songs with good summertime lyrics, and a little rock, a little blues, some funk and pop in the mix.
They were also selected because they now know a thing or two about how to play guitar while standing on a moving vehicle. There were a couple of times in Morrisville when the flatbed truck driver tapped the brakes or the gas a little too abruptly and Hollister and Primo had to quickly kick their out legs to maintain their balance while maintaining their rhythm.
"They got really good at quickly going into rock star stance," Sullivan said.
Off-stage
Sullivan said she would like to be able to roll out one more drive-by concert in the next month or so, but that's up in the air, even as the rules surrounding pandemic are ever-changing.
When the state of emergency shut down live in-person concerts, Spruce Peak adapted quickly and launched a new series called "Off Stage." In the early days of the pandemic, when it was still mud-season cold, the arts organization ran two months of livestreaming Wednesday night sets from the likes of Patti Casey, John Fusco, Dave Keller and Myra Flynn.
After that, the Stowe Jewish Film Festival went online, and free, for three weeks in May and June.
Then, the pandemic kept on going, and it's increasingly looking as if live performances are all but a no-go for 2020, and maybe the first half of 2021.
"I think we all thought it was going to be a temporary stopgap," Sullivan said of "Off Stage." Instead, it's being expanded.
Last Sunday, the organization released the first of a three-part series of conversations between Spruce Peak Chamber Music Society's artistic director, Jia Kim, and some of the musicians who played during the first two seasons on the Spruce Peak stage. This Sunday, July 19, the guest will be violist Molly Carr. The installment the Sunday after will feature violinist Michelle Ross.
Sullivan has other ideas for summertime fun with the arts, and has her eyes on how to adapt some of the planned fall events to the pandemic way of life. It's not always easy.
"Generally, I'm happy that there are ways to be creative and come up with programming, but this whole thing of predicting the future and trying to figure out how to do things, I…" she said. "…I can't even come up with the adjective."