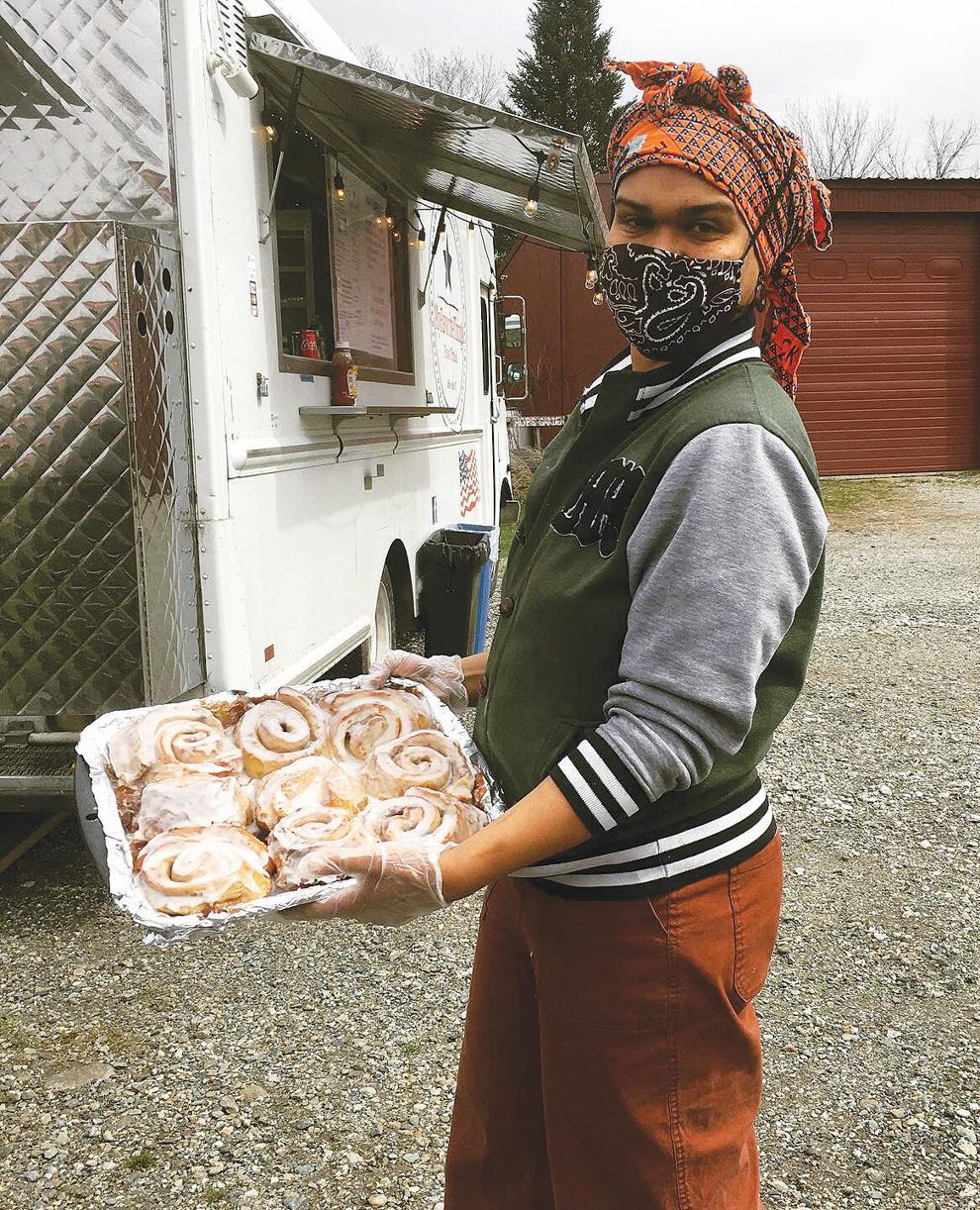 Winter is a trying time for anyone trying to beat the cold winds and dark skies of Vermont. One motivator, drawing folks out to brave the elements and stand in the chilly air while patiently socially distancing themselves, is the promise of food they can't find anywhere else in the state.
From crunchy chickpea burgers to fried chicken quesadillas, finished off by a rotating cast of desserts, are all served up by Lea Ann Macreary as part of her young business, My Favorite Things food truck in Jeffersonville.
"I think food is kind of therapy for a lot of people, in a good way," Macreary said. "It's about putting the right thing in your stomach at the right time. So that's what the driving force behind the name, to rise a little bit higher. I have a bit of a competitive edge to my personality. I like to be the best, you know, when people come to my window and they're like, 'Oh my god you have the best French fries in town.' It's like, 'Oh yeah, baby,' " the chef said.
Just this week Macreary announced on social media that her recipe — for caramel topped pumpkin cheesecake brownies — was selected as a winner of the General Mills Neighborhood to Nation restaurant recipe contest.
Given to restaurants and food truck operators, the contest offered support during a tough year. My Favorite Things was among 20 winners, each of whom will receive $5,000.
"My Favorite Things Food Truck is going to keep trucking," according to the social media post.
A second contest called Fav Chef is pending and could lead to $20,000 and a feature in a Bon Appetit magazine.
This drive is what keeps Macreary and her whole family buzzing around the truck day in and day out. Her husband and two sons are fixtures of the mobile kitchen, navigating cramped confines and moods of a 4 year old.
"He is, you know, a 4-year old so it's kind of his world. We've named him the manager and he sends people to the office and he fires them. I've been fired a couple of times," Macreary laughed. "It's a very interesting family dynamic, but we just try and remember that we are very, very blessed. We're very, very lucky to be able to be together and work together and learn together."
Effects of COVID-19
Macreary spent a decade honing her craft at restaurants in New York City before moving to Vermont, and spent even more time researching the state's burgeoning food truck scene.
"For me it was a matter of how do I merge my creativity of wanting to be over the top, be crazy and creative in life, but also able to appeal to the local community," she said.
The start of 2020 was good and business was buzzing.
"We were making record sales, it was amazing. I was super psyched. I was like, thank God," said Mcreary. "It was amazing, and all of a sudden, boom, the realities of COVID started hitting us little by little. Then the food truck broke and we had to get repairs, and we ended up waiting over a month for a part in the mail." To top it all off, when Macreary got her truck back up and running she had to find a new location from which to sling her comfort food.
"If you're not in your spot, then literally, you're gone forever. They just forget. So, you know, it was very challenging," she said.
The Macreary family persevered through changing COVID-19 travel restrictions, hot weather and having to rebuild their customer base all over again. These struggles helped Macreary feel like she earned her stripes in her small hometown of Jeffersonville.
"We have a great product that people didn't know they needed. But once they tried it, then they're like, 'Oh, I needed that.' "
These cold winter days you can find Macreary and her husband Corey at 16 Iris Lane off the mountain road to Smugglers Notch.
On Fridays and Saturdays from 4-8 p.m., they deliver, too.
Seeing the same masked faces week in and week out is what drives Macreary to keep on innovating and creating new recipes to sink your teeth into.
"You know those little fried chicken filets? I know 100 percent for a fact, you're not gonna find that anywhere else other than my food truck because I came up with the recipe for it. So that makes me feel good. That drives me," she said.
If she has her way, Macreary will be driving to and from her reserved parking spot for years to come.