As Vermont's foliage flushes crimson and gold before falling from the trees, one small flower is just beginning to bloom. Inside the purple petals lies a tiny treasure that's worth its weight in gold.
Brian Leven is growing crocuses to produce saffron at his small organic operation in Stowe, and October means harvest time at Golden Thread Farm.
Leven, a practicing attorney and property manager — among other ventures — by day, lives with his wife, two tween- and teenage sons and two dogs off Stagecoach Road.
A meadow on his property was growing wild, but Leven said local farmer Ryan Percy told him he remembered growing corn there when he was young. 
Leven grew up in Caledonia County, and his family had a huge garden and a root cellar, which kept them supplied with vegetables throughout the year. While he doesn't consider his upbringing a direct inspiration for his saffron farm, he'd wanted to do "something agricultural" with his land in Stowe for a while. So a few years ago, Leven dug a well, built a shed and hooked up electricity in the meadow. 
"I was open to ideas, and then UVM did all this research into growing saffron in Vermont," Leven said.
The U.S. imports more than 46 tons of saffron each year, and that's projected to triple in the next decade, according to the UVM-based North American Center for Saffron Research & Development.
About 150 Crocus sativus flowers will yield one gram of dry saffron threads; it takes several thousand flowers to produce one ounce (28 grams) of saffron, and hundreds of thousands to yield a pound.
The flowers are easy to pluck but must be harvested by hand, and the labor-intensive process and miniscule yield per flower makes saffron the most costly spice in the world. A pound can retail from $3,000 up to $10,000.
A little goes a long way with this potent seasoning; Leven's saffron currently retails for $15 per quarter-gram, or $50 per gram. To put that in perspective, gold currently costs $48 per gram.
Most of the world's saffron is grown in Iran, Spain and the Kashmir region of India. Greece Italy and Morocco also produce large amounts of varying quality and strength. Smaller producers include Austria, Switzerland, New Zealand and the U.S. The plant thrives in a Mediterranean climate, but tolerates winters well.
The quality of saffron is important to its value, and lower-cost saffron found commercially is sometimes mixed with safflower — similar in appearance and color, but lacking in saffron's distinct aromatic compounds.
The University of Vermont's studies in recent years have found that the plant can be grown relatively easily in the Green Mountain State — and with high yields and excellent quality. It offers a chance for farmers to diversify their crops and bring in revenue.
Harvesting and processing are labor-intensive during the month or so when the flowers peak, but the rest of the growing process is low-input. High tunnels provide good protection in Vermont winters, and can be used for other crops in the spring and summer. The crocuses can even be planted in portable containers like milk crates, and stored out of the way in their dormancy.
The plants are susceptible to hungry critters like rabbits, mice and moles, but they're deterred by hardware cloth under the raised beds, a sonar repellent device, and even some slithering assistance from garter snakes that Leven said are "more than welcome" to patrol the flowerbeds.
He started with one high tunnel greenhouse — an unheated structure of half-hoops covered in plastic — and finished building a second next to it this year. Currently there are four large raised beds in Leven's active greenhouse, and one bed outside it, fenced with mesh to keep deer out. The weeds are more aggressive outside, but the crocuses themselves are hardy.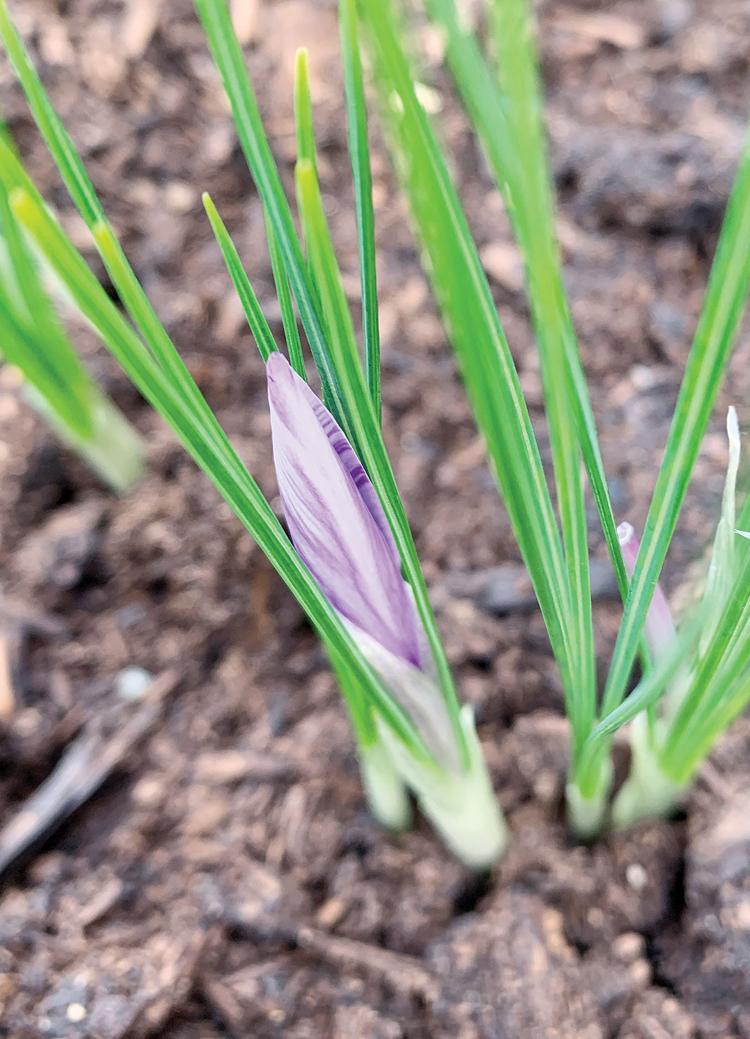 The crocuses bloom here in October; Leven said last year his first flower bloomed around Oct. 5, and this year he found the first violet blossom on Oct. 10. The blooming starts sporadically, a few hundred flowers every day at first, then there's about a two-week period where thousands of flowers are ready to be picked.
The stigmas are gently removed from the flowers, then Leven dries them in a low oven, spread out on a custom copper pan he had made by Leo Trombley of LWI Metalworks in Morrisville.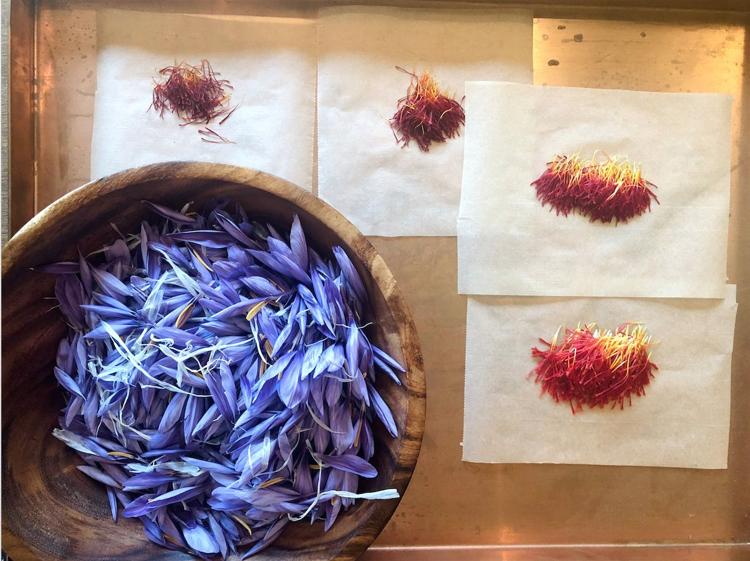 Leven said his wife and sons help him at harvest time, but he's always happy for volunteers to come for a few hours to help when the periwinkle wave sweeps through the greenhouse.
Golden threads
Saffron has been cultivated for more than 3,500 years worldwide, used for a variety of culinary, ritualistic and medicinal purposes. Historical records show it was used for gastrointestinal and circulation disorders; a tea made from it was said to fight depression; and Cleopatra was reported to have bathed in it as an aphrodisiac. Modern studies have suggested it can be used as an alternative to stimulants to treat ADHD.
When bloomed in liquid, the vivid red threads diffuse into a deep golden color, which can be used to tint food or fabric. 
Saffron contains hundreds of aromatic compounds, a complicated, heady mix with notes of hay and metallic honey and bright florals. The taste is a little sweet, a little sour, a little bitter. 
A small amount goes a very long way, and not much is needed to impart its hazy golden essence. The flavor overall is difficult to describe, but it's intense.
"It's not so much a flavor as a smell," Leven said. "You don't get it on your tongue. You get it when you breathe in. After you swallow, it's a different experience. But it's amazing."
It goes especially well with seafood and rice dishes. Going by the adage "what grows together goes together," it features prominently in recipes like Spanish paella, Milanese risotto and bouillabaisse from the French seaside.
"Saffron has a sweet power," said chef Michel Richard, quoted in the 2008 culinary guide 'The Flavor Bible,' "but the minute you taste the saffron in a dish, there is too much."
One time, Leven said, he made mashed potatoes with saffron, but he also added garlic, and the saffron's essence disappeared behind the allium. 
"But it wasn't a bad choice," Leven said — "they were very festive-looking."
It can be used in savory or sweet applications. Leven said Aaron Martin, chef at Plate Restaurant in Stowe, has used it in dishes, including an Indian-style milk doughnut bathed in saffron syrup.
Leven sells his saffron to a few other local shops and restaurants, including Commodities in Stowe and Sunflower Natural Foods in Waterbury Center, and Hen of the Wood in Waterbury and Burlington. 
A Brooklyn restaurateur recently purchased some of Leven's crop for his three Italian restaurants. He wanted to be able to tell his customers "that this is domestic, Vermont-grown, pure saffron," Leven said.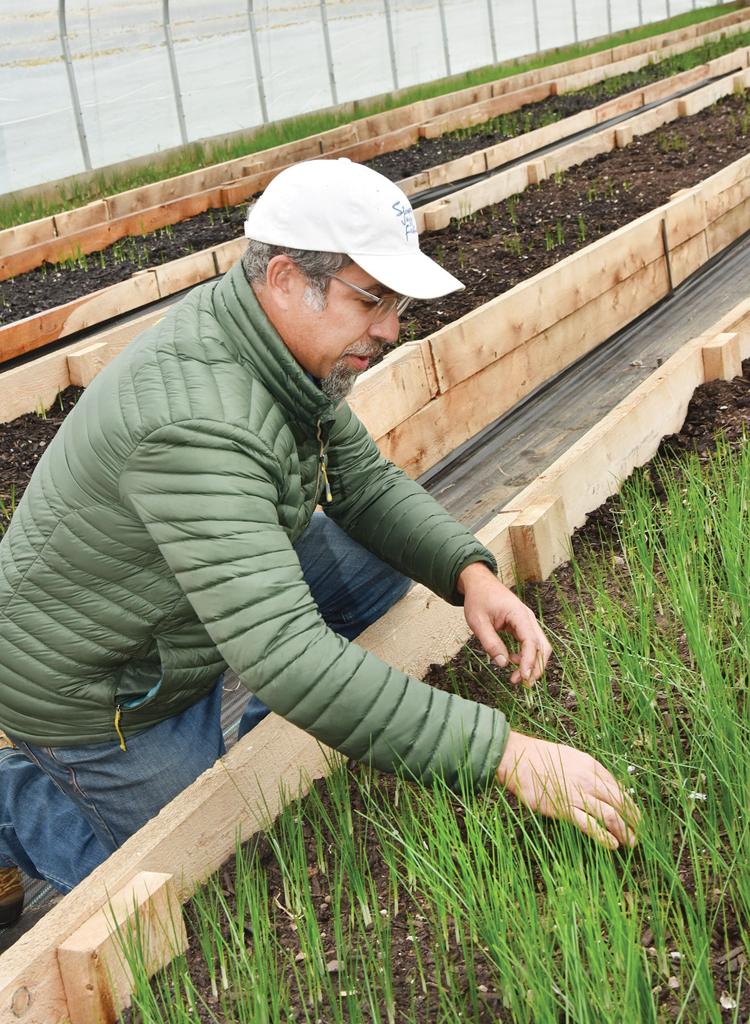 Leven's 2018 harvest yielded about 150 grams of dried saffron. If it's well protected from air and moisture, it can last for years.
"Assuming my harvest continues to grow each year, which is how we're trending, my goal is to be able to sell to more and more restaurants," Leven said.
Leven first planted about 20,000 corms, which he purchased from the Netherlands. He's now on his third saffron harvest, and estimates that production has quadrupled each year of growing.
"Someday, it would be wonderful if it was my only job and I could grow lots of different things out there," Leven said.
"I love good food, I love the farm-to-table movement . ... I think it's where agriculture is steering itself, to agritourism," Leven said. "It's fun to find a niche product that can sort of get me involved, and I can contribute to it."
---
For more information, and to buy your own Vermont-grown saffron: goldenthreadfarm.com.