Douglas Webster's passion exists at the intersection of sport and art. Webster is the founding artistic director of Ice Dance International, which is coming to Stowe for a five-day residency beginning Tuesday, March 10.
Founded in 2014, Ice Dance International aims to showcase and promote ice dancing as an internationally recognized performing art form, with a focus on performance, education and community engagement.
"We're super-excited to be in Stowe. We thrive in communities that love sports, recreation and art," Webster said of the organization, which is based in Kittery, Maine. "We're going to these towns — Sun Valley, Aspen — and Stowe fits in well."
Webster's interest in ice dancing dates back to 1985 when he saw a performance at the John F. Kennedy Performing Arts Center in Washington, D.C., that featured John Curry, a British skater who took the gold medal at the 1976 Winter Olympic Games.
"He had a dream to establish this sort of performance, and it really sparked my lifelong interest in ice dance," Webster said.
Webster's background in staging ice-dance performances is both deep and diverse. He was the artistic director of the Ice Theatre of New York, and worked on the choreography teams behind no fewer than 10 "Disney on Ice" shows, including "High School Musical."
Webster has also brought ice dancing to the small screen, first as choreographer for "Shall We Dance on Ice," which ran for three years on ABC; he was also behind two specials highlighting Ice Dance International for PBS.
For Webster, ice dance is a way to find a union between two pursuits that are sometimes viewed as mutually exclusive.
"It's a way of building a bridge between sport and art," Webster said.
Here in Stowe, the residency is being hosted by Spruce Peak Performing Arts Center, with events at the Spruce Peak Rink and Stowe Arena.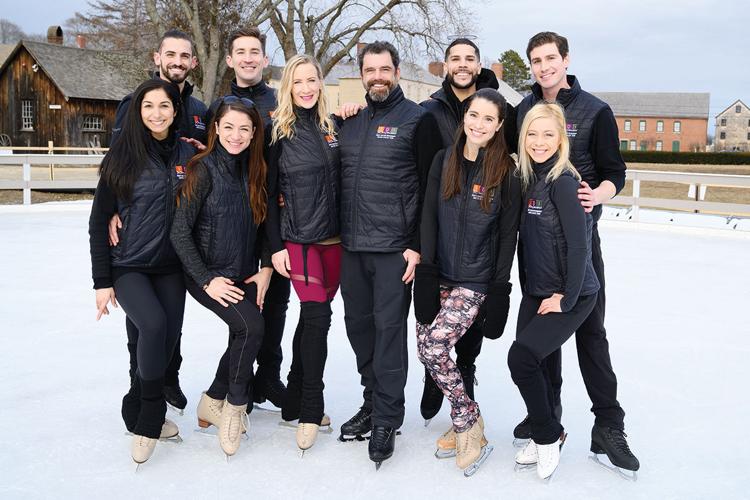 "We are thrilled to welcome IDI to Stowe and to introduce to our audiences this incredible dance form, which elevates skating from sport to art," said Hope Sullivan, executive director of Spruce Peak Arts.
"This was a great opportunity to collaborate with Spruce Peak," said Matt Frazee, Stowe's parks and recreation director. "We're just really excited about it. We've made a big effort, in terms of bringing figure skating to Stowe, but also to bring variety and different types of programs and offerings to the area in general."
The residency kicks off at 6 p.m. Tuesday, March 10, at Spruce Peak Performing Arts Center with a cocktail reception to welcome the dancers. The reception — which is free and open to the public — will be followed by a screening and Q&A session for the PBS special "In Flight: The Art of IDI."
The reception is just the first free opportunity for people to engage with the residency. In fact, from 3 to 4:30 p.m. on Thursday, March 12, people can come and skate with the dancers at Spruce Peak Rink.
The public is also welcome to watch the dancers practice Tuesday, Thursday and Saturday at Spruce Peak Rink and Stowe Arena. In addition, there will be a final performance — with dancers in costume — at 6:30 p.m. Saturday, March 14, at Spruce Peak Rink.
The ice dance company will also host a number of performances for students from Hyde Park Elementary School, Mountain River School and Stowe Elementary School.
"We are excited that the kids get to explore the art-and-sport connection with ice dancing," said Nina Slade, the principal at Stowe Elementary.
For people who want to improve their skating, Ice Dance International is offering lessons; a class targeted to beginning or intermediate skaters will be offered from 3:30 to 5 p.m. Wednesday, March 11, at Stowe Arena, at a cost of $5 per person or $15 per family.
A master-level class is Saturday, March 14, from 8 to 10 a.m. at Stowe Arena at a cost of $10 per person. For skaters with disabilities, Ice Dance International offers an adaptive one-on-one class that Saturday from 3 to 4:30 p.m. at the Spruce Peak Rink. The class is free.
Classes require registration; to register, call Julianne Nickerson at 760-4637, or email jnickerson@sprucepeakarts.org.