Katerina Hrdlicka's paintings are whorls of color where trees, clouds and rivers turn into Fibonaccian spirals, eyeballs stare out from what might or might not be a face or two, and mountains are curvy outlines on top of curvy outlines.
Good luck finding a jagged edge in a Hrdlicka painting.
But the dreamy — sometimes whimsical, sometimes psychedelic — works in her show "Mindscapes," at River Arts in Morrisville, bely the precise, photo-realistic paintings she produced when she was starting out as a painter.
The Morristown artist (and, full disclosure, the production manager at the Stowe Reporter and News & Citizen) wanted to be a biologist when she went to the University of Western Ontario in the 1990s.
Remember those books with the Grey's Anatomy-style drawings, all veins and muscles and bones, some of them with plastic overlay sheets so you can build the body from the inside out? Hrdlicka wanted to pursue a degree in anatomy so she could make those kinds of illustrations.
However, the problem with going into a career in science: There's a lot of other science you also have to take. And a lot of math. You can't just skip the basics and go right to cutting open cadavers and drawing their insides.
"Who wants their dinner before dessert, right?" Hrdlicka said.
Curator Beth Liberman, in the exhibit verbiage, quotes neuroscience professor David Featherstone to describe Hrdlicka's origin story: "Both artists and scientists strive to see the world in new ways, and to communicate that vision."
Hrdlicka's short-lived pursuit of a science degree soon turned into an arts education. At that point in her life, in the 1990s, grunge and goth ruled, and Hrdlicka said it definitely showed up in her art, but that wasn't necessarily her.
"It was a dark time," she said. "Everything was black."
But students were required to submit "something that means something to you." So, she took inspiration from the margins of her papers in other classes, where she would incessantly doodle shapes. She got herself a huge piece of loose canvas, about the size of a wall, and "a whole whack of" that T-shirt paint that produces the textured, puffy effect. And she "just covered the whole fricken thing" with doodles from her notebook.
Her professor was impressed. Maybe a teensy bit frightened, too.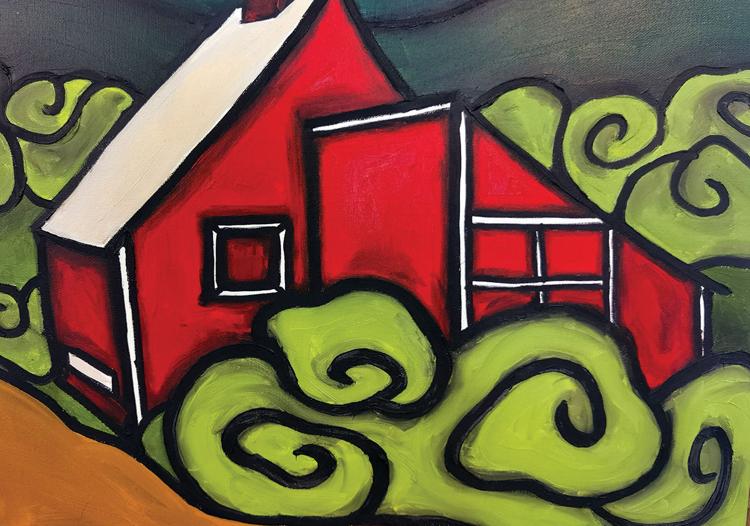 The current iteration of a Kat painting — that's how she signs them, big bold black capital KAT — trend toward playful Vermont landscapes, seen through the brightness of images in one's dreams. The white steeple of Stowe Community Church. An old red mill in Jericho. A mountain range with a bright green field.
That bright green, which she mixes herself, is her favorite color in nature. It's that shade of the leaves in the spring when they're just past the budding stage and have not quite achieved their darker hues. They're innocent. They're children.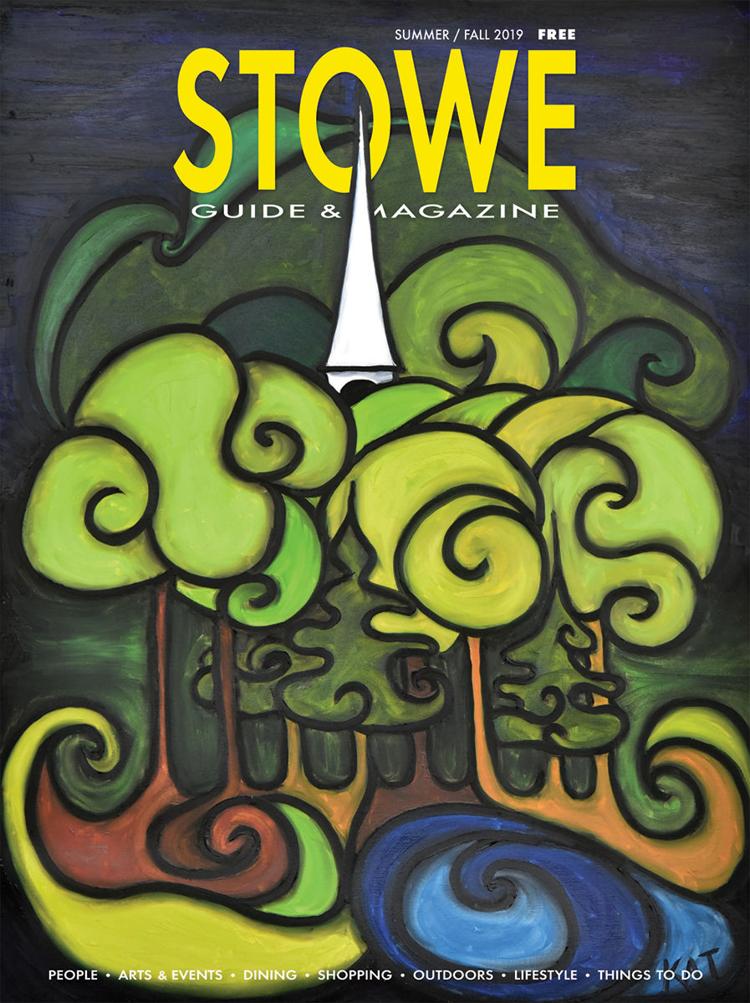 That church steeple? It was her gateway into landscapes. She said it's long been a goal of hers to get one of her paintings on the cover of the Stowe Guide and Magazine. The award-winning glossy semiannual is published by the Stowe Reporter.
"What really started me on landscapes was I was determined to get on the Guide cover, and I knew I had to include that church," she said.
There's also a practical reason to paint landscapes: They sell better. Case in point, last summer's edition of the Guide finally featured her piece. Soon after, someone scooped up the original.
Liberman presents "Mindscapes" as an evolution of Hrdlicka's work from black and white to startlingly bright.
The earliest piece in the exhibit is "Lucky Elephant," an amalgam of noses, mouths and moustaches, eyes and their bushy brows that almost make a whole face. It's not clear whether the piece references the old Indian parable about the three blind men who collectively described an elephant by separately touching different parts if the animal, but the allegory is apt, right down to the hint of the beast's trunk.
That combining of different human and body parts into a new whole would be Hrdlicka's stock in trade when she moved from charcoal through pastels into acrylics and oil paints. The quintessence of that pre-landscape period is a piece called "Fowl Fish," an oil painting with chicken lips and fish eyes (or are they chicken eyes and fish lips) and errant feet and fins. Is there one fish, two fish, a bird or three? Only she knows.
There might be some human in there, too, and there are familiar faces in most of her paintings that she covers up to the point where they are rendered all but invisible to anyone but her.
"There are secrets in there I don't want anyone to find out about," she said.