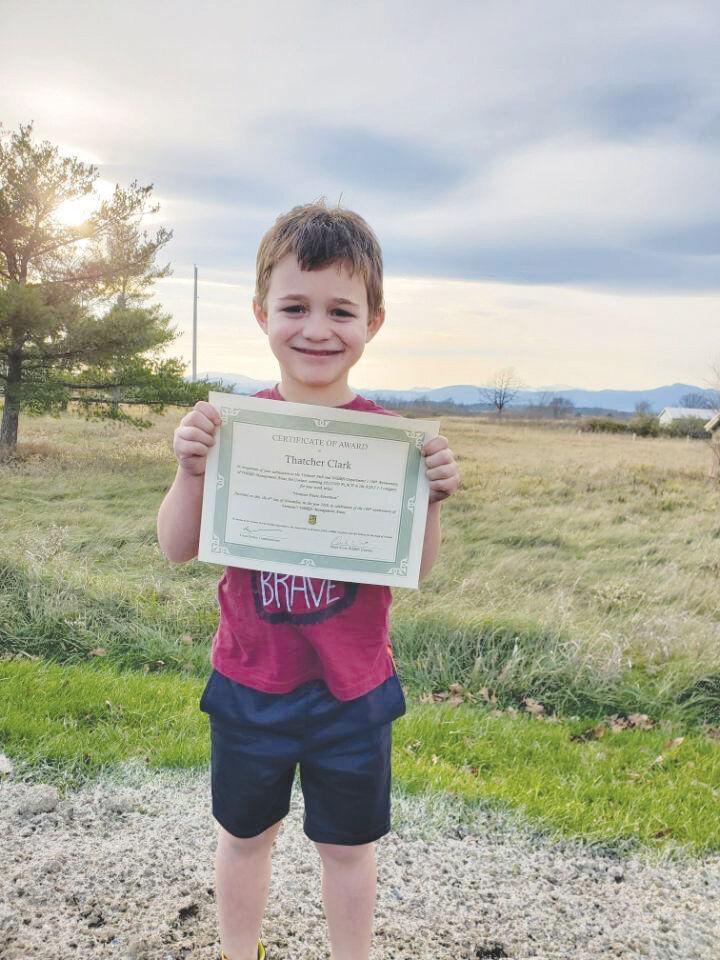 It's 4 p.m. on Friday, which in late November means it's almost dark, and the clouds above Morristown have gone pinkish gray against patches of soft blue sky.
In Johnson, 6-year-old Thatcher Clark is seeing different clouds.
"The clouds are moving in different shapes," he says over the speaker phone, less interested in talking shop, and his newfound prowess with pastels. "I see a cloud that kind of looks like there's a broomstick coming out of it."
With that, Thatcher runs inside, leaving his mom, Ashley Creighton, alone outside with the phone. He probably left to recreate with his oil pastels what he saw in the clouds, she said. He's been doing that a lot more during the coronavirus pandemic. He's been reading the Harry Potter series, which might explain the broomstick in the clouds.
"He's just developed a love for it after school closed that I can't remember him ever having," she said. "He literally just goes outside and looks at something and then goes and draws it."
That sort of slice of life creativity is what led to Thatcher's piece, "Pirate Adventure in Vermont," to win a Vermont Department of Fish and Wildlife art contest earlier this month. The department held the statewide competition this fall in conjunction with a celebration of a century of its ownership and management of various wildlife management areas across the state — there are now 100 of them, totaling 130,000 acres.
Wildlife management areas in the Lamoille County area include East Hill in Wolcott, Buck Lake in Woodbury and Worcester Woods, in Worcester near the Elmore and Stowe town lines. The program was started in 1920 when the department bought 1,000 acres of land in Milton and turned it into the Sandbar Waterfowl Refuge.
The department received 100 submissions across four youth age groups and one for adults. Thatcher was in the 1-5 age group, although he is quick to remind that he turned 6 since the contest ended. Winning in the adult age group was Wolcott artist Gabriel Tempesta, whose "Wolcott Pond in Bloom" is a charcoal representation of a scene within the East Hill Wildlife Management Area.
Other entries also list the real-life wildlife areas that served as inspiration. Thatcher's vision, though, springs right from his mind — even though he said he and his family are fond of being on Grampy's boat on Lake Carmi.
"The lake was one from my mind," he said.
"Pirate Adventure in Vermont" shows a ship on a lake that reflects the sunset swirls beyond the mountains in the background, a big moon and spattered and scattered stars above it all. There's a compositional maturity to it that belies his 5 years. "I'm six!" he corrects.
Mom Ashley doesn't really know from whence the artistic talent sprang, but for Thatcher, it's evident.
"I save it in my mind, and I do it in a similar way but also in a different way," he said.
His preferred medium is oil pastels because he can blend the colors.
While these days Thatcher's favorite outdoor activity is riding his bike at the Johnson skate and bike park, he also likes hiking with his family.
He's familiar with Prospect Rock, that bastion of easy hiking for college students attending Northern Vermont University in Johnson.
He also likes hiking Mount Norris in Eden with its views of Lake Eden, Green River Reservoir and points south into Lamoille and Washington counties. The mammoth wind turbines on Lowell Mountain, right across Route 100, remind him of robots.
"I see things outside and I just want to draw them."