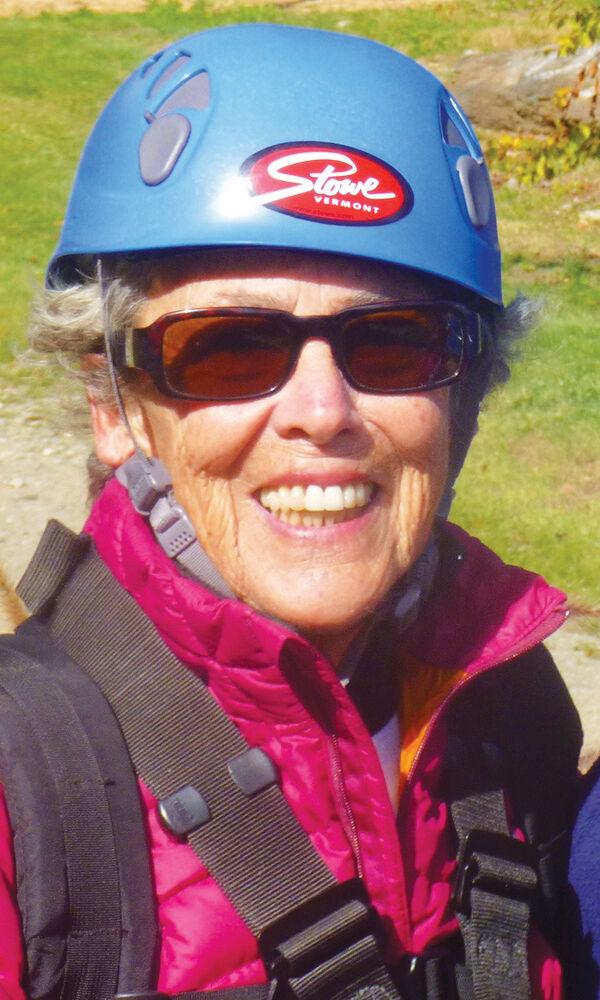 No event evokes memories of Marianne Goodson like New Year's Eve. That was the night of her annual soiree, when guests slipped gladly into evening finery to celebrate in style. The dining room table, with all leaves in place, sagged under the burden of rare roasted beast, holiday fish and fowl, unique Quebec cheeses, an entire, perfectly ripe Stilton. Old-timers knew to hustle to the adjoining room for oysters on the half-shell, shrimp and an immense copper pan of escargot. If you liked escargot, beating Bish McGill to the pot was essential. Beyond, in a quieter spot in front of the living room fireplace, was the consummate host, Bill Goodson, always interested, always observant and, with good judgment, the makings to top off your drink.
We became Stowe Hollow neighbors in the late 1960s when we moved into our new home next door and started our family. Marianne and their three young kids, Gregg, Derek and Lynnie escaped Montreal in summer, bringing dogs, occasionally a horse, always world-class tutoring in family fun.
Skip was a wobbly toddler and Julie not yet on the scene when Marianne introduced me to her summer ritual for young children: picnics at Sterling Brook. Seeing a glorious day, she would throw life vests, beach umbrellas, towels, hibachi, hot dogs and all their trimmings and a freezer pack with ice cream into the car for picnics — brookside.
Later on, there were endless swims in our ponds, with Gregg preoccupied by salamanders, frogs, crayfish and crawly things while Derek, the entrepreneur in training, captured tadpoles to sell to his city friends back home. Lynnie was always barefoot and ready for play. Marianne kept every toy their kids had ever possessed in the playroom off the kitchen and declared it "open 24 hours a day, no invitation necessary."
An equal opportunity hostess, she invited our Shetland pony with the sweet name, April, but truly nasty disposition into her kitchen to breakfast with their house guests from Toronto. The high point of Stowe Hollow summers was the July 4th sunrise hike to Stowe Pinnacle. Attendance varied with the years, but Marianne was always integral to the production. The hardcore males, Bill Nelson and sons, Midge Tozloski, Arthur Schein, the Millers and more would meet in the dark to start up with campstoves, mounds of gear, champagne, orange juice, cutlery, and huge bowls of whipped cream. The casual athletes followed, bearing toddlers in backpacks, crepe batter and fresh strawberries, with arrival timed to greet the sunrise with mimosa in hand.
While Marianne had her agenda of events supporting music and the arts in both Stowe and Montreal, it was Marianne the Mom and Hostess I relished. When all of our children were young we had a sensational era of late night cooking sprees. With Bill in Montreal on weekdays at The Star, and both Marianne and I night owls, after my crew was fast asleep I would slip through the hedge to become kitchen lackey to the chef.
She had an enormous kitchen garden and pickled, canned or froze its bounty, but late night was mostly for fancier immediate needs — dessert pastries with one or two for the coming meal and ditto for the freezer, marinades and stews, complex vegetable dishes, sauces, tourtiere. She favored traditional menus and loved the antique Rumtopf crock poised for eternal duty on the basement stairs. Rumtopf, a favorite German dessert, is made by layering fresh fruits of the summer months to brighten winter meals. From June to October appropriate fruits are laid in, each layer covered with sugar and topped with high-proof dark rum. It is aged until Christmas day, when it is opened, a panacea for the dark months.
We talked a lot, laughed more, sliced and diced and occasionally vanquished a culinary fiasco with a sip of cognac. I learned so much about cooking. She taught me so much more about mothering.
It was my honor to raise a New Year's toast to Marianne.
---
Nancy Wolfe Stead is an occasional columnist at The Stowe Reporter. She now lives at Wake Robin in Shelburne.