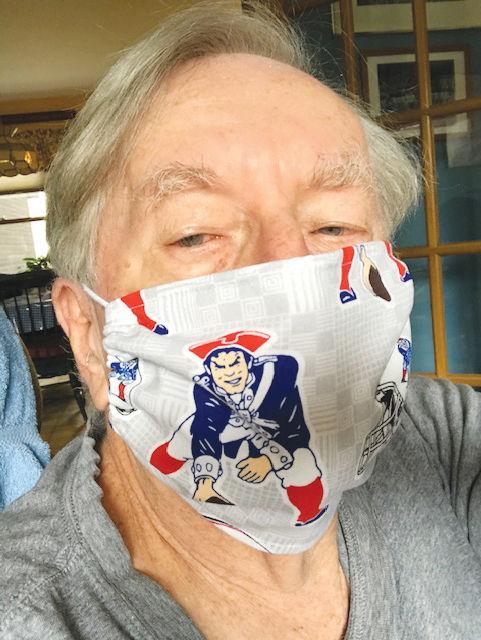 And the year of forced reflection continues…
First, a pandemic puts us under house arrest. Then, economic collapse sends over 40 million (100,000 claims in Vermont) to the unemployment line. And now, those who have suffered the most demand a 400-year bill is due.
These months seem like years; November seems a century away.
Growing up in Vermont, I didn't have a clue what racism was. This was a place with about 378,000 citizens, maybe 3,600 of them black according to the 1950 census, well before the African American label was introduced.
I never thought twice that a neighbor's black cocker spaniel was named "N----r". It was no different than Spot, Snoopy or Rover. True story; "N----r" was flattened by a car in front of our house when I was 8 years old.
I touched upon racism in an article written while still a high schooler for the Burlington Daily News; I didn't realize it was a racism article until maybe a decade letter. Ollie Dunlap appeared during freshman year at BFA, when his military family moved to St. Albans. He was the first black athlete any of us had ever seen. For three years, he totally dominated Vermont scholastic sports; essentially a man playing in a boy's league. He was unanimous All-State every year in football and basketball, a record-setter in sprints and the high jump, helping BFA to a bucket-load of state championships in that period.
Ollie was just a year older than me when I covered state scholastic sports. He would have his final Vermont performance in the 1960 Shrine football game before heading to Michigan State on a full scholarship.
The Shrine Game at Dartmouth was huge back then. This one was a 15,000 sellout, dominated by Vermonters who flocked in to see Ollie stick it to these New Hampshire bullies. Because Mom unknowingly saved her son's news clippings, it all comes back. The game was not a blowout. The result was a stunning 14-14 tie. This young reporter ripped the Rutland High School coach for using Ollie as a "decoy," giving two other backs twice as many chances as Dunlap's 11 carries (he had averaged 4 rushing TDs per game over three years.) One carry was a first-half 34-yard TD run right up the middle. The last was a 1-yard extra point plunge to salvage the tie.
Years later, it was confirmed that the naïve writer didn't realize the southern Vermont coaches were "going to prove they could win without that "n----r" leading the way.
Racism, as well as anti-Semitism, did hit my awareness level in college. UVM was dominated by fraternity and sorority residences. Looking back, selective membership efforts were the unspoken norm. Mine had its share of people spewing comments that would be beyond cringeworthy today.
Our group went through the motions and rituals of its national affiliation. However, in the 1960s they likely would have tossed us out of "national" in a minute if it was aware both a Jew and a Black guy were living there as separate but equal brothers.
KakeWalk, UVM's original racist black mark, has repeatedly been trashed by succeeding generations of Vermonters since its demise in 1969. No excuse for its 76-year run, but certainly explainable. Blacks were no more than 1 percent of the state's population for over a century. Vermont was an isolated area, both population and socially. The "social adjustments" started in the 1960s, sparked by expanded education, communications, travel and the internet. These last 60 years have resulted in a far more worldly Vermont .
KakeWalk's real legacy was brushed aside for decades, not only by students, but educated faculty and college alumni as well.
Two weeks ago, KakeWalk surfaced again. Bill Schubart penned an in-depth look at racism in the Green Mountains; it first appeared on VTDigger (bit.ly/schubartonrace).
Unless you're a flatlander, you know Bill's a Morrisville native who has touched a lot of bases in his lifetime. In this, he cites the 1950s; it turns out his alma mater, Peoples Academy, had conducted its own KakeWalk, a senior class annual event echoing the racism celebrated at State U. I chalk that shocker up to "You learn something new every day."
Until the 1960s ignited change, Stowe and Morrisville were demographic soulmates. In his column, Schubart writes about his grandmother, who remained in the neighborhood for 101 years, and how she saw the KKK invade the town.
"It was so silly, really," she would chuckle, "those grown men riding around town dressed in sheets. We all knew who they were. Morrisville didn't have any black people or Jews, so they rode around the homes of Quebecois, Italian, and Irish — most of us, in fact. And when the sheets came off, we all were their customers, employees, and friends … so silly."
Around the same time period, it's well documented that Stowe's hospitality initiatives did not include Blacks or Jews. A dark time; Lamoille County tourism could have advertised "As white as the beautiful snow on our slopes."
Fast-forward to today. We are in a better place in spite of this dreadful stretch of global turbulence. An oft-quoted remark related to racism goes, "Prejudice is the child of ignorance."
The ignorance poison is no longer on the shelves. Younger generations, millennials et al, are leading us forward to a new reality. Generally, there's no difference; Black, white, Asian, Hispanic, gay, straight are just labels to the young majority. Prejudice is far from erased, but like COVID-19 in places not named the United States, the curve has been flattened and better times are ahead.
This month, I've watched the kids (actually young adults) in Georgia; kids of all sizes and colors who looked, dressed and acted like any young person you'd see around here or in a Boston suburb. They were patiently waiting four to eight hours in a line to step up and vote, even if the older adults made it very hard to do.
It feels like real change. Youth is uniting and saying, "Enough; we're taking over." This is unity where there was none in the 1968 turmoil. At that time Blacks were reacting to Martin Luther King's murder; whites were protesting to avoid going to Vietnam.
Change comes with education. Vermont Boomers misread KakeWalk, but like millions of peers, have redeemed themselves by steering their kids down a better road to this position that hopefully manifests itself into a better world for all.
---