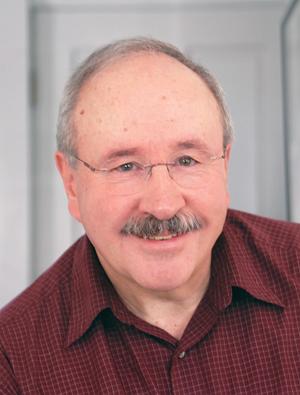 This past summer found me driving up a dirt road to an address in Hartland that defied my GPS. I turned around on my first attempt when the road got so narrow that meeting an oncoming car would require some negotiation.
But on the second attempt I just kept going until my wife and I came across cars parked everywhere — along the road and filling the pastures with handwritten signs saying, "Park Here."
After parking, we walked a quarter mile up a treed driveway, past cars with license plates from New York, Massachusetts, Connecticut, New Hampshire and, of course, Vermont. The driveway ended in a meadow with spectacular views of the surrounding hills and a few hundred people around a tent.
We were all there to celebrate the life of Bill McCollom.
McCollom was a Vermonter, a Retro-Skier, a ski racer, a coach, a teacher, a writer and a friend. He died in June 2020, but due to the pandemic a celebration of his life had to wait over a year.
McCollom's parents moved to Woodstock when he was 7 years old. He quickly adapted to his Vermont surroundings and learned to ski on the rope tow at Suicide Six. As his skiing proficiency grew, he was drawn to ski racing, something he would do for the rest of his life.
At Middlebury College, he gained All-American status on the ski team.
McCollom was an educator, first in New Hampshire, before returning to Vermont to be the academic coordinator for what would become Killington Mountain School. He would later serve as its head of school from 1987-1998.
McCollom was also a writer. He was a ski racing columnist for the Stowe Reporter, which led to a long stint as a writer and editor for Ski Racing magazine.
He was a ski racer and coach right up to his death. He was a proud member of the New England masters and a fixture on the circuit. In 2007 when Woodstock High School needed a ski coach, McCollom stepped in, leading them to five state titles. He continued as a volunteer assistant coach through the season before his death.
I got to know him since both of us were on the board of the Vermont Ski and Snowboard Museum in Stowe. We had quite a bit in common. We were the same age, and both of us were 1964 high school grads and 1968 college grads. I throw that last one in since it was popular to prolong college in those days due to the Vietnam War.
Skiing was a major influence in our lives. Granted, McCollom was a racer and I never raced seriously. We both became ski writers. We both published books the same year.
One other tie between McCollom and I was that his first job was as a teacher in my old high school, Kennett High School in Conway, N.H. That meant we knew people in common, such as my old English teacher, Bob Fisher. Mr. Fisher warned me before I graduated that I'd be lucky to avoid "Bonehead English" when I got to college.
He rolls over in his grave every time I write a column.
Local masters' racer Bob Burley, who raced against McCollom and coached with him at Killington, summarized his life best, "Bill left every person, race and trail better for his presence."
The Vermont Ski and Snowboard Museum honors McCollom by renaming its Community Award the Bill McCollom Community Award. The award recognizes a group or organization within the skiing and riding community that is making a significant and unique contribution to further Vermont's place in skiing and snowboarding history.
The first presentation of the renamed award will be this weekend at the World Cup at Killington.
The recipient of the award will be Cochran's Ski Area, whose mission is "to provide area youth and families with affordable skiing and snowboarding, lessons and race training, in the Cochran tradition."
This seems totally consistent with Bill McCollom and the way he lived his life. His dedication to skiing, youth and education is embodied in Cochran's Ski Area.
Since we're down to one mainstream ski magazine, our first trivia question for the season is: When was the first issue of SKI magazine published? Post your answer at retro-skiing.com.
---