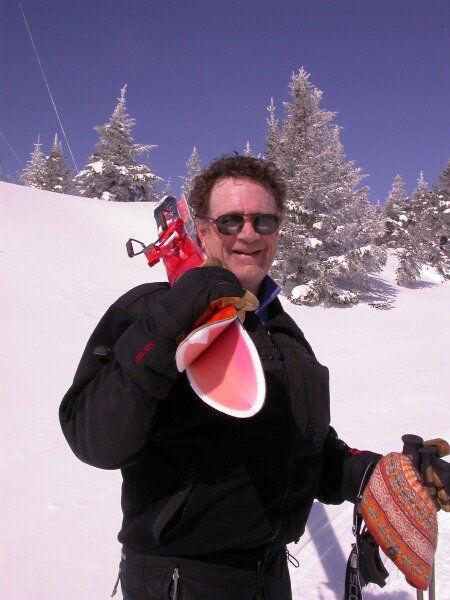 Having spent a good part of the winter skiing every public resort in the state, and a surprising number of backyard areas, there is yet one more alternative that ended up being far more fascinating than one might imagine — private areas that offer an interesting alternative to the modest scale of a rope tow or two on a hill behind the house.
There are three private ski resorts in Vermont at this time. One, located in Barnard, is called Twin Farms. The Quechee Club is located in Quechee, and then there is Haystack at The Hermitage in Wilmington.
Twin Farms is perhaps the outlier in this group. It is a luxury resort that offers lodging, to say the least, priced at the upper end of the spectrum. Your scribe stumbled upon it when he was researching ski areas no longer operating that had been part of Vermont's ski culture in decades past. One of these was called Sonnenberg and Woodstock area skiers knew it well.
Laurance Rockefeller's wife, Mary, loved to ski. Ski Sonnenberg was Mary's home mountain. Those days are long gone but Sonnenberg lives on behind the Twin Farm's Resort. The area still maintains six trails and uphill transport is provided by a luxurious snow machine that will take you to the top as frequently as you desire. Given the cost of a room, which is substantial, the trails will never be crowded.
Barnard is not far from Quechee and that popular community is home to a rather interesting club. The Quechee Club offers a wide variety of recreation options to its resident and its guests. Tennis — paddle tennis or the regular kind — golf and swimming are just a few of the options.
Of interest here is its long history of offering skiing and snowboarding to members and to the public as well.
It is not a steep hill, but it has a very respectable assortment of trails that wind down the broad slopes of the resort, bounded on most sides by homes and condos that predominantly belong to club members. It is a terrific place for kids to learn to ski.
The trail system is anchored by a quad, a T-bar and a pony lift. It has a terrain park and a very respectable alpine race program that has delivered more than a few kids to more prominent programs around New England.
The nature of club skiing is that on any given day, there won't be many other skiers or riders sharing the slopes and lifts. Most of the network is protected by snowmaking and they have a modern grooming fleet that manicures the entire network each and every night. Your scribe was at Quechee in mid-March before the great spring melt and he could find nary a thing about which to complain.
Third on this list, but by no means third in the pecking order, is the Hermitage Club, also known as Haystack at the Hermitage. Haystack Mountain has had its share of ups and downs. Haystack has been around since 1964 but its doors have not always been open.
After a couple of tumultuous periods of operation, in 1991, S-K-I Ltd., owner at the time of Mt. Snow, took control and after more years of trials and tribulations sold it in 2005 to an investor group with the stipulation that it operate as a private club. Eventually a man named Jim Barnes, who owned the nearby Hermitage Inn, took control in 2010.
The lift group was augmented in 2015-16 by the installation of a brand new Doppelmayr 6-person detachable chair. In 2018 a beautiful post-and-beam base lodge opened — think perhaps of the building at Spruce that houses the Adventure Center. Sadly, Barnes' appetite for new toys would eventually outrun the budget of his members and investors. In 2019 foreclosure once again shut Haystack down.
Fast forward to the pandemic. In December 2020, The Hermitage reopened and this time round it is a very different place. Gone are outlandish investments. Instead, it is under the careful eye of a savvy group of members and investors who were smart enough to hire Bill Benneyan, a lifelong ski guy who knew what it takes to run a ski area in these times. But enough history, on a nice Sunday your scribe was privileged to have the opportunity to visit The Hermitage and see what all the fuss was about.
Make no mistake about it, this place is really special. There is a lot of terrain on this mountain. Lots of snowmaking and lots of groomers.
Right now, the club is open to its members from Friday to Sunday, which certainly allows plenty of time to manicure all the trails. There are lots of cruisers but the trail map also includes some very respectable steep and some well-maintained glades.
This particular day was a 50-degree bluebird day, the sort that is sure to draw skiers and riders, and sure enough there were 450 others out here on this day. Actually, that is pretty cool when you think about it —– best day yet of spring skiing, perfect snow and The Scribe was skiing right onto the 6-pack.
A few of these runs were with Bill and he confessed that on those cold January days when the wind is howling, dropping the bubble over the chair and getting your backside warmed by heated seats isn't so bad. Bill also allowed as how when you are only open three days a week, a Sunday night storm can produce some rather awesome mid-week powder skiing.
By the way, next winter this mountain can be rented during the week for a private party complete with trail guides.
The views down here in the southern part of the state are pretty spectacular. Mount Washington off in one direction, Massachusetts' highest peak, Mount Greylock, in another and New York's Adirondack range off to the west. Gazing at nearby Mount Snow, your scribe reflected that there were probably 5,000 people skiing and riding just a few miles away. Yup, sharing a hill with only 450 folks was good.
It wound up being a 10-run day, every one of which was on sun-softened snow atop a still dense base. With few skiers to be found, there were no slush piles to be found.
Hermitage has seemingly found a winning formula. The membership roster went from 180 families in December to 250 by mid-March. Most of these are people that commute up from Connecticut or New York. Some have houses nearby, others not.
The real estate market, so super-heated in Vermont these days, has also led to cautious investment in the base area where construction of new condominiums has just begun. It seems that after over 50 years of fits and starts, The Hermitage is positioned to become a winning resort. Think of it as The Yellowstone Club of the Vermont, but quite a bit less pricey.
---
Kim Brown, a ski bum by winter and a hacker by summer, lives in Waterbury Center with his very understanding family. Email letters to news@stowereporter.com.