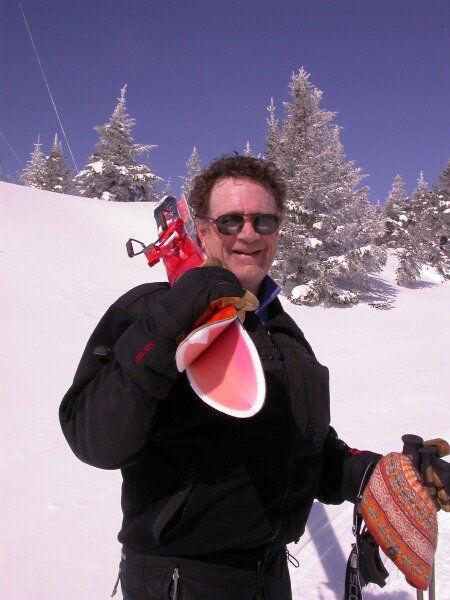 Last Sunday, one of the most unusual ski seasons in Stowe's long history came to an end. Your scribe, like so many others, gave it a bit of a try on this final day, but with so many other pressing needs on a busy calendar, opted for a quick four and done. Perhaps the crowd of last day skiers and riders increased as the hour for the closing bell neared but at mid-morning you could practically ski on to the lift.
There was some fresh snow heading into the weekend. Down low it didn't amount to much but at the higher elevations, it would seem that between 8 inches and a foot fell.
The Scribe received reports from friends that for most people, one run might have been described as untracked, but the snow surface went quickly from undisturbed to cream cheese. The reality was that most of the trails previously closed for lack of snow remained closed. Open trails had lots of skiers and riders. A fun day to ski, perhaps, as this winter went, it was a case of too little too late.
Looking back on the year, let's look at the positives – at least from The Scribe's somewhat subjective view. The resort opened on schedule and it made it all the way to April 18, no small feat. Back in September and October, the majority of locals were not betting that this would happen — particularly after the abrupt shutdown last March of a resort with great conditions over its entire trail system. The carefully constructed approach to operations under complicated conditions for the most part worked. Bathrooms remained accessible. If you needed to warm up in The Octagon, you could.
As for accessing the trails on the hill, things got off to a pretty slow start. Early season storms were few in number and snowfall challenged. For the hardworking mountain ops gang, the greatest challenge came from unseasonably warm temperatures. Snowmaking was a challenge. Just as a for instance: A year ago Liftline opened on day one of lift service, and this winter it opened after Christmas.
For the first couple of weeks of January, things improved only marginally. It got colder, helping snowmakers. At least the guns could now howl around the clock, as witnessed by the fact that the big snowmaking pond was practically drained. But by Martin Luther King weekend, a week and a half of fresh snow completely changed the landscape.
Stowe's scenic roads now had snowbanks. Meadows were white, and Mansfield's iconic summit ridges, snow-capped. Order had been restored. Starr was open, upper, upper Liftline, Goat and Lookout the same; the thrills of skiing the famed Front Four had returned. The glades could now be enjoyed relatively safely. As the snowpack grew toward its normal early February depth, another storm approached.
But the storm went from a predicted foot or more to an inch or two of warm glop. The season's momentum vanished and as March began — usually one of the best months for snowfall — there simply were no more real storms. Natural snow trails that really can't be groomed, became, in your scribe's jargon, "firm." In fact, trails like Starr never really opened again.
So much for the positives, how about the negatives?
If there was one thing resort staff and Stowe's skiers and riders could agree on, no one much cared for the reservation system. OK, mostly it worked but it was never simple.
Then, think lift lines! For most of the winter The Gondola loaded at around 25 percent capacity. A short wait for the Gondola might be 15-18 minutes. The Quad was, perhaps, a bit better than 50 percent.
In that month-long stretch when it was snowing, if you arrived at 7-7:30 a.m., you were likely to find the line in the corral stretched out to nearly the Mountain Ops Center. First tracks have always been at a premium on powder mornings, but even more so this time round.
A silver lining, though? Fewer riders up meant fewer skiers down. But back at the base, the line was waiting.
Many of Stowe's downcountry Epic passholders, thanks to the burgeoning world of teleworking, transplanted themselves to the neighborhood. Many of these folks communicate with folks in other time zones. On good days, of which there were many over the course of the year, they simply started the day with a couple of quick runs and then it was "Hi-ho, off to work we go."
So, what lies ahead as spring marches inexorably toward summer? Is the fact that the depth of snow at the stake never even got close to its normal average of 76 inches alarming? There have been bad winters in the past, though not many. It would appear that next year the reservations system will not be needed, vaccination should efforts succeed in protecting the vast majority of the populace — perhaps recalcitrant Republicans will even join in — and lift lines should return to normal.
Increased Epic Pass sales may mean more skiers and riders but this scribe hopes that hanging out in The Octagon or après-ski at the Matterhorn will once again be part of the fabric of local skiing, not to mention above-average snowfall and the return of ski-bum racing.
---
Kim Brown, a ski bum by winter and a hacker by summer, lives in Waterbury Center with his very understanding family. This is The Scribe's final column for the winter of 2020-2021.