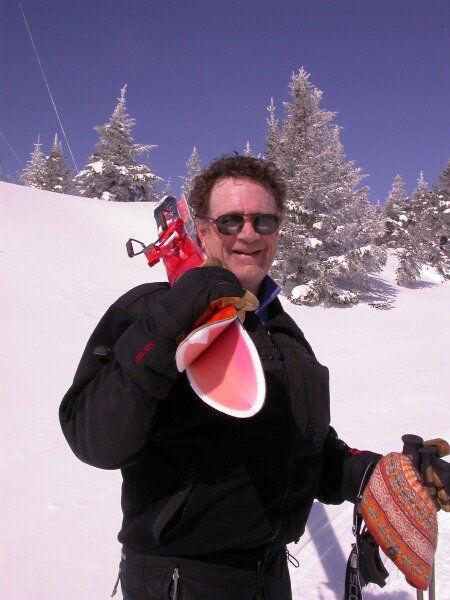 It is not looking too good at the moment for the 2019-20 ski season. Even in the best of moments, it was not what most would describe as a banner year.
It wasn't about snowfall — there were plenty of snowy moments between October and March. Perhaps it was the collective unease arising from odd circumstances like too many warm stretches that threatened to play havoc with the snowpack, and traffic congestion during those peak snowy days.
But none of these misgivings could have prepared anyone for the impact of a pandemic on the local ski and snowboard world.
You just don't go into winter thinking about such things. Vermont has always been a winter world, at least from late October into the early days of May. Some winters arrive later than others; some winters give way to spring late in March or into April. But, each year as the days turn warmer week by week, one looks north and west from the village of Stowe and sees the reassuring ridgelines of Vermont's tallest peak marked by its familiar stripes of white.
Long after the lifts shut down, it is common to have skiable snow up there for weeks to come. The most dedicated will hike up on those bluebird corn snow days and return a few hours later with tales of runs still manageable, though perhaps not on one's best board or boards.
It doesn't look like those runs are going to be easily found this spring. The lifts shut down more than two weeks ago. A week passed and then a early spring storm lured hundreds of loyal skiers and riders onto the slopes to enjoy the foot of fresh snow. Nothing like a powder day to draw folks to the hill.
The story was the same at Smugglers' Notch, down at Sugarbush and over at Bolton —skiers ski, riders ride — lift served or not, just like those optimistic days of late fall when the most enthusiastic among the locals take those first trips up to enjoy a sketchy descent on a foot or less of the season's first snowfalls.
But now word comes that ski areas, including Stowe, are making their resorts off-limits even to those skinners and hikers determined to wrest a few more runs from the hills.
On the one hand, The Scribe kind of gets it. People have been getting hurt on the slopes and rescues are dicey when emergency personnel are being summoned from far away to extricate the wounded.
On the other hand, though, in these challenging and dire times of crisis, there is something refreshing about skiers and riders determined to not let COVID-19 get in the way of some fun in the fresh air. You can only binge-watch so much entertainment in any one day.
It has been a crazy scene out there for the last week. The Scribe has already mentally transitioned into biking season but everyone with whom he has conversed — from more than 6 feet away, of course — told stories of congested routes and dogs, lots and lots of dogs. Still, the runs were fun even if the surfaces left something to be desired. After all, who can tell what the future holds, so, as the old expression goes, "Seize the day."
Looking back into the recent past, it is hard to believe that it was just a month ago that an unexpected storm came on a direct track due east from Lake Huron and deposited an extraordinary amount of snow, 40 inches in fact, in 48 hours. It is said that the best winters are the ones where an exceptional storm hits the region, when memories are made and casual skiers and riders occasionally turn into ski and board bums.
As storms go, this one was an absolute home run. Just what locals needed to breathe some life into a quiet winter. You could not have found a single person on the mountain that incredible Leap Year Saturday who would have predicted that a scant two weeks later the resort would shut down all services to skiers and riders.
The impact of this unprecedented action is really challenging to assess. A few things were obvious: There would be no ski bum championships, and no Sugar Slalom, an event that has taken place annually since the late 1930s.
No St. Patrick's Day celebrations — though thanks go once again to the Governor and his cohorts, Bruce (more days on the hill than anyone else), Cassler and tall Bob who hiked up the trail not to be denied their 27th year of hosing down the Gondolier waterfall with its annual bath of kelly green.
Perhaps most dismaying of all, no parking lot barbecues in celebration of the final lift-served runs of the year.
One a more somber note, if you run a restaurant, a bar or a retail shop in this part of the world, times may be very tough and it would not be surprising if there are casualties among the waterholes and eateries that have graced the Mountain Road for decades.
Warm weather will be here soon, and more and more folks will be on their bikes. Luckily it will be hard to shut down the roads, but these next couple of months will be challenging at best.
It is hard on the final day of March, when the spring skiing traditionally reaches its best days, for your Scribe to write an epitaph for the recently concluded season. He is aware that there are still a few who will find a way to get themselves onto the trails, but for the vast majority, this year is a done deal.
May the winter of 2019-20 rest in peace and may the next season produce a full year of fun and frolic. Perhaps a 3-foot wave of snowfall before Thanksgiving to get the year off to a great start. May the loyal readers enjoy health and a return to prosperity — as well as your bikes, boats, fishing rods and gardens.
---
Kim Brown, a ski bum by winter and a hacker by summer, lives in Waterbury Center with his very understanding family. Email letters to news@stowereporter.com.