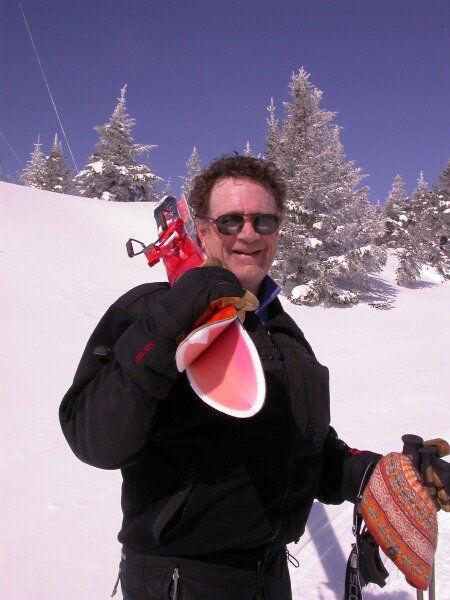 Another week of skiing is in the books and a very good one it proved to be. Stowe Mountain Resort is now well into President's Week, which in the past has always stood as one of the key weeks in the economic cycle of the ski and snowboard industry, and a week when visitors from downcountry flock to the north during what is usually school vacation. This year, when nothing is normal, it has been difficult to discern the migratory patterns of the out of town guests. For anyone in town this week, the reward for their travels has been excellent skiing.
The snowpack remains somewhat average, or even a bit below average, according to the measurements being taken each day at the WCAX snow stake up along the upper Toll Road — 45 inches is the number right now. In an average year, it would read 61 inches. But this year has been better than average in many ways.
Most importantly it has remained cold day after day. No January thaw took place after the snow finally began to fall leading into the Martin Luther King Weekend. No warm and or wet weather meant no settling of the snowpack.
Not only have local skiers and riders been treated to dense cold packed powder day after day, but it has been awfully difficult to locate much in the way of ice. Moguls on classic bump runs like Chin Clip and Lookout have remained forgiving instead of rock hard as can all too often be the case following a good thaw. On those days when the sun emerged from the never-ending banks of clouds that usually roll across the sky above Mansfield's summit ridge, good visibility has produced superb skiing.
As this new week approached there has been much anticipation of a major storm — perhaps delivering as much as a foot of new snow. So far, the snow gods have not yet delivered the goods. That has not been the case in much of the continental U.S. When people post Facebook photos of people skiing the roads of urban Texas, you know these are unusual times. Just as the impact of COVID-19 in Vermont has been somewhat tempered compared to most of the nation, winter storms in these parts are welcome — certainly not the case 1,500 miles from here.
Your scribe received reports Saturday morning, with temperatures at first chair somewhere well south of zero degrees, the usual early morning crowd was rather sparse. Arctic weather tends to discourage all but the hardiest from visiting the mountain.
The Scribe, however, was well south of these parts having embarked on yet another quixotic journey into more remote areas of the ski world.
Inspired by the recent re-airing of the delightful "United We Ski" film produced by the Wilkinson-Ray Brothers a few years back, he decided it was time to ski some of every small ski area scattered through the Green Mountains and the lesser peaks and ridges that help define Vermont's delightful topography.
This journey would provide an opportunity to ride rope tows and T-bars, a world of surface lifts with nary a chairlift to be seen. For the weekend, let everyone else stand in line, or perhaps bundle up for a chilled ride to the upper elevations of Mansfield and Spruce.
Day one started with a visit to the Ascutney Outdoor Center, which is the old Mount Ascutney ski area rescued from the depths of bankruptcy by an energetic and tireless volunteer group that has somehow put a very cool ski hill back into operation. Ascutney has a rope tow, which runs on Fridays, and a T-bar that operates Saturdays and Sundays from noon to 4 p.m.
Arriving shortly after 2 p.m., The Scribe booted up and hoofed it to the rope tow base. He had been there only 10 minutes when he ran into Laura Farrell — wife of longtime MMSC coach Jim Farrell, mother to Bobby and Brad, very strong club skiers — and most importantly, a guiding light behind the formation of the Vermont Adaptive Ski and Snowboard program.
After a great visit, it was time to get on the rope tow. Now, The Scribe has ridden an awful lot of ropes in his time but other than a couple runs in recent years at Cochran's, opportunities to revisit one's rope techniques have been limited. Six successful runs followed, and it was hero snow.
Natural snow groomed into perfect corduroy by an operator so skilled that you couldn't find a seam between groomer passes — you would have thought he was driving a 100-foot-wide machine. The only thing that took The Scribe out of paradise was the fact that there were two more stops to come.
Next up was the Bellows Falls Ski Hill, run by the Bellows Falls Recreation Department. The rope tow there services a 200-foot vertical hill. It is a 100 percent Mother Nature snow surface. The hill has been skied by locals since the 1950s, but when The Scribe arrived at 5 he found himself the only skier at the hill.
No matter, hill chief Ryan Stoodley alerted to your scribe's plan to ski, was standing by to start up the tow. Getting to the top of this tow would prove to be a real challenge — first a very steep grade and second a very slippery rope. The Scribe made it, however.
The hill was crisscrossed by a few dozen tracks, evidence of past descents by earlier skiers and riders. The snow was soft, although a bit stiff, and finding untracked snow a week after a storm is always a good thing. As he latched onto the rope for the third time, his rope tow run count now up to nine for the afternoon, he sensed that there would be only one more run — this one down through the trees on a little side chute with a very respectable 30-degree pitch. Wave goodbye to Ryan and head on down Route 5 for Brattleboro.
The final stop on this day one of the odyssey was to visit the Brattleboro Ski Hill. You learn some interesting things as you dig deep into these non-mega-ski-world places. The Brattleboro Ski Bump, as locals refer to it, has been operating since 1937, which happens to make it the same age as Stowe's more famous ski hill.
A ticket for the night was $5, the hill had a T-bar instead of a rope tow — good news for The Scribe — and an amazing number of kids and adults out skiing some very good quality snow.
The Scribe hooked up quickly with someone he soon learned was an accomplished racer who grew up in the same era as your scribe but reached a far higher pinnacle of accomplishment. Bill Farrell lives in Keene and visits here regularly. As he put it, "This may only be 137 vertical feet, but I can turn 40 laps in an hour and a half after work, and maybe after an hour or two of snowshoeing." Pretty neat, huh.
Your Scribe settled for six quick laps and headed back to the car to meet up with cousin Jim, who has lived in Brattleboro for decades. Always good to see Jim and this duo hit the Brattleboro Co-op for a to-go dinner followed by an après-ski beer and a good chat, socially distanced in Jim's office.
Now that was a good day of skiing.
---
Kim Brown, a ski bum by winter and a hacker by summer, lives in Waterbury Center with his very understanding family.