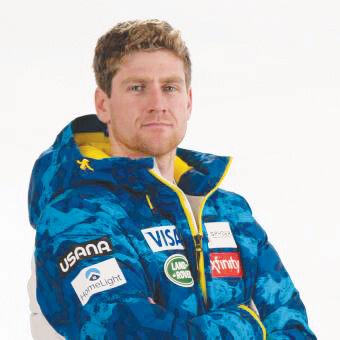 Vermont's Ryan Cochran-Siegle made history last week in Bormio, Italy.
The Mt. Mansfield Ski Club & Academy alum, a native of Starksboro and a member of Vermont's first family of alpine skiing, became the first American to win a World Cup super-G in 14 years.
On Tuesday, Dec. 29, Cochran-Siegle planted a time of 1:29.43; Vincent Kriechmayr of Austria was second in 1:30.22 and Norwegian Adrian Smiseth Sejersted was third in 1:30.37.
New Hampshire native and U.S. alpine legend Bode Miller was the last American man to win a World Cup super-G, doing so in December of 2006 — when Cochran-Siegle was just 14 years old.
"It's a tricky event, there's just so many things that have to fall into place for race day in order to make it happen, but it's pretty spectacular," Cochran-Siegle said about super-G in an interview after the win.
Cochran-Siegle's first win on the World Cup tour was a dominant one; he finished almost eight-tenths of a second ahead of Kriechmayr — that's the largest margin of victory in a World Cup super-G since 2016.
"I skied well," Cochran-Siegle said. "I had a good approach and carried speed in a lot of sections ... that middle section, I definitely skied with a good limit and just trusting that, trying to ski it smart. The speed I gained from there, I carried through the finish and had that gap."
Cochran-Siegle's victory came after a slew of top-10 finishes earlier in the season.
After notching three top-5 finishes — a silver in giant slalom, fourth in downhill and a bronze in super-G — at the U.S. National Championships in Copper Mountain in November, Cochran-Siegle placed eighth in super-G at Val Gardena in Italy on Dec. 18 and then registered his first career World Cup podium finish, coming in second in downhill at the same mountain on Dec. 19.
Cochran-Siegle was also the fastest skier on both days of training for the downhill event at Bormio in late December. He looked to be just as fast, and possibly in line to add a second win in as many days, to start the actual downhill competition on Dec. 30 at Bormio, but a pair of mistakes during his speedy run cost him just enough time to push himself outside a tightly-packed top five.
He was able to recover from both mishaps, though, finishing seventh in the downhill competition with a time of 1:57.62. Austria's Matthias Mayer won the event with a time of 1:57.32, three-tenths of a second ahead of Cochran-Siegle.
"End of the day, it was definitely an incredible weekend," Cochran-Siegle said in an interview after his second top-ten finish at Bormio. "Yesterday was something else. I don't know if that's hit me yet. In a way, this is a good way to end the weekend—not being totally on top, staying a little bit hungry, knowing that there's still more to learn and more to gain in order to be that top-level skier that I'm trying to be and believe that I can be."
Overall, Cochran-Siegle has only finished outside the top 15 in one speed event so far in the 2020-2021 World Cup tour.
Bouncing back
The Vermonter's performance in the early goings of the 2020-2021 World Cup tour appear to be the culmination of his long road of recovery from a severe knee injury he suffered seven years ago. Cochran-Siegle, who had won a pair of gold medals at the 2012 World Junior Championships as a 20-year-old, was injured at the 2013 World Championships and had been working his way back since then, making the U.S. Olympic team in time for the 2018 Winter Olympics in Pyeong Chang.
Cochran-Siegle's win in Bormio means he's joined his mother, Barbara Ann Cochran, on the list of family members who've made the Olympics and have at least one World Cup win.
Barbara Ann Cochran, one of the four siblings who made the family famous as the "Skiing Cochrans," won a handful of World Cup events to go with her Olympic gold medal in slalom at the '72 games.
Cochran-Siegle gave much of the credit for his own win last week to his teammates and the support staff and trainers working with the U.S. Ski Team, and to the organization's speed center at Copper Mountain.
"I've always been pretty technically sound, but gliding has always been a weakness of mine," Cochran-Siegle said. "The past couple of years I've been skiing a little more speed with our speed team, both in Copper, and South America, which has progressively gotten me to the point where I can be solid on race day."
Cochran-Siegle and the rest of the U.S. men's alpine speed team will be back at in beginning tomorrow, Jan. 8, when they begin three days of World Cup competition at Adelboden, Switzerland.