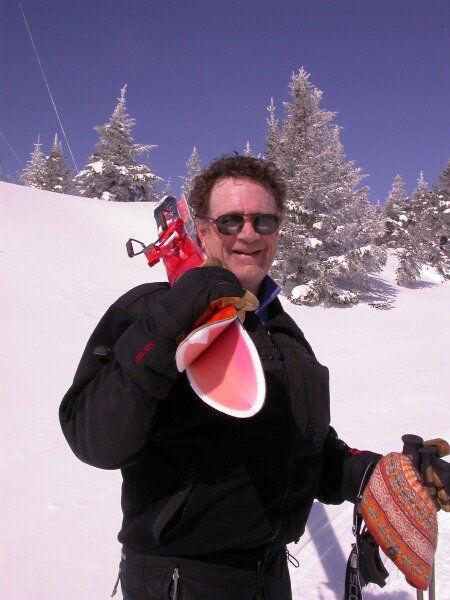 Back in the fall while the pandemic raged and The Scribe learned there would be no Mt. Mansfield Ski Club season passes for longtime race crews — because there were going to be few, if any, races — he realized he'd have to buy a pass for the first time this century. Being frugal by nature he went for the Epic locals' pass, knowing full well he would be blacked out on his home hill during Christmas week.
So, he hatched a plan. Why not ski every area in northern Vermont during this enforced period of ski abstinence?
Day 1: Christmas Day in Stowe
Last day his ticket would be good, so The Scribe headed up despite the steady rain. It was simply to say he had skied Stowe, no more, no less. Suffice to say it was bleak and devoid of skiers and riders.
Day 2: Bolton Valley
Low expectations for this first stop would be an understatement. When it rains and then the temperatures drop, one does count on finding good skiing. Refrozen surfaces, charitably referred to as granular, are anticipated. But The Scribe was not to be deterred.
It is a long climb to Bolton Valley resort up a 4-1/2 mile access road, perhaps the longest and steepest of the ski areas.
After scoring a ticket, The Scribe found, remarkably, that skiing conditions were very good. The surface underneath was not really frozen and the inch or so of fresh snow on top made a world of difference. It was quiet the day after Christmas, small groups, mostly families.
He rode three different chairs for seven laps, and had nothing but fun. Bolton is a very fun place. None of the steeper natural trails were open, which would be the case everywhere during his tour, but it didn't matter. Their snowmakers and grooming crew have performed wonders.
Skiing is skiing and it was a far better start then he could have hoped for. One other thing he learned during his visit was that Bolton's night skiing business has been strong all winter. Folks have far fewer options at night — dining, shaky; movies, nope — so let's go skiing.
Day 3: Sugarbush
Sugarbush South, aka Lincoln Peak, was the starting point for the second stage of the tour. This was The Scribe's first venture to the 'Bush since it was acquired by Alterra, now parent to Aspen.
Sugarbush is staying away from a reservation system but is regulating ticket sales on a daily basis. Lincoln Peak offered some very good conditions and, amazingly, a bit more fresh snow. The first ride up was on the Super Bravo, a high-speed quad that led to a good opening cruise down a trail in very good condition.
Looping back up he headed across to the Heavens Gate chair, which had a small crowd in the corral. He found someone to ride with, social distancing being pretty easy on a chairlift. His fellow skier turned out to be from Lebanon, now relocated to Manhattan.
Reaching the top, the run of choice was Ripcord, a double-black groomed into softness with just a dash of fresh snow mixed in. Halfway down his lift mate from Lebanon flew by.
Curious about this unexpected proficiency, he caught up with the fellow and asked him if he had ever skied in Lebanon. "Yes, Lebanon has some very good ski resorts," he said. Who knew? In fact, the mountains there top out at 10,000 feet, and Lebanon has been called the Switzerland of the East.
The rest of the day was a lot of fun and ended with a few runs at the section of Sugarbush now called Mount Ellen, previously Sugarbush North and originally Glen Ellen. More good cruising and no lift lines, but as is the case everywhere only trails protected by snowmaking are open. One last bonus from his Sugarbush journey: free EV charging stations at both Lincoln Peak and Mt Ellen.
Day 4: Burke
It is a 43-mile drive from Waterbury Center to Burke and it was really a nice morning to spend an hour in the Prius Prime. Another overnight dusting set the stage for this venture deep into the Northeast Kingdom. First stop at Burke was The Sherburne Express. Few skiers to be seen and there was only one main route open.
However, the conditions continued to be well-groomed for cruising, and that small amount of fresh snow once again made a big difference. Four laps on the quad, one ride up the J-bar — how often do you get to ride a J-bar? — and it was off to Burke's other side where the racers hang out.
Arriving at the base of the Mid-Burke Express, another high-speed quad, he saw something not yet seen all winter: gates on the hill and alpine racers training. Suddenly things seemed just a little more normal.
After a couple of laps from the top, he managed to talk his way onto the T-bar, reserved for racers and coaches only. (It does help to have 40 years of Mt. Mansfield Ski Club race crew training, as well as World Cup duty.)
He was glad he got a lift up to the top of the training hill because who did he encounter but former Friends of the Devil team ace Travis Apple, now coaching at Burke Mountain Academy.
Day 5: Jay Peak
Another glorious morning for a drive deep into the far northern reaches of Vermont. Your scribe headed to Stateside on the western side of the resort. There is a brand-spanking new lodge there, perhaps the final vestiges of the crazy investment scheme that befell Jay Peak in recent years. Luckily the scheme also included free EV charging stations.
The sight of two inches of new snow on the lower slopes invoked thoughts of Bill Stenger's days at the helm. Bill could BS with the best of them and your scribe was quite sure that if Bill had been on hand, this particular morning's report would have reported no less than six inches of powder. But who cares, because our journey featured fresh snow to ski every morning following the misery of that Christmas rain.
First stop was the Jet Chair, which was always the route to the top if you were doing George Syrovatka's famous citizen's downhill. Again, if a trail didn't have snowmaking it wasn't open, but Jay always delivers some good routes off the top. Wide, not particularly steep, but perfect for smooth cruising on what was another gray day.
The Scribe hit the three open lift options and then headed over to Tram Side. The tram isn't operating but rumor has it that it will be coming online soon. However, The Flyer Express was running, and it takes you close to the summit, if not all the way.
A few more fun runs and it was time to head home. One suggestion about the return: take Route 242 into Montgomery. What great scenery along this beautiful and quiet roadway.
Day 6: Smugglers' Notch
Originally this stop was meant to be the third one on the week's itinerary, but Smugglers' has been very focused on limited access. With their condominiums full of holiday visitors, day tickets were being rationed and one did not become available to The Scribe until Day 6.
The terrain at Smugglers' Notch takes a back seat to nobody in the northern part of the state. Sadly, snowmaking options here are more limited. The only challenging skiing was found on Sterling Mountain.
Madonna, with its gnarly routes like FIS, Freefall, Doc Dempsey's Glades and Madonna Liftline could only be imagined this day. Sterling was fun, but for the moment one must hope for significant snowfall in the near future if you are a Smuggs skier or rider.
There is good beginner and novice skiing and riding available at Morse Mountain up behind the mountain village, but when your scribe thought, why not sample it, he simply couldn't find a parking place. Not a lot of terrain open but plenty of people on hand celebrating the holidays.
Day 7: Magic Mountain
Originally, The Scribe intended to visit Mad River but that ain't happening yet. OK, Magic is a long way south of Waterbury Center, down in the neighborhood of resorts like Stratton, Mount Snow and Okemo. Funny thing though, rumblings had been picked up by The Scribe's "Ski-dar" that this place was well worth a visit.
It had fallen into a steep decline when real estate values began to go south late in the previous century. Finally, an investment group put together by a man named Geoff Hathaway has started to resurrect Magic, which began serving skiers in 1961. The locals are certainly happy about this.
Before your scribe departed Waterbury Center, he knew there would only be two routes open off the top. Didn't matter, he knew that Magic had something no one else that far south in Vermont could boast — steep trails. Soon engaged in conversation with Kerry Mara and Hathaway, the scribe learned some interesting things about Magic.
Two weeks earlier, an epic south-tracking storm had deposited three to four feet of snow on the entire southern half of Vermont. If only his visit had been two weeks ago because everything was open, steep trails, gnarly woods. Nothing but good times to be had. (When was the last time anyone skied Starr legally?)
Innocently inquiring as to whether the name "Mad River of the South" would be appropriate, both Mara and Hathaway responded that they prefer to think of MRG as the "Magic of the North." Seven runs riding two chairs that reached the top confirmed what The Scribe had suspected: Magic very likely offers some of the best routes one can find in Vermont.
Sure, it may only be 1,500 vertical feet, but it is all there. The locals love this place, and in the summer there are dedicated workdays when folks climb up to clean and maintain the woods routes. More snow would have been nice, but studying the steep trails that fall off ridges and spurs in every direction, he knew he would be back. One other bonus with this northwest-facing mountain? On the back side is the remains of a small place called Timber Ridge, and guess where the locals wind up their powder days.
So, there you have it, seven days and seven resorts, the furthest away a two-hour drive. All are surviving, all have plenty of good skiing available, but none has much natural terrain open. Maybe that will change soon as snow has been coming in small but steady amounts.
But now that his pass is once again accepted at Stowe, The Scribe does look forward to a return to his home hill of the last 67 winters.