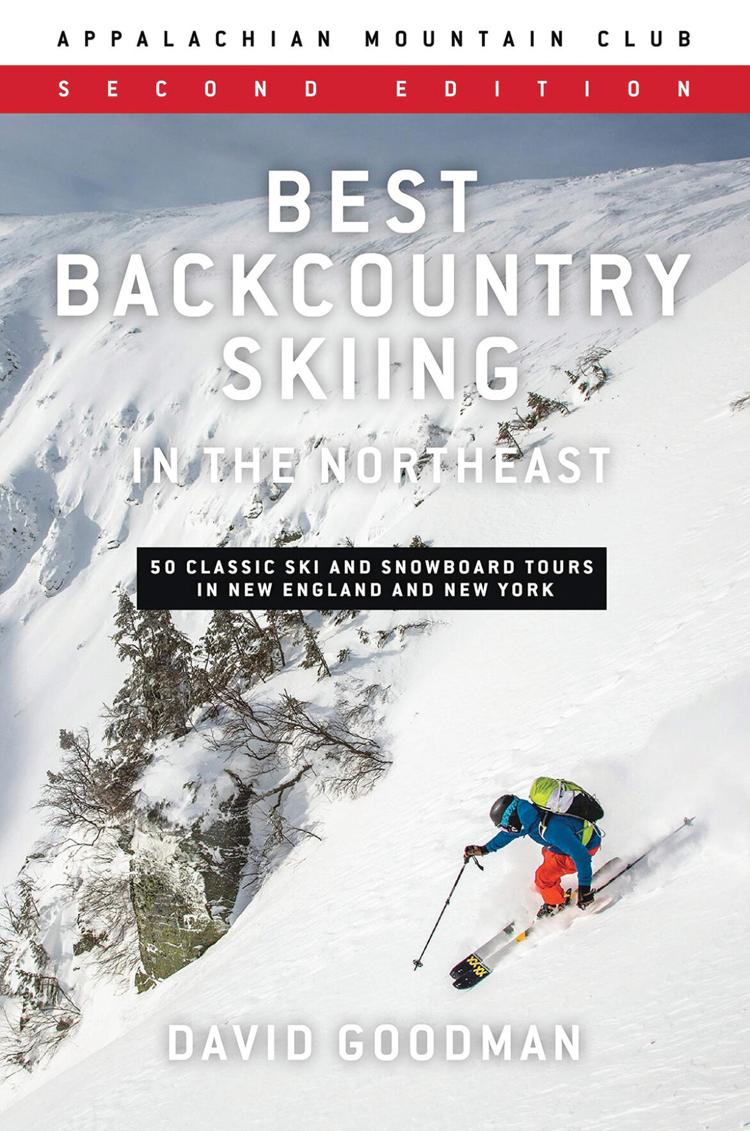 Author David Goodman literally wrote the book on backcountry skiing in this area 30 years ago, and fortuitously found himself updating it just in time for a winter season that will likely see record numbers of skiers eschewing resorts and heading for the woods.
Goodman was the latest speaker presented by Stowe's Vermont Ski and Snowboard Museum in its Red Bench series, which has presented sans bench via streaming services since the pandemic started. Earlier events in the series have featured panels of guests, but on Dec. 3, Goodman was the sole speaker.
"I always wanted to write a book where I invited people to the revolution," Goodman, who also does investigative reporting and writes about politics, said. "I just didn't think it was going to be my ski book."
He said he was first approached in 1987 by the Appalachian Mountain Club to write the book, which was considered "radical" for the club, best known as the country's oldest hiking organization. In the late 1980s, backcountry skiing in the Northeast had long been abandoned.
Fifty years earlier, however, in the 1930s, the club had been a significant promoter of "this new sport of skiing," before ski lifts made hiking or skinning up a mountain to earn some turns a throwback activity. Indeed, Goodman said, the heyday of New England backcountry was during that decade, when trails cut by the Civilian Conservation Corps — "also known as Roosevelt's Forest Army," Goodman noted — gave egalitarian access to the high peaks.
The topic was ripe for re-discovery, and Goodman was launched on what he thought would be a one-time adventure, to "research" as many mountains in New England as possible, shunning resorts the whole way.
"I lived out of my 1974 Dodge Dart and just skied my brains out all over the Northeast," he said.
When "Classic Backcountry Skiing" came out, Goodman began to see copies of it on dashboards of cars parked at the head of various backcountry areas. The first edition was printed with a defective binding, turning peoples' copies into a mishmash of loose pages, but it was the only guide out there.
A decade later, he updated it, dropping the fairly flat Rhode Island and Connecticut, which were basically only in there to satisfy the "New England" in the book's title. He added New York's Adirondack region to the update, which was retitled "Backcountry Skiing Adventures" and split into two volumes — Vermont/New York; and Maine/New Hampshire.
Another update came out in 2010, and now there's the 30th anniversary edition. Now married with kids and more responsibilities, Goodman said the current edition took him three winters to research. The book has changed as the backcountry scene has; some choice areas in the 1989 version have all but disappeared.
Some have come back. Goodman points to the Thunderbolt trail on Mount Greylock, the highest peak in Massachusetts. When he first visited the area while researching the 1989 book, he said the once hallowed trail was in pretty rough shape. But a teacher at nearby North Adams High School later turned his students onto the trail's history, and they breathed life back into it, and it's now included in Goodman's book.
"Far from being the scratchy, barely-there trail that I found in the 80s, they have really restored this to its old glory," Goodman said.
Trailblazers
Stowe features prominently in the history of ski trailblazing. Goodman said because of "the curious way" the Civilian Conservation Corps operated, projects were put under the control of the state foresters. In Vermont, that man was Perry Merrill, who has at least one trail on Mount Mansfield still bearing his name. Merrill had trained as a forester in Sweden, and he noticed that skiing was a way of life there.
"And he thought, maybe, this poor rural state of Vermont, maybe skiing could help lift it up," Goodman said. "So, when he gets thousands of axe-wielding men at his disposal, he sends them here, up the side of the highest mountain in Vermont, Mount Mansfield, to cut what became The Bruce Trail."
That was 1933, and that was just the beginning of skiing in Stowe. The Bruce Trail is still there, unmarked, but still one of the classic entrees into the sport of off-piste skiing. Goodman gives Stowe plenty of love, partly because he lives so close and is so familiar, but partly because it's legitimately great.
Another legendary hotbed of New England skiing was — still is — Tuckerman's Ravine, atop New Hampshire's Mount Washington, "where legends are made and made up, and a few get dashed," Goodman quipped.
The 4,000-foot drop from the summit to Pinkham Notch drew thrill seekers with a race called the American Inferno. An Austrian, Toni Matt raced in the third iteration, in 1939, and just straight-lined the 4-mile course in 6 minutes, 29 seconds, a record that has not been broken.
"He said, 'I didn't know what I was doing. I had strong legs and I was very stupid,' " Goodman said.
People powered
The backcountry ski revolution Goodman mentioned earlier really took off with the formation of central Vermont's Rochester/Randolph Area Sports Trail Alliance, or RASTA. He credits it with being the first sanctioned trail cutting and woods glading group in America, working not as outlaw tree trimmers, but in conjunction with the National Forest Service.
"And what has been created is what I call community supported skiing," Goodman said.
Shortly after RASTA formed the mold in Vermont, New Hampshire took the baton and "takes off in a full sprint" with its Granite Backcountry Alliance. He said the two groups will regularly attract dozens, sometimes hundreds of volunteers to trail-cutting days, doing the trimming in a sustainable, safe way.
"I think that the revolution in skiing is really about people come for the skiing, and they stay for the community," he said. "A community is the basis of all good things that we do."
Goodman is keenly aware how more and more people going into the backcountry can have a tendency to change it, which is why he heaps such praise on responsible stewards such as RASTA. But, he said, the better a job they do making the backcountry more accessible, the busier the parking lots get.
In a Nov. 12 Red Bench panel event on uphill skiing moderated by Cambridge ski writer Adam Howard — founder of Height of Land Publications — notable Rocky Mountain skier and backcountry guide Andrew McLean said the parking lot situation gets worse every year backcountry skiing gets more popular. It leads to "an interesting new avalanche concern" with strings of people making their way up the Wasatch.
"The days of easy picking, low hanging fruit are over," McLean said. "It's good, in a way, because it's forced me to go out and find new areas."
Goodman is also aware that some people might groan to find one of their favorite backcountry lines in his book. But, he said, he was careful to only include places that can handle the visits, and keeps to himself the more fragile places that he and his ilk like to visit.
"I don't like to blow up people's stashes, but I do like to share the joy of backcountry skiing," he said.