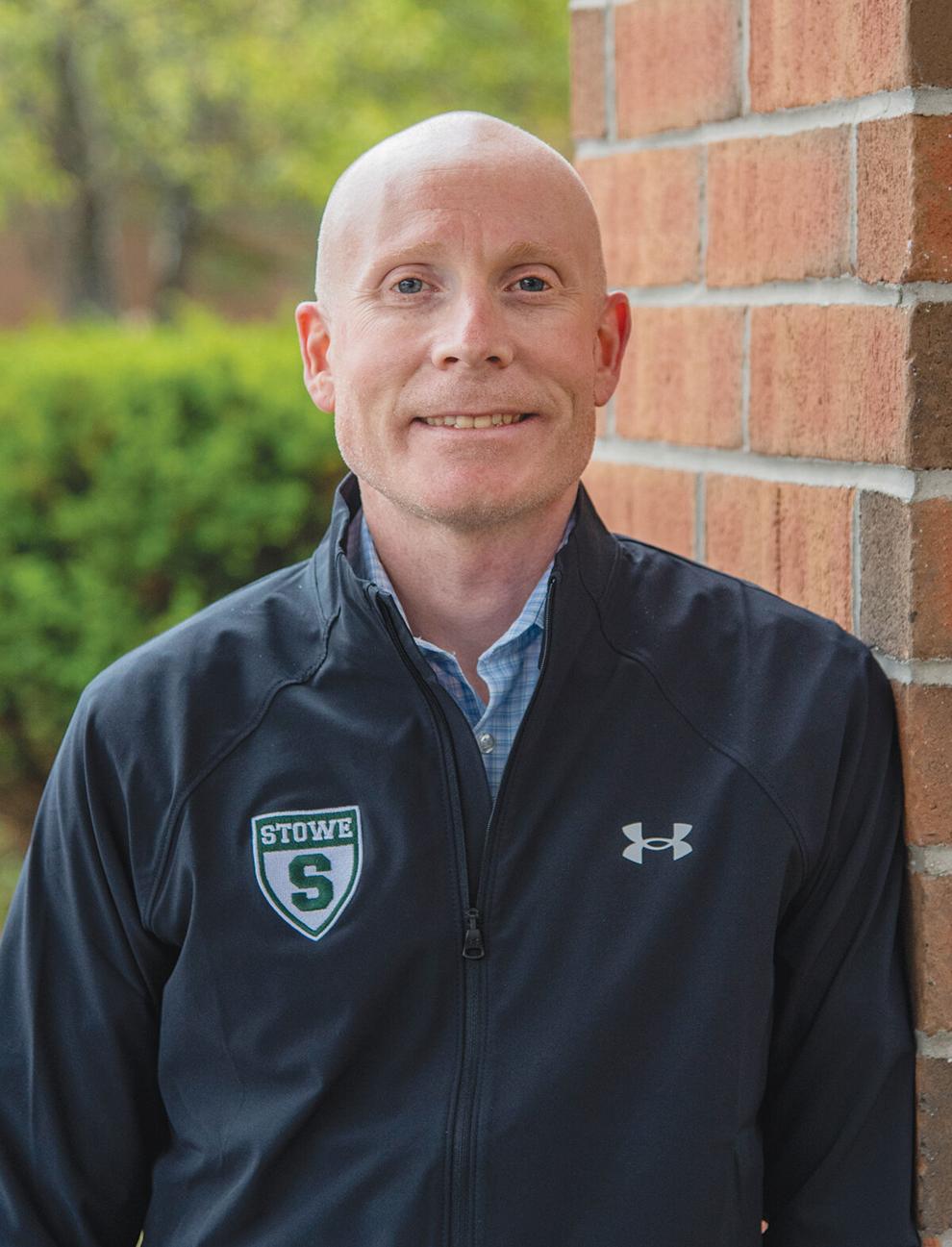 Stowe High School's new principal, David Greenfield, grew up in Long Island, and moved to Florida for 18 years after he and his wife got married. They'd been to Vermont several times to visit. One of these days, it was bound to stick.
Perhaps it was the foliage just beginning to hit its peak, or maybe the state's high vaccination rates, or its generally peaceful vibe. Or perhaps it was just the size of the school.
Greenfield's previous school, Indian Ridge Middle School, had around 2,000 students in grades six through eight. That's more than the entire school population of Stowe, Morristown and Elmore together — by a lot.
"A smaller town with a smaller enrollment really allows for more impactful leadership. You can have more of a hands-on approach," Greenfield said during a recent interview in his office. "It kind of became clear that that type of opportunity existed here more than a lot of other places. So, when the position was advertised, it was sort of like one of those lightbulb-goes-on moments."
There are a couple of key difference to overseeing 250 students rather than 2,000. For one, it'll be far easier to memorize all their names.
Stowe's school community
It also means actually seeing students, whether in his office or in the hallways or classrooms or parking lot. Same with their parents.
Used to be a time when seeing a parent or a child, or both at the same time, in the principal's office meant it often wasn't under the best circumstances.
In Stowe, even within the span of a month of school days, Greenfield has noticed that Stowe students are more engaged in their education and their communities. And it appears to him that it starts at home.
"We have so many students here who are just really interested in, not just doing the right thing, but it's something that they've been taught at home. It's important to their families," he said. "They're just excited that there's somebody who's going to be there to support them and give them the structure to make these events and different ideas come to life."
One such event is this week, Spirit Week, culminating Friday, with the traditional Raider Day pep rally.
Greenfield has also met with student leaders who organize various civic engagement groups, such as Quality Youth Development — focusing on incorporating youth voice into the community at large.
There's also She's the First, a women's empowerment group that works with the Clarina Howard Nichols Center in Morrisville. She's the First is organizing a drive-in movie night at the school as a fundraiser for the organization.
"The students motivate themselves and really push themselves to do more than just the minimum," Greenfield said. "It's clear that, when they leave here, they're going to go on and do really big things."
He met with several families before the school year even began, a lot of them who shared just how isolating the previous school year had been, and how important it was for them to be able to come back to school and interact with their friends every day.
It was the same with teachers, most of whom were in the thick of pandemic teaching and who were also eager to get back to the classroom. Greenfield said he's leaned on many longtime employees with institutional memory — like school nurse Janet Godin and facilities manager Dave Bullis — not just of the hallways in Stowe High School but of the community that surrounds it.
Greenfield said there's still plenty of new guy energy — he still pinches himself driving in every day from South Burlington, where he and his family live — to carry him through many challenges, and he's prioritized their social and emotional needs, as well as their young charges.
"When the students come back to campus and teachers are feeling relaxed, they're feeling relaxed, they're feeling comfortable, that sort of trickles down to the students," he said.
Covering COVID
Stowe has been fortunate so far this school year to not get hammered by the pandemic, even as nearby schools, such as in Johnson, Hyde Park and Waterbury, had to quarantine multiple students or even close schools for a couple of days.
Greenfield, who was being interviewed not too long after Stowe had its first full five-day school week since March 13, 2020, said students are following the COVID protocols, with masking and proper spacing in the halls and classrooms and communal areas like the cafeteria and auditorium — which wasn't even accessible last year.
Again, he credits the families and the Stowe community at large, a town where there's a large banner in the village thanking people for being vaccinated.
"There's a lot that's beyond our control once they leave here, but I do feel like our families are very much on the same page as us and that's been extremely helpful," he said. "Doing the right thing so that when they come to school, they are healthy and they're not spreading sickness."
That's not to say the school isn't prepared to pivot back to another model should disaster strike. The teachers already did it numerous times in the past year and a half.
"Obviously, having done it once is helpful. But we have our plans in place to be able to do that in a short turnaround if we needed to," Greenfield said.
Grading the grading
People outside of Vermont, even educators, might not know PBL from PB&J, but the recently-implemented grading system known as proficiency-based learning has its fans — just like there are Yankees fans living in Boston.
You know it's a rough haul when student speakers at two different area high school graduations this past June dedicated time in their speeches to slam the grading system.
Greenfield has had to get up to speed on the grading system, too, since it wasn't an educational approach that Florida schools used.
He appreciates the ethos of proficiency-based learning, which does away with A,B,C,D,F grades and 4.0 grade point averages in favor of a system that monitors individual student progress over time — proficient, not proficient and proficient "with distinction."
To be fair, it's difficult for any new principal to weigh in on a grading system that only really comes together at the end of the journey, with regular reminders that a student is on course or not.
"I think the part that's the most exciting is you're really allowing students to demonstrate growth," he said.
Parents and students looking for more academic rigor might be heartened by Greenfield's confirmation that Advanced Placement classes are back, after a one-year hiatus. They might be more heartened to hear Greenfield wouldn't mind even more of them.
He said he's come from other schools that have offered 20 AP classes, but those are in larger environments with more resources. Still, he thinks it's doable in Stowe.
"We have to be very strategic about how you offer AP classes and what you offer," he said. "But really, my main goal is to try to increase the amount of AP classes that we offer, and we're going to try to find some creative ways to make that happen."