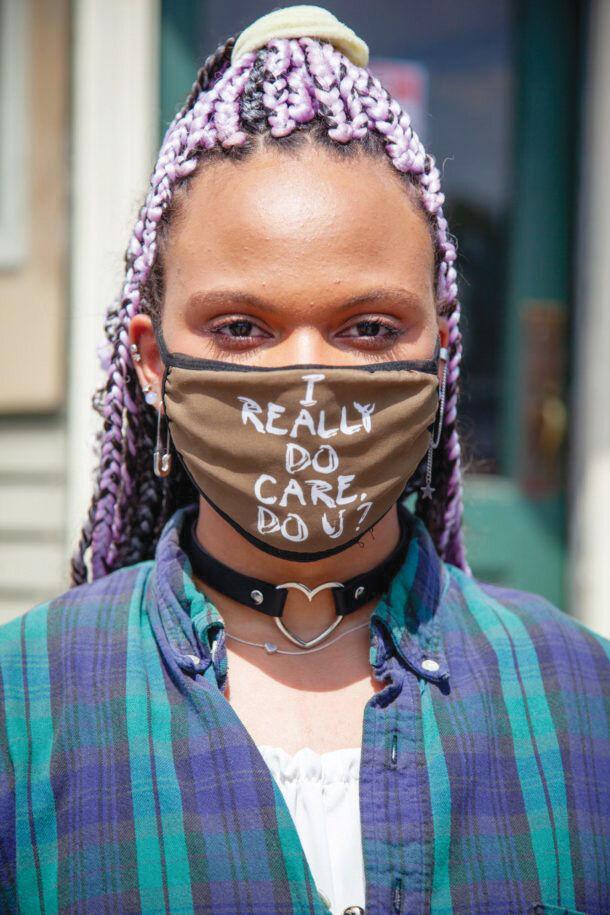 For Maddy Ziminsky, leading a march on the anniversary of the death of George Floyd — the Black Minneapolis man killed last year by a white police officer that prompted nationwide protests — was merely the continuation of a long-fought campaign to promote racial equity in her community.
On May 25, Ziminsky, alongside Racial Equity Alliance of Lamoille's Saudia LaMont, led about two dozen students and a handful of teachers from Peoples Academy and Stowe High School — where 17-year-old Ziminsky is a junior — in a walkout as they held signs and prompted discussions with passersby in Morrisville.
Ziminsky, along with her school club, Racial Equity Access Club for Humanity (REACH), is on a mission to address what she sees as a lack of resources and willingness to teach an adequately diverse curriculum in the United States, particularly when it comes to Black and Indigenous history, and foster an equitable learning environment.
"I've seen a lack of information about Black history, or just about a lot of different cultures' histories in the education system," Ziminsky said. "That lack in different classes has led to a lot of biases in the school. On the basis of race, it can be a very difficult thing to try and change that when a school is very far from diverse. So we want to provide teachers with more opportunities and more resources to be able to teach students a bit more thoroughly about Black history and Native American history."
The racial equity club sees broadening the scope of what's taught in schools as integral to engaging more students in the important issues of racism and inequality. For Ziminsky, just starting a conversation around difficult topics is tantamount to some kind of progress.
"One of the biggest overall things that we want to see happen is for the topic of racism — and segregation and discrimination — to become a more conversable topic, even though it is a very loaded topic with a lot of trauma and a lot of history. We want it to be something that can be related to all the different classes that students take and the different conversations that people have as a community. It's kind of been seen as a taboo topic here for quite a while and talking about it is uncomfortable, but it's what we need to make progress," she said.
Though her goals for progress in the Lamoille South Unified Union school district are wide in scope, something as simple as letting someone with curly hair walk through the halls of their high school without being treated as a curiosity or having it touched without permission would be a meaningful improvement.
"I wouldn't say it's a burden, because it's something I do willingly, but it's definitely something that I've had to take on as other people tend to not do as much," Ziminsky said of her activism.
Fight for a flag
When Ziminsky called upon the Lamoille South Unified Union school district to raise the Black Lives Matter flag as an symbol of its commitment to support Black students and community members, she was disappointed that they saw it as a political issue and not a human rights issue.
"We were told by superintendent Tracy Wrend that it would open a Pandora's box, and people would want to raise the Confederate flag in the school, because apparently the BLM movement is a political issue," Ziminsky said. "A lot of the issues in the school are based around a fear that starting to tackle the things that Stowe has avoided will start this flow of self education, that it will be a lot to handle, and I think that's what's really preventing a lot of work from getting done."
According to Wrend, the school board is encouraging adults and students to work together to create rules around what flags are allowed to fly at the district's schools.
"It is important that the board policy addresses governmental versus free speech rights and the implications of those considerations for school operations and safety. Creating a platform for free speech, including on a flagpole, would require that speech is generally not limited, except in cases allowed by law," Wrend said in a statement. "Hate speech, which includes the Confederate flag, could be limited. However, a platform for free speech is just that and could not prohibit the display of other flags that may not represent the values of the students from Peoples Academy and Stowe High School that approached the board. This is a complex idea that I have discussed with students. I don't believe I used the phrase Pandora's box, but the students did in their presentation, and they did a wonderful job of explaining why it is important to create opportunities to have hard conversations about race and identity and the role flag displays could have in starting those conversations."
The discussion around flag policy is still in-progress and Wrend said she expected students to return to the board in October with a formal consideration of their requests through an established policy process.
Expanding education
The Lamoille South Unified Union school district announced on Monday that it has been awarded $50,000 in the form of an Equitable Education Systems Grant from the Vermont Agency of Education for the 2021-2022 school year.
The money is to be spent toward "activities that facilitate the development and implementation of policies, practices and strategies that support culturally-responsive and inclusive school communities," according to a press release.
The district will "engage in professional learning and equity audits of current curriculum," an audit that will include a reconsideration of texts and materials as well as teacher development.
Youth leaders, like Ziminsky, will be given recognition on the school board, with more money and attention going toward groups like the racial equity club at Stowe High School and its equivalent at Peoples Academy.