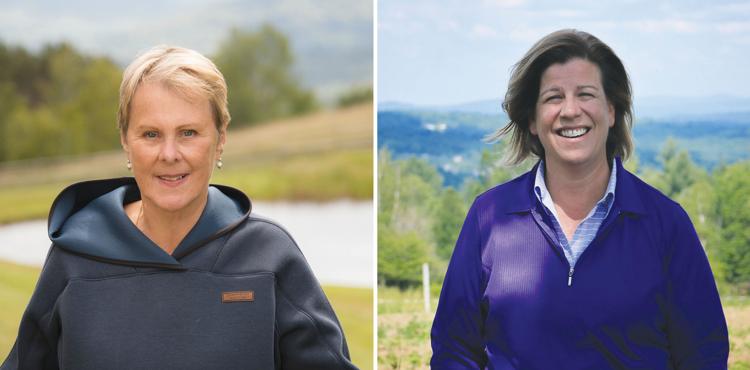 Jo Sabel Courtney
(Age: 70, Town of residence: Stowe)
Heidi E. Scheuermann
(Age: 49, Town of residence: Stowe)
What role will you play in dealing with the challenges of COVID-19 in the next legislative session?
• Sabel Courtney: Recent data shows Vermonters are deeply concerned with COVID recovery and healthcare. One practical way to address the COVID-19 crisis is ensuring access to affordable healthcare. Many businesses are sole proprietorships or have few employees, and the cost of healthcare that is not tied to employment is prohibitive. If a conservative Supreme Court Justice is confirmed, it will be the end of affordable, accessible insurance. I will advocate for an investment in prevention and wellness. Vermont has taken hits to all sectors of its economy and recovering will require creative solutions. Our unemployment rate is about 9 percent with some 45,000 people out of work. Next fiscal year, the state faces anticipated shortfall of more than $180 million in the general fund, $30 million in the transportation fund and $60 million in the education fund. The Legislature will have to make difficult budget decisions on where to cut expenses and where to raise revenues.
• Scheuermann: In many ways, the next session will be even more challenging than this one, as we will have some very difficult spending decisions to make when developing the fiscal year 2022 and 2023 budgets. I will continue to do what I have always done — work with people from across the political spectrum to invest in policies that encourage private sector growth and jobs, while at the same time making sure our most vulnerable populations are protected. I will also continue to provide any and all assistance I can to the families and businesses of Stowe.
What role will you play in addressing Vermont's most pressing economic issues?
• Sabel Courtney: I'm an advocate for increasing our economic base through tourism and am one of the strongest supporters for tourism development in Stowe and Vermont, having served as public relations and international marketing manager for Stowe Area Association, which entailed garnering earned, free, editorial content for Stowe businesses and marketing Stowe in core markets of Ireland, the UK, France and Germany, in addition to marketing domestically. I also served as tourism rep for Vermont Department of Tourism and Marketing. I'll play a key role in creative and collaborative ideas for increased visitor-revenue, bringing my considerable expertise and knowledge of our town, state, region, nation and international tourism to the Statehouse, taking a leading role in the Legislative Tourism Caucus.
• Scheuermann: I will continue to fight for public policies that encourage private sector growth and job creation. These include greater attention to, and investment in, our hospitality sector, tax policy that encourages entrepreneurship and growth in our technology sector and other sectors, regulatory reform, education funding reform and property tax relief, among many others. Our state's economic recovery from this pandemic is going to be a long one, so we must commit ourselves to putting the health of our economy at the forefront of our legislative agenda.
What role will you play in addressing Vermont's most pressing social issues?
• Sabel Courtney: I'll advocate for a future that works for everyone, addressing paid family leave and affordable childcare, racial and migrant justice and equity and prosperity for all. These are vital for our economic recovery, growth and the strength of our safety net. In Stowe, from our shops and restaurants to the slopes at Mt. Mansfield, employees cannot afford to work and live in Stowe, and that's a problem. We need to develop our towns into affordable, efficient, robust and diverse residential centers. This will draw a diversity of residents, enhancing our sorely lacking workforce and complementing community involvement.
• Scheuermann: Social issues are inextricably linked to economic issues. One of the keys to our economic success as individuals, and as a larger community, is to be sure that economic opportunities are available to all in our community. So, I will continue that work when I return in January. I will also continue to tackle pressing issues like law enforcement modernization and reform. I am proud of our state's public safety community for coming to the table from the outset and being thoughtful participants in these important discussions. This has resulted in some productive changes made this year, and I look forward to having those discussions continue.
How are you similar to and how are you different from the presidential candidate representing your party?
• Sabel Courtney: I agree with Biden: If we give the current president four more years, he will forever and fundamentally change the character of our country and of who we are. In speaking to Stowe voters, I hear "Get Trump out." I align with Biden as an advocate for the working class and for affordable healthcare, and appreciate the unification work around Biden's candidacy, including clean energy and environmental justice plans, funding universal pre-kindergarten across the country, expanding Social Security, and raising the national minimum wage, among other democratic stances. I support Biden's promise to help solve the climate crisis, which is critical for Stowe's winters and sugaring season, and we must advance climate legislation. I differ in that our campaign won't take funding from political PACS or corporations. All of our funding has come from over 100 individual donors.
• Scheuermann: First off, I believe a growing economy with good jobs is the best way to provide opportunities for success and lift people out of poverty. Unlike the president, though, I believe economic growth and prosperity can be achieved while ensuring environmental protections and addressing climate change. It's not an either/or proposition. I believe in a woman's right to choose, and I voted to enshrine those protections in Vermont law and the Constitution. Finally, unlike nationally, I believe our state's COVID-19 response has been successful because we've relied on science, and the guidance of experts like Dr. Mark Levine. My personality and temperament are where I differ most from the president. I work diligently to bring people together by listening and learning. I believe strongly that good, sound public policy comes from working together with people who have different perspectives and coming together in a shared desire to do good.
What are the main obstacles to getting what you see as key legislation passed in Vermont?
• Sabel Courtney: Obstructing legislation that is clearly smart and benefits the majority of Vermonters benefits no one. The inability to listen to those with differing stances is also obstructive. I stand for collaboration, relationship building and creative solutions.
• Scheuermann: In many cases, the legislative supermajority has very different priorities from Gov. Phil Scott and me, so it can be difficult to advance some of ours. Issues important to me, such as education funding reform and property tax relief, long-term economic development policies that encourage entrepreneurs to invest and families to live and work here, and much-needed regulatory reform so that residential housing is easier and more cost-effective to develop, too often elude us because the legislative majority has different priorities. If we want to emerge from this crisis successfully, these issues must be addressed, so we need to elect people who want to address them. I am that person in this race.