Though she didn't write the book on Stowe government, she contributed countless pages to it. Neatly bound in the town clerk's vault, her meeting minutes ended, "respectfully submitted by Barbara Allaire."
Allaire died Saturday, Feb. 13, at the age of 91. Half her life was spent working out of her beloved Akeley Soldiers Memorial Building on Stowe's Main Street, home to the municipal offices and dedicated to those from Stowe who lost their lives in war.
Service to country and service to community: they are hallmarks of a woman who loved that building, and the town around it, so much that her 90th birthday party was held there.
Birthday girl: Barbara Allaire
Friends and family turned out in force on Tuesday, Aug. 27 to help Barbara Allaire celebrate her 90th. Allaire has worked for the town of Stowe in a variety of capacities since 1975. But don't worry, she's not retiring just yet!
"That's a lady that a lot of people are going to miss," Drew Clymer said Monday. "She touched a lot of people here in town."
Minute by minute
Clymer is the chair of the town's development review board, and as such sat at the table for years with Allaire.
She took minutes for the board for nearly 40 years since Clymer was in elementary school, and she was a pinnacle of professionalism who made everyone in the room know their decisions would be important for generations to come.
"And God forbid you sit down at the DRB and keep your hat on," Clymer laughed. "It's hard to convey this in the age of Zoom meetings, but, with her sitting there, it kind of elevated the whole board."
As someone who spent all but two of her 91 years in Stowe, Allaire had plenty of thoughts about how the town had changed over nearly a century — and she wasn't shy about expressing her opinion on those topics, or anything else, really, including what might have been in the previous week's Stowe Reporter — but she wasn't stuck in the good old days, Clymer said.
"When she had something to say, it was thoughtful, it was pragmatic, it was fact-based," he said. "She wasn't pining for the old days, but she had a unique perspective on how the town has grown. The town always came first."
She was deeply skeptical when Stowe moved to a town manager form of government in 2007, according to Charles Safford, who stepped into the role and still holds the spot.
"However, she was curious enough to stop by and introduce herself," Safford wrote in a tribute this week. "Little did I know at the time that she would stop by nearly every day from that point forward for many years to come until her body grew too tired to do so. She would also become one of my biggest supporters, both on the job and as a source of personal strength, as we faced the trials and tribulations that life inevitably brings."
Allaire's meeting minutes detail nearly half a century of development — and then some. She was the scribe for groups including the planning, parks and recreation, and historic preservation cemetery commissions.
At her 90th birthday party, town planner Tom Jackman said, "I don't remember a single time when I've researched old board of adjustment minutes from decades ago that they weren't signed 'Respectfully submitted by Barbara Allaire.' She may be the most prolific author in the history of Stowe."
Honoring the past
Allaire particularly loved the cemetery commission, and was quite proud to point out, when the Stowe Reporter ran a story about vacancies at various town cemeteries, that she had long ago reserved her spot in the West Branch Cemetery on Cottage Club Road.
She'll be one of the last ones buried there — all the lots have been purchased.
"She had a real soft spot for the West Branch," Donna Adams said this week.
Adams served with Allaire on the cemetery commission, a surprisingly interesting board that takes a lot of pride in maintaining seven town cemeteries. Allaire was a boon to the commission, because she knew the names of the old families in town — her roots go back deep to the Gale family, namesake of the farm that now has a small shopping plaza on it.
"Her brain was full of all kinds of information that nobody else had, and if I needed to know anything, whether it was related to a cemetery, or not, I could ask her," Adams said. "Trying to replace that is impossible. She is one of the old Vermonters that we're losing, and we're never going to have them again."
Those ties to the old days dovetailed with Allaire's reverence for military veterans, the names of whom are enshrined in Akeley through the Vietnam War.
According to Terie Wehse, Allaire was the driving force behind a relatively new tradition: the annual Veterans' Day breakfast. Started in 2014 by Allaire and Stef Clymer — Drew's wife — Wehse quickly made the duo a trio.
The breakfast's uniqueness comes from the way it bridges gaps between the generations. Local high schoolers prepare the meal and serve the veterans, venturing out of the kitchen and sit down to chat with them.
"Every teenager needs to have service credits, but to have them connect with this generation, not knowing what their lives were like, was eye-opening," Wehse said. "And for the gray-haired people to say, 'I don't feel invisible to these kids, I actually feel real,' they just enjoyed each other so mutually."
Young at heart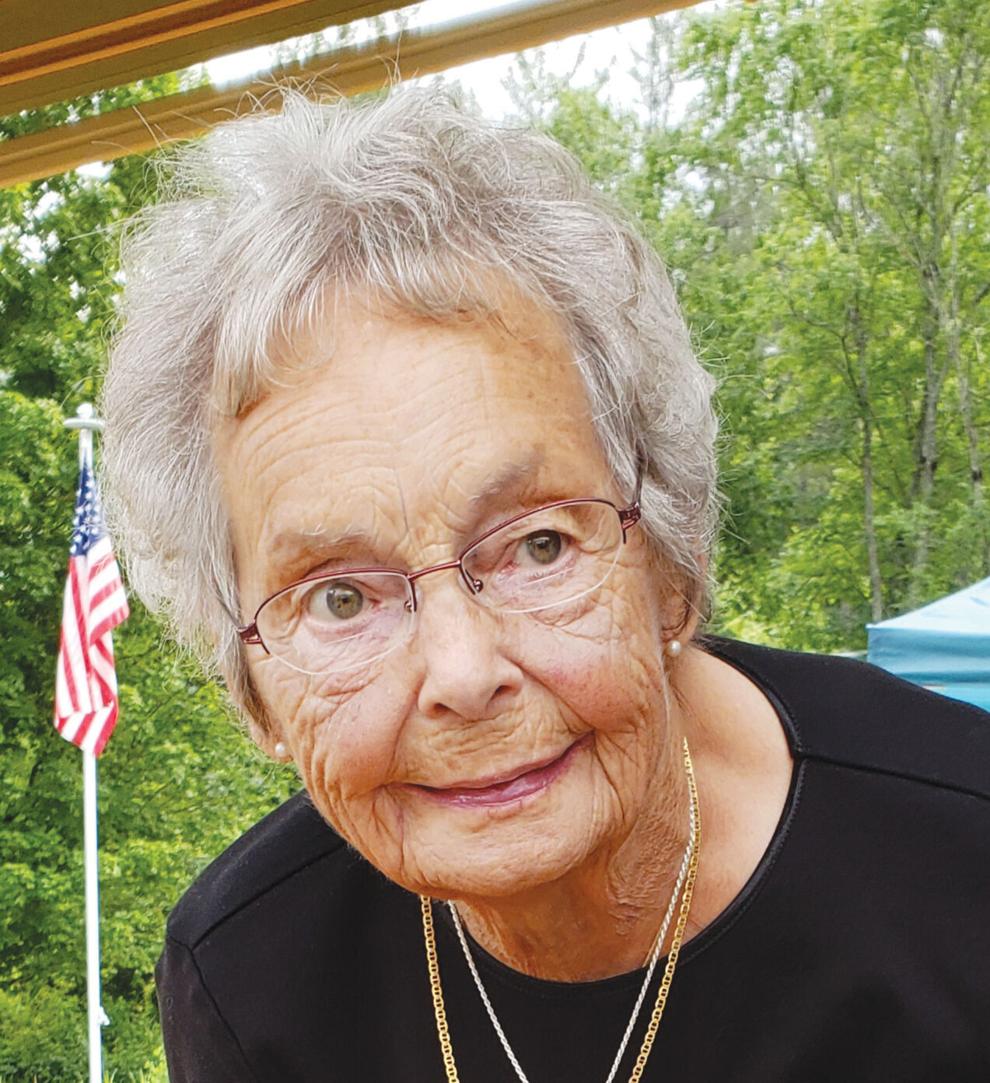 Adams said Allaire was also one of the old Vermonters who kept close ties with the town's ever-growing youth, watching kids grow up and turn into adults, keeping an eye on the high school sports teams, catching games whenever she could.
Stowe may be a small town, but it was endlessly interesting for Allaire, according to both Clymer and Adams.
Clymer was actually concerned for her mental well-being during the pandemic, not being able to go out and talk to people. After all, she may have said it best herself at her 90th birthday: "I love hugs."
Adams said she was so involved with every aspect of town, past, present and future, that she was always finding something to do.
"She was never bored. She'd tell me, 'I don't know why people are sobbing in their soup, I never get bored,' " Adams said. "Even when she couldn't get out much, she still remained interested in everybody."
Allaire stepped away from the meetings before the pandemic moved them all into the virtual realm, but Clymer would always call her up within a day or two of a review board meeting and give her a rundown of the proceedings.
He, and Adams, were able to visit Allaire recently, when they'd heard her health was failing.
"I just miss her so much, I am so grateful I had a chance to be her friend," Adams said.