Becky McGovern is known to many locals as a longtime cross-country coach for Stowe High harriers. She's certainly got a gift for getting people to expend energy, but the baked goods she and her family put out at their Nebraska Valley home provide a delicious way to replenish those calories — or just to treat yourself.
We asked her a few questions about one of her specialties, and fall's favorite delicacies: Pie!
When did you start the baking business?
When my oldest son was young, he had me baking pies as a way to earn money. But it wasn't until 2011 that we started to do it more seriously. My older daughters started a summer pie business here in Stowe to help with their college bills.
At the same time I started a pie business on Cape Cod out of our family home while I was caring for my father. I couldn't keep up with the demand for pies on the Cape in July, so my daughters joined me down there. So, now we operate a business on Cape Cod in the summer and in Stowe on Sundays in the spring and fall.
Between the two we make about 3,000 pies a year.
What's the secret to a good crust?
Our pies crusts are made with both shortening and butter. The secret to our pies is that we only use a half cup of sugar; a little more with rhubarb pies. I think with a good crust you don't need as much sugar in the pie. Customers appreciate less sugar these days.
We prep the bottom crusts the night before and keep them in the refrigerator overnight.
I roll out the crusts with a beautiful 2-foot-long solid wood rolling pin that I bought in a market while on a family vacation in Peru.
What do you use for the filling?
We use locally sourced fruit for the pies until we run out. I have rhubarb in the garden, and we used to have Zuber's berries in our freezer. As for apples, in the summer we use what is available — usually Granny Smith or Cortland. But in season we use local apples, like McIntosh.
What's your favorite kind of pie?
Our personal family favorite is strawberry rhubarb pie. Blueberry is definitely the customer favorite over the summer, and in the fall all kinds of apple pies are everyone's favorite. My husband, Joe, does the apple pies, and each one is made with great care — as are all the pies, but he believes apple is where it is at.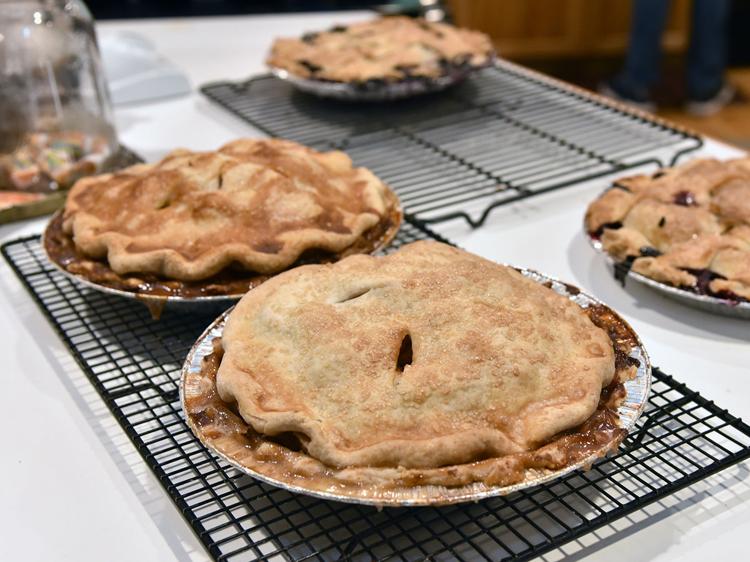 Can you share a recipe with our readers?
Apple Pie
Two crusts (or one, to be topped with a crumb topping)
5-6 apples, depending on the size — about 6 cups of cut apples
¼ cup each brown and white sugar
A few teaspoons of butter
Spices: 1 teaspoon cinnamon, ¼ teaspoon nutmeg, pinch of salt
1. Sprinkle apples with lemon juice.
2. Press bottom crust into pie pan.
3. Mix sugars, flour and spices. Toss with apples.
4. Fill bottom crust, dot top of apples with butter.
5. Fill crust with apple mixture, and cover with top crust. Press crusts together, pinch edges as desired, and cut air vents. Or, top with crumb topping.
6. Bake at 385 for 1 hour or until ready. Ovens can be very different. Look for thick, bubbly filling oozing out of the pie.
---
The McGoverns' pie stand on Nebraska Valley Road in Stowe is open Sundays starting at 1 p.m. through October.