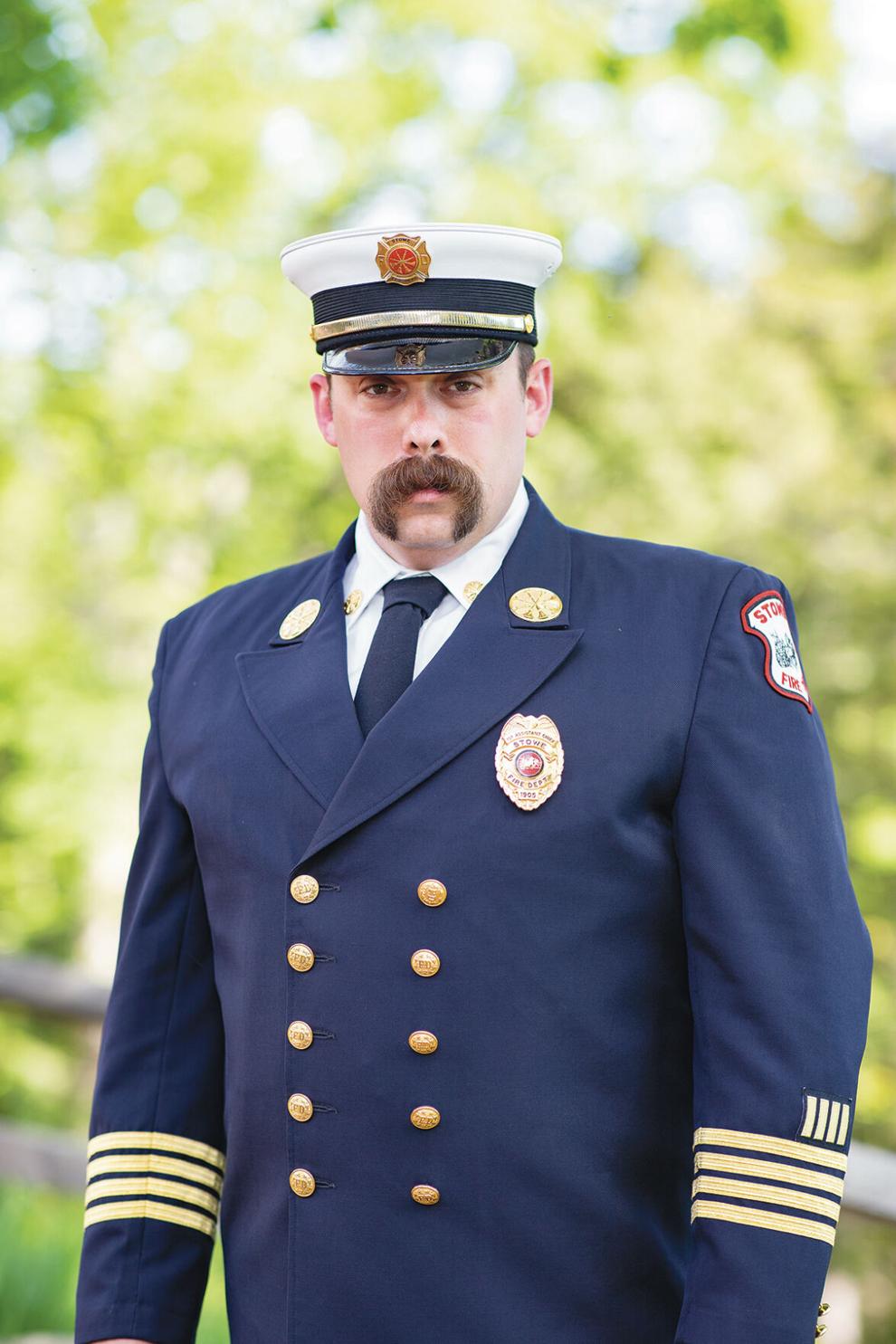 Several Stowe parents are aghast that fire chief Kyle Walker was present last month for fire drills on the middle and high school campus.
Walker was terminated earlier this year from his job with the Stowe Police Department amid allegations of rape and sexual assault against him, but he was allowed to stay on as fire chief because prosecutors declined to charge him criminally.
"We recently learned that the middle and high school had their annual first fire drill, (in) which the fire department participated. In previous years, this would be great and normal. This year, however, we were scared for our kids and their friends," a letter to the town selectboard dated Sept. 9 signed by 12 people stated. "People do not feel safe having Kyle Walker around our kids, yet the fire department should be supporting our schools. Your inaction has allowed this dilemma. Your inaction has led us to feel unsafe when our fire chief is on our school campus."
The Stowe Reporter acquired the letter through public records requests to town and school officials.
It ends: "Kyle Walker, as our fire chief, has access to our children, homes and businesses. This type of access necessitates trust, yet he has broken this trust. Until there is new leadership of the fire department, the trust will continue to deteriorate, and our children, homes and businesses will not be safe."
One of the letter's signatories, Maria Davies, also emailed school officials with her concerns, saying although Walker was not charged with rape or sexual abuse — the prosecutor declined to charge him, but he admitted to having sex on duty roughly a decade ago — he has still "breached the confidence" of the community.
"We do not feel comfortable at all with Mr. Walker being on school grounds," Davies wrote. "He is not the type of person I would trust to be around any and all young women."
After the word got out about Walker being at the middle and high schools, a similar fire drill scheduled for Stowe Elementary School went ahead without Walker's presence. This came after conversations between town manager Charles Safford — Walker's boss — and Lamoille South superintendent Ryan Heraty, who asked that Walker not be present for such "discretionary" work related to the schools.
In an email exchange last week with Safford, Heraty emphasized that Walker has every right to be at the schools as a parent and in the event of an emergency.
"I don't want to communicate that we are prohibiting the chief in any way to do the job at the schools, rather just being aware this is a sensitive matter that has the potential to take away from our most important focus," Heraty wrote Sept. 28.
Safford replied, "I will order him to comply. Please let me know if any issues should arise."
In a phone interview this week, Heraty did not get into specifics regarding Walker's alleged and admitted sexual misconduct as a police officer, noting it is a personnel matter connected to the town, not the school. But he said if more and more parents get up in arms about Walker being at the school in his capacity as fire chief, it could distract teachers and students.
"From an education perspective, schools are balancing a lot right now, and if anything pops up that could prevent kids from learning, we'd prefer to avoid it," he said.
Heraty acknowledged that, with Stowe being a small town, innumerable students and staff are already aware of Walker's situation, and it's up to the educators to make sure none of it negatively affects learning or kids' social and emotional well-being.
"We need to give the kids the sense that the adults are in control, and they're going to be really safe in the schools," he said.
Erosion of authority
The town and school district quickly turned over hundreds of pages of correspondence regarding Walker, with Safford spending much of his weekend complying with the public records request.
In the correspondence, Heraty indicated that Walker was the one who reached out to Stowe Elementary School's principal and bowed out of its fire drill. Walker did not reply to requests for comment before deadline, but Safford confirmed Wednesday that Walker had agreed to not participate in discretionary activities and would instead send other fire department members in his stead.
Amid the correspondence with Stowe town officials, other people have expressed concern about Walker being able to do his job, too.
Emily Rosenbaum, in a June email exchange with Safford, questioned his ability to lead the department.
"We already have enough trouble recruiting volunteer firefighters," Rosenbaum wrote. "How do you plan to convince women it's safe to be on his team? Or to even want to be around him? Or men who don't want to be associated with him? Shall we only have men on our fire department? Shall we only have a fire department with people who feel Walker's behavior was acceptable? And if that's who will come when I call, how in the world am I to ever, ever call the fire department for anything? Should we just put our own fires out from now on?"
Safford replied that his "door will remain open" to anyone from the fire department or general public "if any bona fide complaints" come forward that require investigation and corrective action. He said, however, that in the near decade since Fisher's allegations, there has not been any evidence of "continuing or new infractions" against Walker.
"His reputation has taken a hit and he will have to be extra diligent going forward, but he has a right to demonstrate improved performance."
In another email, Jacquie Mauer wrote about getting in a car crash in at the end of May, shortly after the allegations against Walker begun to surface. While she and her family were not injured, she recalled seeing Walker on the scene and whispering to her husband, "He better not come over here."
Donna Carpenter, founder of the Stowe Swimming Hole, wrote in a letter to the editor this summer that the gym was not going to put up an after-hours lock box and give Walker a key, as had been requested. Safford later wrote the gym's executive director that Walker would "have others respond rather than himself if time is not of the essence in a bona fide emergency."
Others wondered what kind of message keeping Walker on sends to the community. One woman said her kids used to dress up as cops and firefighters for Halloween, one of them specifically aiming to emulate Walker. Now, she must explain to her sons that it's not OK to have sex in a police car, among other misdeeds.
Morgan Nichols, a former selectboard member who stepped down in March while Walker was on administrative leave during the Vermont State Police investigation into him said it pained her to say he must go; she has "known Kyle my entire life," she said.
"Mainly, I have been asking: What message are we telling women in our community, how is he supposed to lead our young firefighters, how is he supposed to be a leader to our youth?" wrote Nichols.
If Walker is staying away from the schools, in at least a partial professional capacity, and with other people saying they'd prefer him not come to their homes in his role as fire chief, does that undermine Walker's ability to do his job?
"That is one of the things we need to continuously monitor, his ability to do his job," Safford said.
Becky Gonyea, executive director of Clarina Howard Nichols Center in Morristown, thinks it already undermines his ability to do his job. Gonyea has been vocal with her opinion that Walker needs to be removed from his post as fire chief.
"When do you become ineffective at your job, when there are businesses that don't want you on site, or schools?" she said. "The reality is, it's making people uneasy."
Note: The Stowe Reporter is still in the process of sifting through the voluminous package of correspondence garnered through a public records request filed last week and received shortly before this week's editorial deadline. More to follow.