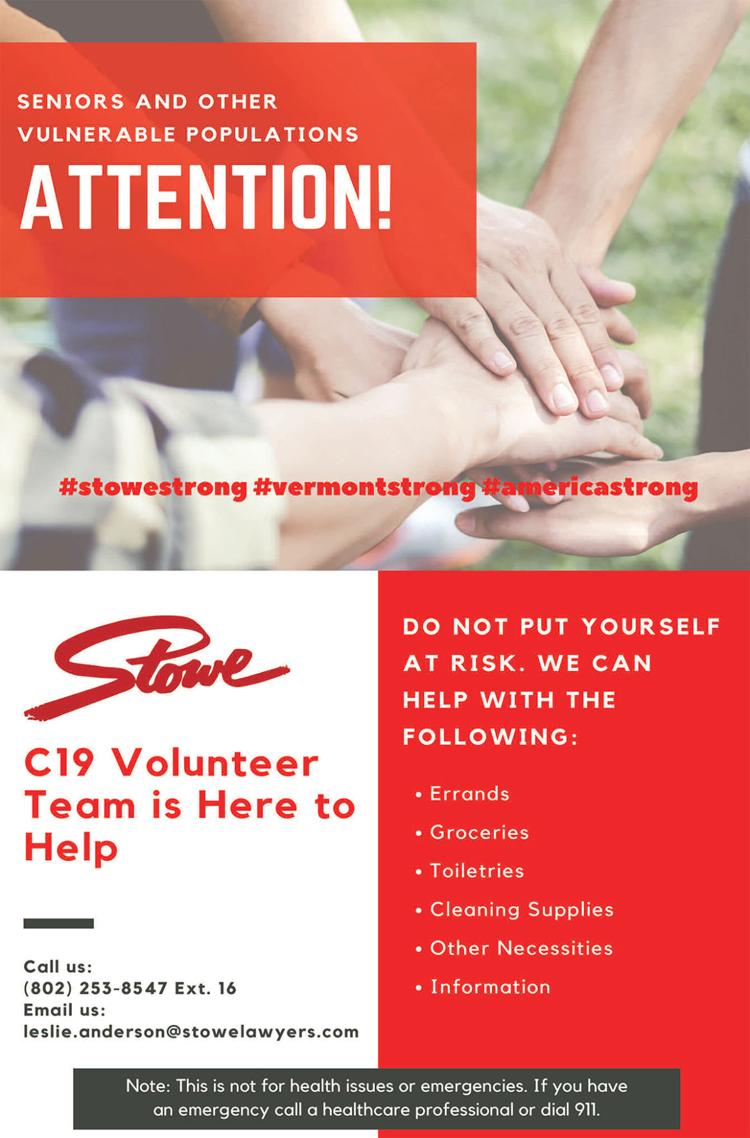 As legions of people handy with needle and thread are busily sewing together masks for people in their communities, a Stowe group is trying to sew closed the widening holes in the social safety net.
Formed about a month ago, shortly after coronavirus was deemed a national emergency, the Stowe C19 Volunteer Team sprang into action, with a handful of volunteers overseeing committees filled with a lot more volunteers.
The group has gone shopping for groceries and had them delivered to people who can't or shouldn't go to the store.
It has established a fund that had raised about $10,500 as of press time.
"We have a lot of people taking advantage of the help but, certainly, we'd love to have more," said state Rep. Heidi Scheuermann of Stowe, one of the brains behind the Stowe C19 team. "We would love for more seniors and vulnerable people in the area to reach out to us."
Anderson is a go-getter in the group, organizing deliveries of groceries and other necessities.
Beth Gadbois handles PR for the group, while Margery Adams and Mary Evslin organize outreach, making sure that people who need the services will know there's a small army ready to help.
"If anyone knows anyone who should be on that list, who is isolated at home," Scheuermann said, email Anderson.
Leigh Pelletier and Elise McKenna heading up the fundraising effort, and Scheuermann said "there is certainly a lot of generosity in this area."
Nancy Small, one of the earliest in the area to make masks, organizes a group dedicated to just that.
Scheuermann said the homegrown network sprouted out of the multiple inquiries she was receiving from people asking how they could help out in the pandemic.
As those numbers increased, the formation of a group was a natural outgrowth.
"It was, like, 'Yep, let's do it.' It was a natural fit and it just came together really quickly," Scheuermann said. "The appeal for volunteers went out in mid-March and there were just a ton of responses there."
Pelletier noted on the relief fund website, "having a community fund specific to Stowe has helped us develop a nimble process for assessing and meeting needs."
As of Monday, the C19 group had dipped into that fund to provide groceries to people who need help as they wait for their federal stimulus checks or their unemployment benefits to kick in. The group was able to help 32 adults and kids with groceries in the first week of the fund and anticipates requests will increase in the upcoming weeks.
Scheuermann, a business-friendly fiscal conservative — albeit a Vermont one — said the pandemic hasn't spared anyone, whether they own a small business or typically stitch together odd jobs to get by.
"There's certainly nothing to be embarrassed about" if you need help, she said. "We're all in the same boat and temporary relief is normal."
Pelletier said one recipient of the C19 group's help said, "We've always worked and been able to take care of ourselves, so it's been so hard to know when it's time to ask for help."
Scheuermann said the lag time on relief from the government, especially unemployment benefits, is frustrating. But that's nothing compared to "the huge challenges" there will be when Vermont and the nation reopen the economy."
"This is bringing out a lot of hope and optimism and empathy and compassion throughout this community, throughout the Lamoille region, and throughout Vermont," Scheuermann said. "So, that's a silver lining in all of this."