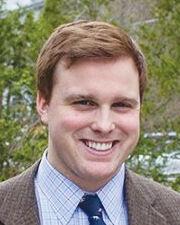 A man who penned a recent letter complaining about people encroaching on a Waterbury Center disc golf course is a government official who issued his complaint under a fake name.
Ethan Latour, the deputy commissioner of the Vermont Department of Finance and Management, wrote the April 16 letter under the pseudonym "Walter Blind."
In the letter, addressed to Waterbury town officials, Latour/Blind accuses "malcontents" who live next to the Center Chains disc golf course at Hope Davey Park of "complaining with thinly veiled elitism" about the players who use the free, public course.
Latour was outed as the author when he sent a copy of the letter to the Stowe Reporter, but included his personal cell phone number and personal email address. It's the same phone number Latour would occasionally list in his government email signature when he was working communications for Gov. Phil Scott.
Latour was promoted to deputy commissioner of the finance department in January.
"You got me," Latour said Friday when reached at that number, sighing in dismay when asked about his opining on the hot-button disc golf issue under a pseudonym.
"It's kind of tough, you know. You sometimes have an opinion that you'd like to express, but because you're a public official, you can't do it," he said. "I made a mistake here."
Latour's boss, Adam Greshin, commissioner of the Department of Finance and Management, did not return numerous phone calls seeking comment, but said in a short weekend email that Latour spoke to him about the letter.
"Ethan may have made an unfortunate personal decision on an issue he feels strongly about. It appears to be an uncharacteristic lapse in judgment," Greshin wrote.
Greshin did not respond to other questions about whether he felt government officials ought to feel free to weigh in on issues or whether Latour would be disciplined.
Latour said he had been reading posts on the Center Chains Facebook page recounting grumblings from abutting property owners, some of whom had taken to sitting on the course and scribbling observations into notebooks.
"It just kind of rubbed me the wrong way," he said.
In his letter, Latour said if Waterbury officials formally respond to complainers, "it will prove the few have power and influence over the many. And if you have the time, privilege and energy to yell and scream loud enough, you'll get your way, regardless of the collateral."
He said he wrote his letter mostly out of "catharsis," and regrets hitting the send button.
"I apologize if I hurt their feelings," he said.
He particularly regrets using a fake name — Walter is the name of a college friend; he randomly chose Blind — when he could have just signed his own name to an issue he cares about.
"This is the first time I've done this and it'll be the last," he said. "Outside of work, I have few passions, but disc golf is one of them. And I like being able to use the Waterbury Center course and I think a lot of people feel that way."
He said he regularly logs more than five miles playing 36 holes at the course.
Friction over frolfing
Center Chains — a free course where players toss Frisbee-like discs into chain link baskets over 18 "holes" — is a hot-button issue in Waterbury.
The disc golf course marks its 20th anniversary this year, and has become one of the most popular courses in Vermont. In 2018, UDisc, a popular disc golf smartphone app, had Center Chains at the top of its list of most-played courses in Vermont, above professional-level pay-to-play courses likes the ones at Smugglers' Notch Resort.
With popularity come growing pains. In 2010, abutting property owners complained about players letting their dogs run amok and wayward discs and their tossers coming onto private property.
Friction has increased since 2016, after the 40-acre Moulton Farm property was subdivided into a 10-lot housing development.
According to Waterbury municipal manager Bill Shepeluk, in recent years, after many years without complaints, some residents who live near the course started grumbling about "untoward activities," from golfers trimming and cutting trees to urinating and defecating on their properties.
He said the town recreation department has been tasked with dealing with issues and coming up with stricter rules and regulations. He said some of them, like the prohibition of alcohol, can be difficult to enforce, although those getting drunk and unruly are likely in the minority and easy to catch, especially if players self-police their actions.
"It doesn't excuse really boorish behavior," he said.
Shepeluk was on vacation last week and was unaware of Latour's letter. He said he disagrees with the Scott administration official's assertion that "the few have power and influence over the many," if the few — in this case, property owners — are being negatively affected by the many.
Latour, for his part, is concerned he did more harm than good for the cause of burnishing Center Chains' reputation.
"I don't think I've done much to help that," he said. "Probably the opposite."