For Don McDowell, the world of science, biology and environmental research is endlessly fascinating.
"We are on the cutting edge of beginning to eliminate genetic disorders like we have eliminated viruses on the planet," McDowell said.
"There's so many things that we're doing now. I love to make predictions about certain things. Some of them have come true," McDowell, a beloved Stowe High School science teacher, said Tuesday.
His accurate predictions have included the ability to select embryos for genetic disorders and detect the likelihood that an individual will develop breast cancer years before it happens.
McDowell, who has taught at Stowe High for 32 years, is retiring this month.
Engaging teacher
Jess Wells, a science teacher at Stowe High, has learned a lot from McDowell.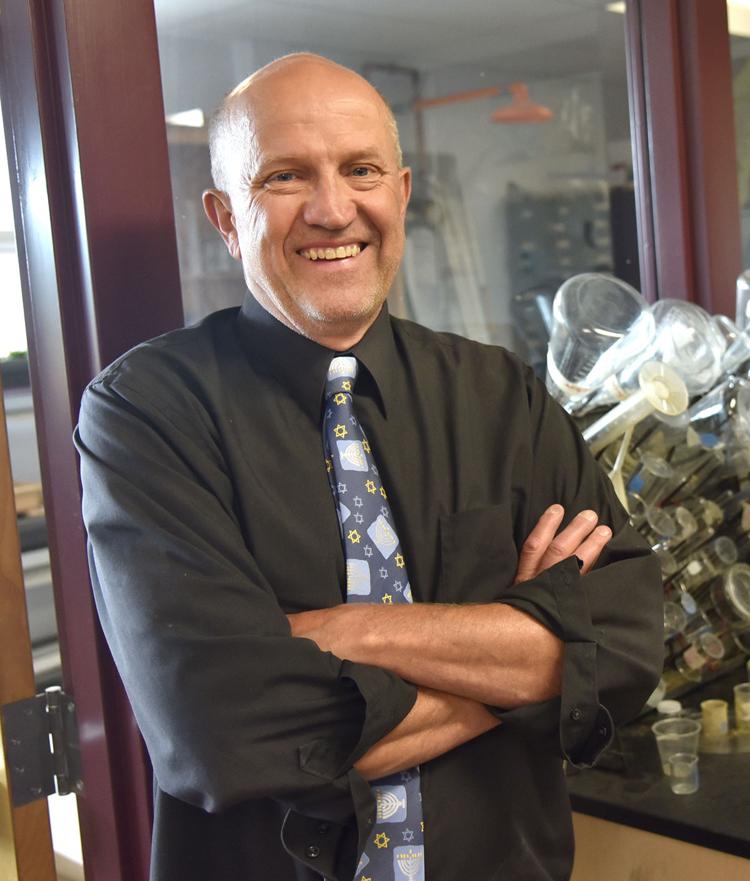 "He is one of the most engaging teachers that I've ever seen," she said. "He just has a way of starting to teach and it kind of just sucks all the kids in, and they immediately want to know what he has to say. They're immediately engaged."
"He once took my AP Environmental Science class on a field trip to a sewage treatment plant and got so excited about bacteria that most of the class feared he was going to wade straight into one of the sump tanks," remembered Fiona Reed, now a biology student at Yale University.
"Mr. McDowell is able get the least-motivated students paying attention and interested in his lectures, not because of tight discipline, but because his excitement is infectious. Walk into any AP Bio class and you will find him throwing basketballs at students to simulate the electron transport chain of the mitochondria," Reed said.
How did McDowell cultivate his teaching style?
"I guess I'm just myself," he said. "I love biology. I can get really excited about dumb little things. I know my kids roll their eyes over the things that I get excited about, but I'm just trying to get them excited about things that otherwise can be really boring. I can be very animated at the front of the class," he said.
One student took a video of a McDowell-led class and passed it around at the end of the school year.
"I began to see myself kind of pacing back and forth and my arms are up and down and I'm getting excited about this and excited about that. It's not something I planned. It's not something I think about. You kind of know when you're on, too, as a teacher," he said.
McDowell, who's from Montreal, wanted to be a stream ecologist. He earned his undergraduate degree from the University of Guelph and taught a statistics lab there during his education and for a short time after graduation. Then, he went to the University of North Carolina at Chapel Hill to earn a master's degree in stream ecology, and worked there for a few years, picking up teaching jobs on the side to earn a little more money.
He saw a number of his Ph.D. program colleagues going on to teach high school, and realized, "I could teach high school right now," so he decided to keep working on his master's degree but not to pursue a doctorate.
In 1985, he was on his way back to North Carolina from a trip to Vermont, where former wife Barb's family owned a camp, when he noticed Peoples Academy in Morrisville was looking for a math teacher.
On the way back, he dropped off his application at the high school and was interviewed that day. He got the job — on condition that he take two education classes.
McDowell turned down the job; he was too busy working on his master's thesis to take two more classes, he said.
But the Peoples principal called him back a little later to ask how he'd like to be a science teacher.
McDowell, then 26 and a little further along in his master's thesis by that time, accepted, and the family moved to Vermont just a few days before the school year began.
"I went into school and I knew what I was teaching but had nothing at all planned for the week," McDowell said. Like a student cramming for a final, McDowell rushed together four days' worth of material for his first week.
"I go in on Tuesday and I start teaching, and by the end of Tuesday, had blown through the whole week's worth of plans," McDowell said with a rueful chuckle.
He figured it out quickly, and by the time he moved from Peoples Academy to Stowe High School, McDowell realized how much he loved teaching.
Consistently, he says, his kids' favorite lessons are the ones about genetics.
"The kids get so into it. Time after time after time, kids will tell me their favorite unit was genetics. It's personal; it's about them. We can also talk about so much in the news, so much cutting-edge science in genetics and molecular genetics today that it's really easy to talk about," McDowell said.
"There's a strong degree of bioethics. … We as a society have to make those choices, and that's why I love teaching the kids about it, because they're the ones that are going to be voting, and they're the ones that are going to be deciding through their vote … about how far this goes in the future," he said.
Service first
McDowell sees his teaching job as an opportunity to cultivate a spirit of service in students.
He's led service trips around the world, from Nicaragua to Honduras to Cuba to the Bay of Fundy.
"I've just kind of always believed it's something we should do. I'm a strong believer that everyone should be doing some community service. Everyone benefits from the service of others," he said.
Callie Walker, who now attends St. Michael's College, was on McDowell's Cuba trip in 2017 and says his support for the students helped her learn.
"He would just always, if we had any problems, he would be there and try to figure it out, no matter what. He would go out of his way," Walker said.
"Yeah, he was our teacher, but he was always there, for everyone, no matter what," said Hattie Moriarty, who now attends Norwich University. "If you had something to talk to him about, you could go talk to him. He was almost like the dad on the trip. People loved him.
"I know all of our friends absolutely adored him, but he was like the father figure when we were gone and gave us the reassurance that we were OK away from our parents for two weeks,"
McDowell, 60, choked up when thinking about leaving.
"Of course I'm going to miss it, but I don't think I'd want it any other way. I don't think I'd want to leave and not miss it," he said.
He plans to teach part-time at Stowe High, helping out in Wells' classroom, and spent time teaching at Mount Mansfield Winter Academy during the winter.
And, he'll be doing some water quality research at Lakes Champlain and Memphremagog, as well as spending time with his wife, Allison.
"I'm really hoping to get back into research," he said.
"It's thanks to Mr. McDowell that I am (literally) writing this from my bench in a state-of-the-art stem cell research lab at Yale; he first stoked my curiosity and inspired me to pursue my passion for biology to the fullest," Reed said.
"This is the first time I've acknowledged that he's leaving," said Wells, tears in her eyes. "It's bittersweet."