If ever there was an art exhibition seemingly tailor-made for the socially distant world of summer 2020, it's Helen Day Art Center's annual al fresco sculpture show located, well, all over Stowe.
The show is called Exposed. And this summer, in its 29th year, Vermont-based artists are the ones getting all the exposure.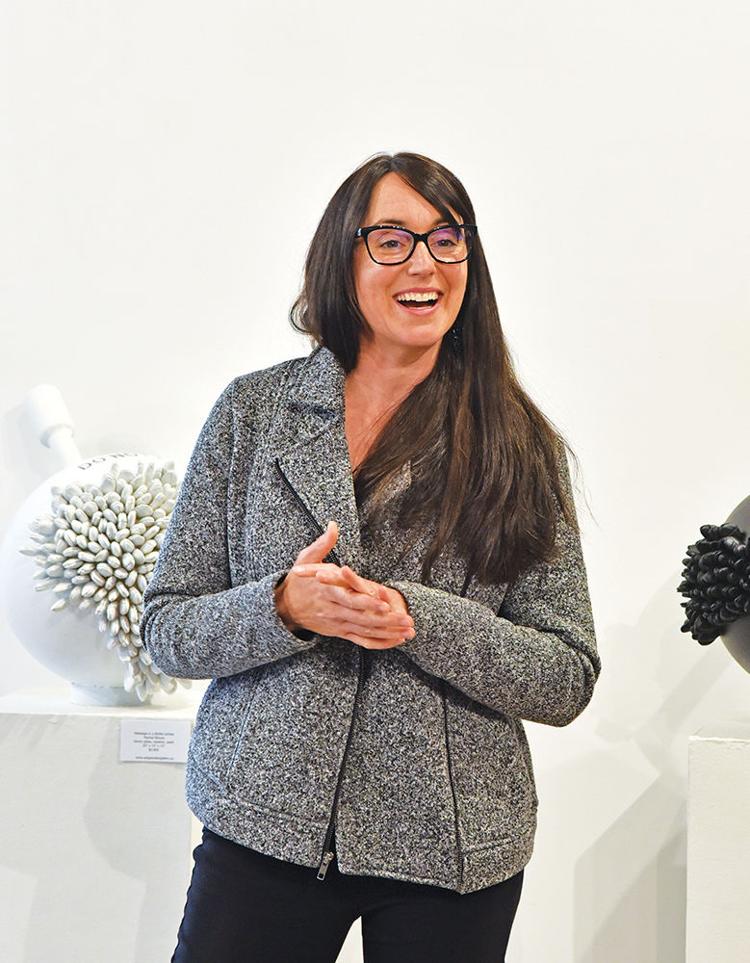 Rachel Moore, the art center's executive director, has curated every single Exposed. show for the past decade. She says this year came with its particular challenges — including nearly having to cancel it outright — but the show goes on. In a year when people just aren't ready to form crowds indoors, the village of Stowe is the perfect gallery.
Exposed. to the elements
The curator's primary mission is to find the right piece for the right spot in the gallery. Spend enough time in a gallery, as Moore has within the walls of Helen Day — or someone like Teri Swenson did at her much-missed West Branch Gallery — and you get a keen sense of the place. You know where the shadows lie and the light plays; how the angles of the walls and ceiling match up; the quiet places and the busy places.
What is the village of Stowe like, as a gallery? For one, it's mutable.
One of Moore's favorite places to site sculptures is at the beginning of the town recreation path, down the hill behind the Stowe Community Church. That area has changed over the years — the little alcove just over the first bridge is gone, as are some of the trees a few hundred feet up the path.
Vermont sculptors in 'Exposed'
"Exposed," the Helen Day Art Center's annual outdoor sculpture exhibit, is on display throughout the town of Stowe, this year spotlighting Vermont sculptors.
"Plants and trees are a wayfinding tool, and there's a little piece of memory attached to them, whether it's sound or visual," she said. "Every time I walk over the bridge, I can still hear in my mind Monica Herrera's bells under the bridge ("Cascabel," from the 2014 exhibit). I remember everything in the pine grove and the big yellow spoons hanging from the trees, those big, bright, larger-than-life-spoons (Ria Biass' "Stirrings," from 2011). It's just fun to remember how a place changes, or your feeling of a place."
There's less flexibility on Main Street, because there are only so many spots the town has authorized for Exposed. sculptures. But Main Street is also where the most people walk to and fro on a regular basis, where the sculptures receive the most incidental eyeballing.
You might be a tourist walking from shop to shop, or a local going to the Maplefields for a cup of coffee, or a news reporter headed to the town offices for some documents, and stumble upon a sculpture you didn't notice until just now. You can experience Exposed. purposely, or discover it on accident.
"One of the best parts of Exposed. is that it reaches everyone, and touches so many more people, and so many people can be affected," Moore said this week. "It can change their day, or just a moment of their day."
Made in Vermont
The sculptures that dot downtown are not what Moore and the Helen Day organizers originally had in mind this year. Exposed. isn't a show that just shows up on the back of flatbeds or dangling from gambrels.
"This is something that is planned a year in advance," Moore said.
There were arrangements for monumental sculptures to arrive from Chicago and New York, among other places. But, when the pandemic hit, travel all but ceased; eventually Vermont largely closed its borders except to abutting counties that experienced fewer cases of COVID-19 than the Green Mountain State.
Moore said the art center "had to do such a rapid pivoting," taking classes online, adjusting its grant-writing, eventually finding a way to show its gallery virtually. And this just a year after a would-be arsonist tried to torch the building the art center shares with Stowe Free Library, setting off the sprinkler system that shut the place down.
"We were going to cancel it, but people wanted it," Moore said of Exposed. But, then, a light bulb: "There are no travel restrictions for Vermont artists."
Moore was able to wrangle up a half dozen sculptors in the 802. Some of them are frequent participants, like Chris Curtis, who, along with wife Swenson, owned West Branch.
Two of them, Justin Kenney and Nancy Milliken, are being Exposed. in Stowe for the first time.
The pandemic meant Helen Day wasn't able to accompany the exhibit opening with the usual trappings like food and wine and jazz music. This year, you discover it yourself.
"It's so exciting to say, 'Here. Here's a gift to the town. Here's something we can do,'" Moore said.
This year, it's like a gift you open in your own time.