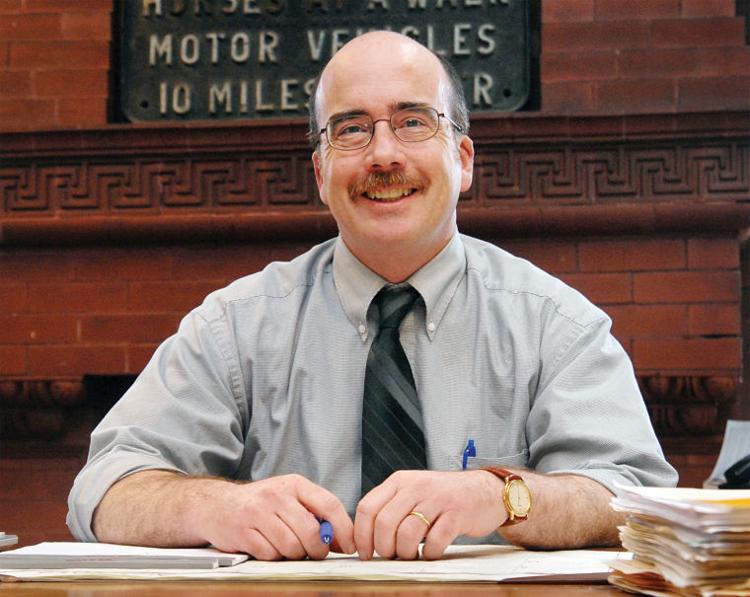 The pandemic has put a big dent in the Stowe town government's revenues, and officials need to make adjustments in the $13 million budget voters approved on Town Meeting Day.
Making these predictions is tricky, Charles Safford said, because there's no precedent for budgeting during a global pandemic.
"We are living in a new world right now. I sometimes call it the alternative universe," he said.
Town revenues from non-tax sources could run $230,000 below expectations for the coming year, and the town expects its annual $1 million income from a 1 percent tax on rooms and meals to be cut in half. That local option tax money is used to make bond payments on the Stowe Arena, plus sidewalks, roads and similar improvements.
The reworked eliminates two new hires — a librarian and an EMT — and delays hiring an assistant engineer for the public works department.
Already cut was a building and grounds director to oversee public property maintenance; it was eliminated to keep the municipal tax rate in line with predictions on Town Meeting Day.
The loss of revenue isn't dire, but the budget is now tighter than Safford would prefer.
"There are emergencies that may come up that we will have to address," Safford said. "We may find ourselves having to borrow or take other measures."
Non-tax revenues
Revenues from emergency medical services and the Stowe Arena have dipped the most.
EMS calls are down, and billings are expected to be halved from a predicted $195,000.
The ice rink got a late start this year and has had to limit its use for social distancing purposes, and revenue is expected to be $92,725 below budget.
Expected losses from police, parks and recreation and the library are each under $10,000.
The ambulance service and ice rink had to change the way they operate after the pandemic hit.
To keep the ice arena safe for visitors, fewer people can be admitted at one time and the staff has to do extra work between sessions to sanitize and prepare the space for the next group.
EMTs have to take extra precautions not to contract or spread the contagion, and "just because they have less calls doesn't mean their workload is reduced," Safford said. "It's not like we can just lay people off and say, 'Oh, you'll just be around for half the time.'"
But what is the right amount of time? Normally, budgets can build on what happened in prior years, but there's never been a year like this in modern times.
"There's nothing to compare it to," Safford said. "We've never been in a pandemic, and we do not know when it's going to end. All we can do is take our best educated guess."
That uncertainty will require nimble and attentive work by Safford and the finance director, Cindy Fuller, to keep the town government in the black. But Safford is confident, calling Fuller "possibly the best finance director the town has had."
The government isn't paring down services, but leaving some jobs open will help balance their budget. A full-time hire for the ambulance service would have cost $32,000, another librarian $18,756, and the engineer $57,277 for the first half of this fiscal year. Safford said he'll consider filling that job in six months, if finances allow.
The pandemic did bring some savings, most notably fuel costs. Projected spending on fuel for vehicles and heat is down more than 20 percent, saving $56,000.
Essential expenses
As reported two weeks ago, the projected revenue from local option taxes is down by half, $500,000. That money, combined with this fiscal year's capital fund of $800,000, will cover debts on money borrowed for projects and can fund projects the government already had in the works. Plans for any new work are on hold.
Just over $1 million will be spent on bridges, crumbling culverts, replacing faulty fire and police radios, and other essential expenses. In the fiscal year that starts July 1, 2022, local projects may come to a halt, leaving only a Stagecoach Road culvert replacement and bridge replacements on Nebraska Valley Road that are heavily subsidized by the state.
Again, the $500,000 figure is a guess — it could be more, it could be less. Even more uncertain are the expectations for the next two years, $750,000 for fiscal year 2022 and $900,000 for 2023.
Lisa Hagerty, select board chair, wondered, what will the town do if town income slumps?
Safford said he'd recommend borrowing the money. The town should take advantage of the state formula supplying 90 percent of the money for two Nebraska Valley Road bridges. They need replacing as soon as possible, and if the town passes on the state's offer, it will have to pay the entire bill.