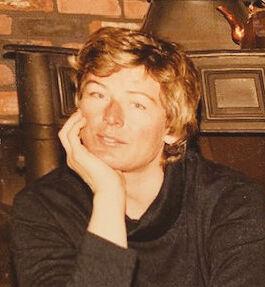 Joyce Hulse, 83, a longtime resident of Stowe, died peacefully on Tuesday, June 14, 2022, at the University of Vermont Medical Center after a brief illness.
She was born on Nov. 6, 1938, to William and Hazel (Senter) Norton of Putnamville. She was the youngest of four children. She graduated from Montpelier High School in 1956.
Joyce enjoyed growing up on her parent's dairy farm where, as a kid, she had numerous pet goats, ducks and dogs. Her love of animals continued into adulthood.
Joyce met and married the love of her life, Ted Hulse, while ski bumming in Stowe in 1960. After chasing Ted around for three years, he finally gave in, and they married in November 1963. Together they raised two children, Tim and Jenny.
Joyce taught skiing in the late 1960s and early 1970s for the Stowe Ski School. Throughout her career she worked for the Union Bank and then Franklin Lamoille Bank as a teller and customer service representative. Later she was the receptionist and bookkeeper for Van Blarcom and Harrison until her retirement.
She also enjoyed — and was quite proud of — holding her real estate license and she dabbled in real estate off and on for many years.
One of Joyce's favorite pastimes was enjoying summers on Lake Champlain on the family boat, which usually entailed mandatory cocktail cruises. Joyce also had a sailboard and sailed around St. Albans Bay showing off her skills. Many lifelong memories and laughs were created on the lake.
In 2001, she and her daughter took a cross country trip to Mt. Hood, Ore., camping along the way and exploring the beauty of Glacier, Yellowstone and Teton national parks. It was a trip that she remembered fondly and talked about often.
Joyce was predeceased by her husband, Ted; parents, William and Hazel (Senter) Norton; a brother, Robert; and sisters, Olivia Bonozoni and Maxine Alvarez.
She is survived by her son, Timothy Hulse, and daughter, Jennifer Hulse, both of Stowe; two granddaughters who brought her so much joy, Olivia Hulse of Philadelphia, Pa., and Kailey Hulse of Stowe; nephews, Jim Alvarez of Gloucester, Mass., and Jeff Alvarez of Knoxville, Tenn.; and niece, Lisa Neilson of Plainfield.
A private graveside service is planned.