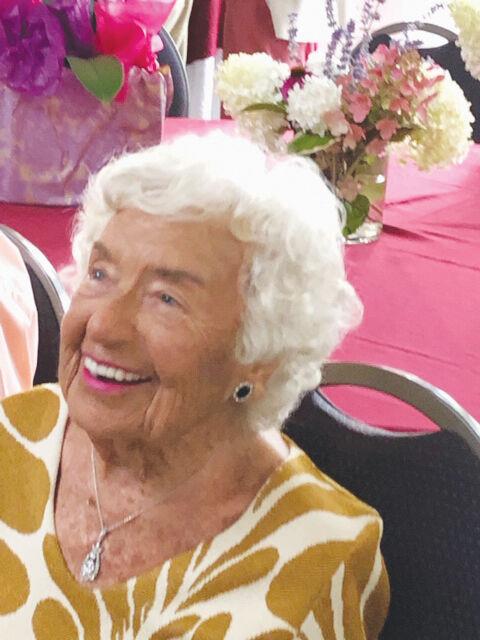 Hanna Thompson Szechenyi, our beloved Nana, died Friday, Jan. 15, 2021. She was an extraordinary woman of 101 years who loved life, family, people, stories, etiquette, bridge, laughing and parties, but mostly her great grandchildren, George, Archie, Rhea, Hanna and Tristan.
Hanna was born Oct. 28, 1919, in Budapest, Hungary, to the late Laszlo and Elsa (Partos) Gal. She attended university in Paris and while on vacation in Rome met the also vacationing George Thompson. A whirlwind courtship was followed by their wedding in Budapest, honeymoon in North Africa, and return to George's extended family in Hoosick Falls, N.Y. The couple remained in the Albany area for many years before moving to Stowe in 1956 to settle on their Weeks Hill farm.
Hanna was accomplished at the normal activities of gardening, book clubs, volunteer nursing and being a superlative family matriarch, but throughout life she was genius at making everyone she met her intimate, lifelong friend. With eyes sparkling and smile poised on her lips, she captivated her audience with her alluring deep voice tinged with rich Hungarian echoes. She was smart and well read, and stunning when she drove down Main Street dressed to the nines, yet as accessible and gracious as a person could be.
In the 1980s, the Thompsons bought a winter home in Naples, Fla., widening their circle of friends. In the years following the death of George, Hanna met Count Ernest Szechenyi, returning full circle to her Hungarian roots. They were married in 1989 and continued to share their days between Stowe and Naples. Erno passed away in 2005.
Hanna has spent her final years with her daughter, Janka, and her devoted caregiver, Marika To'th.
Hanna is survived by her daughter, Janka Heath of Stowe; son Tony, of Merrit Island, Fla.; grandchildren, Abby and her daughter, Hanna, of Quincy, Mass., and Sandy Thompson and his wife, Genevieve, and their three children, George, Archie and Rhea, of Stowe, and Tasha Heath Thrasher and her husband, TJ, and their son, Tristan, of Steamboat Springs, Colo.
A celebration of Hanna's life will be held at the Thompson's Weeks Hill homestead early this summer, the pandemic permitting.