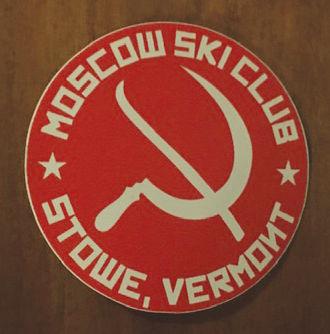 From its humble beginnings in a quaint Moscow farmhouse two years ago, the Moscow Ski Club has quickly earned a reputation as one of the most exclusive and interesting ski clubs in Stowe.
Members range in age from 16 to 60-plus. On most days and in all ski conditions, members can be found skiing piste and off-piste, often starting with first chair on Mount Mansfield.
You can identify club members by the distinctive red and white Moscow Ski Club logo that features a ski and sickle, a design approved and admired by Vladimir Putin himself because of its striking similarity to the former Soviet Union's hammer and sickle.
As much as they love skiing, Moscow Ski Club members are not just about skiing.
In their quest to stay one turn ahead of the more singularly focused ski clubs in the area, some Moscow Ski Club members demonstrated their baking prowess last weekend at the second Marin Holiday Cookie Gala on Barnes Hill Road.
In a delicious field of more than 20 entrees from across the region, Moscow Ski Club members Susie Connerty, Nancy Salzman and Diana Lloyd stood alone atop the podium at the end of the night, sweeping the awards and demonstrating that whether ripping Starr or baking at 350 degrees, they are a force to be reckoned with.
The mission of the Moscow Ski Club is dedicated to skiing. The club is a local, member-supported, nonprofit. An all-volunteer board, representing a broad cross-section of the community, provides guidance for the organization. Except on powder days.