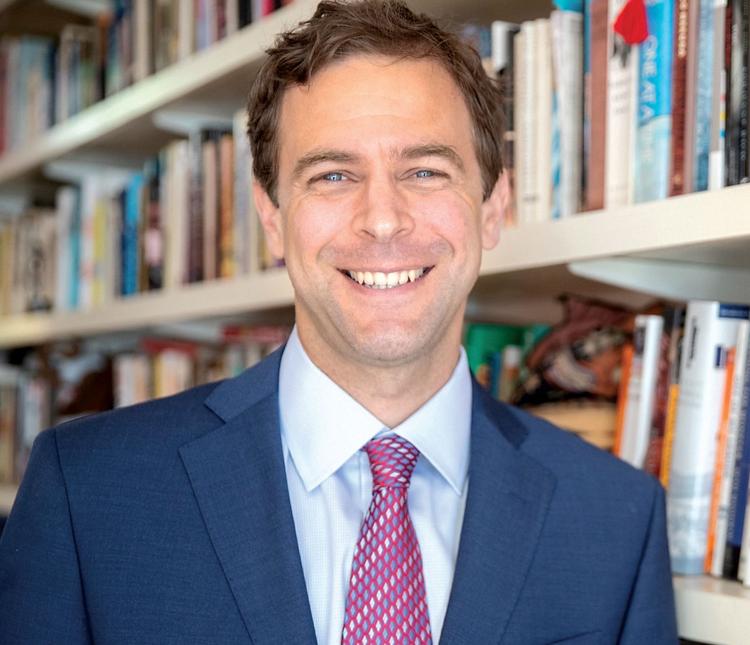 When Senate President Pro Tempore Tim Ashe, D/P-Chittenden, announced he was running for Lieutenant Governor in January he thought the position would free him from day-to-day management of the senate and allow him to focus on bigger picture issues across the state.
More than three months into the COVID-19 pandemic, Ashe admits his first year in the position would look a bit different than originally expected.
"I have the blessing and curse of understanding how bad things are right now," Ashe said about the budget hole Vermont will face next year and likely into the future.
"It actually makes me feel quite confident seeking the lieutenant governor's role because of the nature of being between the governor's office and the legislature and having an opportunity to provide a major assist to both," he said.
Closing the gap between two Vermonts
With a background in affordable housing and neighborhood revitalization it's no surprise that one of the pillars of Ashe's campaign is to make the state "affordable for all."
Ashe is passionate about raising the minimum wage. Doing so puts money in the pockets of the lowest earners, helping address other issues associated with poverty, he said.
"It does have a larger symbolic quality, which says you're a valued member of society," Ashe said. "We don't think of you as a $10.78 person when you show up working full time at a supermarket even though you have kids back at home. We value you and we are going to raise your pay and allow you to have something left over at the end of the month."
And that something might help Vermonters on the housing front.
The state has a "substantial network" of nonprofit and public housing to serve low income Vermonters, Ashe said, and housing that the wealthiest Vermonters can afford. But the people most impacted by high property taxes and cost of living are middle- and working-class people, he said. But growing the state's housing stock doesn't go without environmental impact.
Ashe believes Vermont should focus development on downtown growth areas, that concentrate infrastructure and create walkable areas.
And he feels these areas fit in with the present-day American dream.
"For many young people, what they want for their 20s, or 30s is not a single-family home with all the home care and other responsibilities. What they want is something that's super convenient to the quality of life that they want," Ashe said.
That includes ease of access to locations – without the need to drive, he said.
On the environment
Ashe supports efforts to procure a "substantial" bond for weatherization in buildings across the state. In European nations bonding for weatherization improvements has created revenues that exceed the payments for interest on the bond, he said.
He favors joining the "Transportation Climate Initiative," which has an emissions cap that scales down each year. Fuel sellers pay at auction for the right to sell fuel to states in the initiative.
The proceeds, in turn, would be used for clean transit initiatives, Ashe said.
In Vermont, that could mean creating "micro transit" in communities without fixed public transit routes, he said.
Ashe also supports investing in power storage. Currently, the state's wind turbines can only generate power when there is room on the grid. But with power storage, the turbines could keep turning, generating power to be used later, Ashe said.
He believes these efforts are not exclusive of affordability.
"People who ideologically oppose public intervention in climate change, they throw out things like the gas tax or, or other policies, and they use them like Boogeyman," Ashe said.
What that really says is that they don't want to buy into the responsibility everyone has to address climate issues that will affect people for generations to come, he added.
Law enforcement
Ashe believes the nature of policing has changed considerably – calling on officers to be experts in substance use disorders and mental health. But, he said, the process to become a law enforcement officer hasn't fundamentally changed. And nationally, it's been challenging to fill police vacancies.
"We have to reckon with if we're going to have increasing struggles to recruit and retain people, as law enforcement officers, better to be upfront about that, and think about how we might transition some of the positions in our agencies, rather than just have vacancies that we try to compete with every other jurisdiction in America," Ashe said.
Before COVID-19, he and others began working on legislation to reform criminal justice, including a bill exploring each step of a person's experience with police and intervenes with the "least incarcerative method."
This speaks to using mental health professionals wherever possible, he said.
"The best response to mental health crisis calls is often not a law enforcement officer. We should be intercepting those cases," Ashe said.
Ashe has also called for the state to adopt a deadly use of force policy.
He supports tactics that follow through with legislation. Two years ago, legislation was passed calling for police to wear body cameras. Today, the state has yet to purchase the cameras and just recently the senate called to withhold funds for inaction.
"Where we're at now is saying, 'enough is enough'. It's time to hold the responsible parties accountable to act when we put these measures in place. There should be consequences if they don't," Ashe said.
Ashe faces fellow democrats: Molly Gray, Debbie Ingram, Brenda Siegel on Aug. 11.