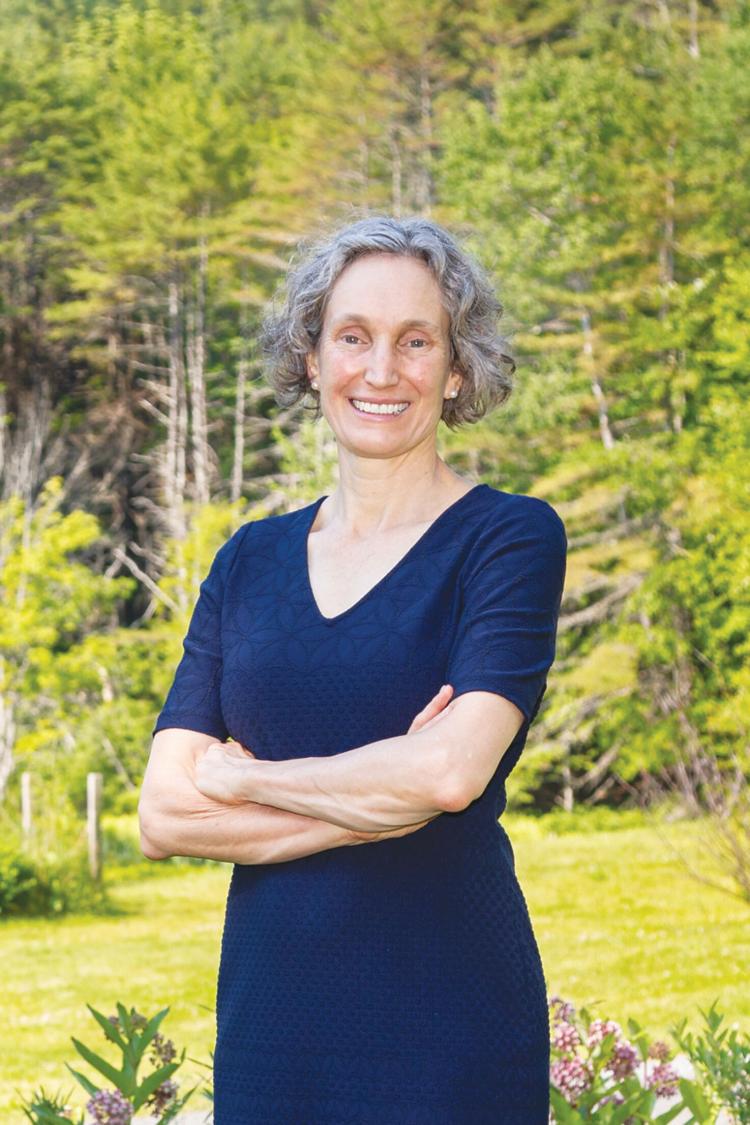 Rebecca Holcombe, Vermont's former education secretary and a Democratic candidate for governor, gives Gov. Phil Scott high marks for most of what he's said and done during the coronavirus pandemic.
Before that? Not so much.
"Managing a crisis is like running around your house in the middle of a terrible rainstorm, sticking buckets under the holes in the roof where the rain is coming through to catch the water," Holcombe said in an recent interview with the newspaper. "What we need is a governor who's willing to think ahead and figure out what are the problems we need to deal with, and how do we put a new roof on the house."
She said things laid bare include:
• Studies show 40 percent of Vermonters live paycheck to paycheck, and are just "an unexpected bill away from economic destitution."
• The moribund state of broadband in Vermont has become really acute with everyone stuck at home, trying to learn and work remotely.
• Vermont's main economic drivers, tourism and recreation, are truly fragile, the first to struggle with COVID-19, and the last to get back to normal.
• Health insurance premiums continue to rise by double digits.
"And that's just choking out opportunities for all the other things that Vermonters care about," she said.
School matters
As education secretary, Holcombe was in charge of implementing Act 46, the law that recommended — and ultimately forced — small school districts to merge into larger ones.
She left the post abruptly in 2018. She said it had become impossible to work with school districts on Act 46 matters when Gov. Scott was trying to cut $40 million in education costs, after most towns had already passed their school budgets.
"If you don't support what the governor is doing, you are either quiet or you leave," she said.
She thinks the governor again showed that cut-first mentality during the COVID crisis, when he suggested that school districts reconsider the budgets that were approved on Town Meeting Day.
"Scott's got one playbook," she said.
She says Scott was correct to announce schools will reopen in the fall, because things aren't going well with remote learning.
She said one in 10 Vermont students had a suicide plan, and that was before the pandemic.
"They have now been isolated, cut off from support, some of them stuck at home, maybe in family situations that aren't always optimal with parents who are stressed," she said.
Holcombe has gone hard after her primary opponent, Lt. Gov. David Zuckerman, for his stance on immunizations — in 2015, as a state senator, he supported a philosophical vaccine exemption — but says it isn't just politics of crisis.
She said there are schools in Vermont with immunization rates as low as 45 percent. A recent study showed that Lamoille County schools have the lowest rates in the state, 88 percent on average.
"When parents can just choose, because they don't believe in vaccines, to just not vaccinate their child, it isn't actually just about them," Holcombe said. "It's about the impact on other people's children who are no longer safe in school."
College
The Vermont State Colleges student body is "overwhelmingly Vermont students," Holcombe said, and it's important to keep open the Northern Vermont University campuses in Johnson and Lyndon, and the Vermont Technical College campus in Randolph.
"I think it's incredibly important to maintain a footprint for our state college system, particularly in some of our rural communities, because it also provides economic stability to those regions," she said.
And because students can commute to college, live at home and hold a job, they can afford to attend those colleges.
At the same time, she thinks there are ways to streamline things — the chancellor's office could be decentralized and those duties spread among the college presidents and provosts; smaller community college locations in Morristown and St. Johnsbury could move to the larger campuses in Johnson and Lyndon.
"Do I think it can continue the way it is? No," she said.
Asked if she supports free college for Vermonters, Holcombe said there already is, sort of — countless high school juniors and seniors take college classes along with their normal studies. Sometimes, high schoolers will graduate with as much as two years of college credit under their belts. She would add programs like nursing, an area where there was an extreme shortage even before the pandemic.
Inclusiveness
As a child, Holcombe's family lived in what are today some of the world's most troubled areas — Afghanistan, Pakistan and Sudan — as her parents worked in business and health care.
In Vermont, she's met people who live 20 minutes from the New Hampshire border and have never crossed the state line.
Kids today probably have more exposure to other cultures through books, movies and music, but the state needs to "develop some cultural competence," she said. As one of the whitest states in the country, that involves breaking down some deeply ingrained biases.
Holcombe said she talked with a middle schooler, a person of color, who was weary of spending so much time negotiating race and talking about the racism she feels.
"(The girl said), 'if a white person says something about racism, then they think that white person is really progressive and woke, where I'm just difficult,'" Holcombe said. "What she's saying is we've taught her, through our silence, that people don't listen to black people and people do listen to white people."
When Holcombe was education secretary, she partnered with the Vermont Human Rights Commission to train educators in implicit bias.
"There is such profound evidence, incontrovertible evidence, that the kinds of biases that we're talking about begin very, very early," she said. "They're already present in kids who are age 2."
She would apply similar training to police. Holcombe says there has been plenty of talk about community oversight of policing, but there also has to be government oversight, so police agencies don't just shrug off community suggestions.
"If you set up a committee to do that, and there is no impact, you've just fostered the very cynicism you're trying to undo," she said.
Economy
Diversity plays into Holcombe's economic goals for Vermont.
"We're trying to market to other states where the people we're marketing to are diverse," she said. "And if we don't have that ability to work constructively with people from different backgrounds, we're actually kind of dead in the water."
She thinks green tech jobs are a good match for the Green Mountain State, broadband woes notwithstanding. She said the state is "hemorrhaging dollars" in its energy purchases, sending a disproportionate amount out of state to the fossil fuel industry.
Things like local renewable energy or green construction, though, can get kids right out of high school earning $20, $25 an hour.
There's the think-local aspect to all of this, too.
"Maybe think about how we invest our economic development dollars in ways that support the growth of new industries and new markets as opposed to just trying to hold on to these larger multinational corporations with a tenuous connection to Vermont," she said. "We will be growing new businesses that have roots to Vermont and they have a longer-term commitment."
Holcombe says affordable child care is a win-win for the state — it takes care of a perennial problem for workers and it also attracts young families to the state. And that's what the state really needs: more families living here, whether that's because folks are having more babies or families are moving to Vermont. She said she spoke with a woman who, last year, was spending $185 a week on child care. This year, that same woman is paying $50 a week.
"If you could leave an extra $135 a week in their pockets, because you've solved some of this challenge of child care, that's game-changing," she said. "And there are people now trying to move in to take advantage of it."