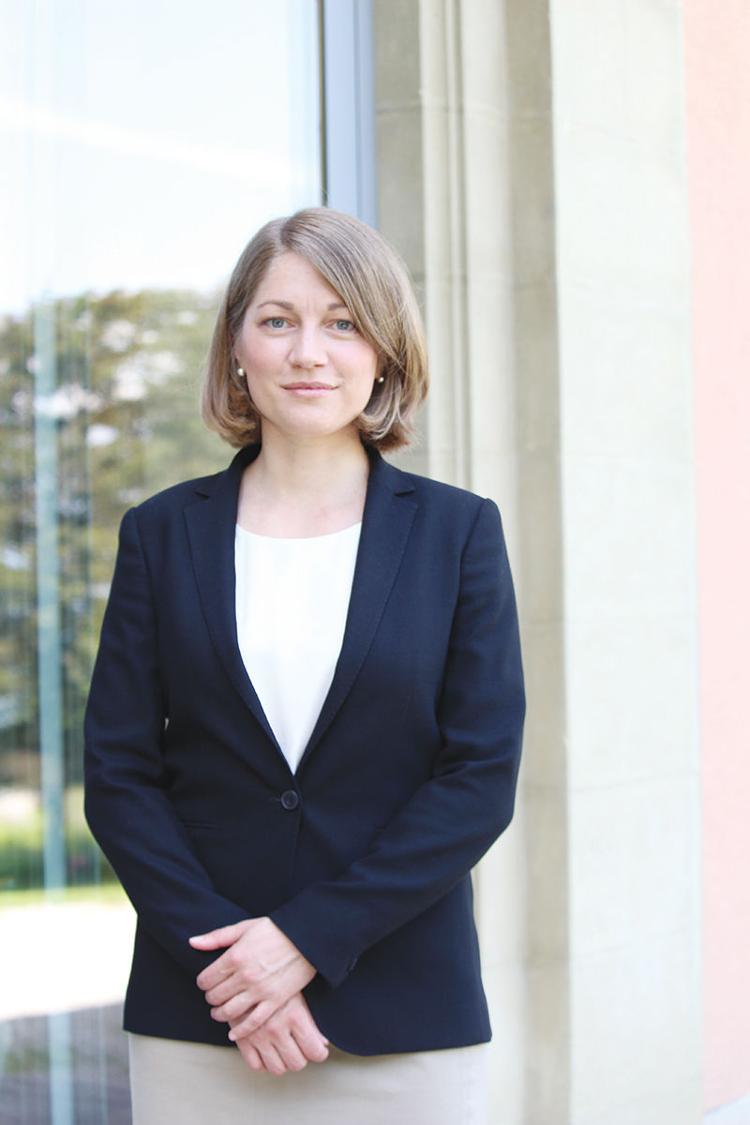 What's the biggest obstacle to a healthy Vermont where opportunity and equality abound?
Demographics, says Molly Gray.
"We're having a really hard time keeping a generation here and drawing a generation to the state," Gray said, and meanwhile Vermont faces "massive recruitment and retention challenges in all those jobs that we need for our communities to be whole."
Gray thinks she can help solve those issues, and that's why she's a Democratic candidate for lieutenant governor.
"I want to be the lieutenant governor that helps us solve them," Gray said in an interview.
Gray, 36, a native Vermonter who grew up on her family's farm in Newbury, is currently an assistant attorney general, working in the criminal division, and also teaches classes at Vermont Law School, which she attended after graduating from the University of Vermont. She worked on the congressional campaign of U.S. Rep. Peter Welch, D-Vt., after college and spent three years working abroad for the International Committee of the Red Cross.
Gray faces state senators Tim Ashe and Debbie Ingram and activist Brenda Siegel in the Aug. 11 primary for the Democratic nomination.
The winner faces the winner of a five-way race for the Republican nomination, plus Progressive candidate Chris Ericson.
Broadband a must
For Gray, that demographic problem facing Vermont has been underscored by what Vermonters have experienced in the last few months.
"I think COVID-19 has exposed what we've known all along," Gray said. The state has failed to fully invest in things like child care and paid family and medical leave, all major areas of concern that, if fixed, could help draw younger people here or entice people to stay.
But the greater problem is the fact that many Vermonters have no access to the internet, let alone high-speed service.
"A fourth of Vermont — something like 70,000 households — still don't have access to the internet today, in 2020," Gray said. Bringing high-speed broadband to all Vermonters is "one of the No. 1 issues we have to address if we're going to keep a generation here and bring a generation to the state."
"People don't want to move here, because there's no internet access," Gray said. "It is critical to our demographic challenges to solve and to close the broadband gap."
Without high-quality internet, Vermonters can't learn remotely, work remotely, or participate in things like telemedicine or public meetings held on an internet platform, she said.
She thinks state leaders need to think of broadband as an essential service, like electricity, heat or water.
If they thought that way, "we would be outraged people in Vermont couldn't access the internet," she said.
Recent actions by the state Legislature don't provide anywhere near enough money to do the work needed to close the broadband gap, Gray said. To her, that shows the Legislature doesn't fully understand the needs of rural Vermont.
"We need more Vermont in Montpelier to be able to thrive as a state," she said.
Gray wants to work with the state's three members of Congress to provide enough money to increase broadband access, and she also proposes that the state work closely with communication union districts that are springing up across Vermont to bring broadband to all. In that public-private partnership, the state wouldn't have to foot the bill for all the work, but it sure could help.
"We can do it. We know we can do it. It's just putting the funding and priority there, that's how I see it," she said.
Higher education
Gray thinks investing more in higher education would draw young people to Vermont.
"We have massive workforce shortages, but we have completely failed to invest in higher education and our state colleges," Gray said. "It's outrageous."
The state colleges have been asking for more funding for years, she said, and jobs are available in Vermont, but there's no central plan to connect those dots.
Gray wants to invest more in the Community College of Vermont while creating a pipeline from the classrooms at all state colleges to the larger community and the jobs available there.
"I think it's a time when we really need leadership from a generation that is in the trenches every day," Gray said, and she's been through the Vermont school system, from pre-K right up through college.
Gray knows that Vermont's state colleges need to adjust to changing times, but she wouldn't move them completely away from their liberal arts roots. She thinks the colleges can help fill workforce needs while also holding on to the culture and creativity fostered by the liberal arts.
"We don't want to lose that," Gray said. While trimming duplication and paying more heed to workforce needs, "we have to keep funding this creative spirit that Vermont has. We have to strike the right balance."
She also thinks state leaders need to take a serious look at how students pay for college.
"We have a generation that is absolutely stifled by student-loan debt," she said. It's hard for them to buy a home, pay rent or afford child care. She'd like to create incentives for young people attending school in Vermont, possibly forgiving some of their student debt if they agreed to work for a set period within the state.
"I'm not quite ready to call for free college," Gray said, but she's close. "Let's support CCV and our state colleges and create real pathways for students and we will see the return on investment. It will pay for itself."
'Who's at the table?'
The fight for racial justice and an end to police brutality continues across the country, and Gray thinks Vermont needs to include the people most affected by racism and injustice in any discussion about how to address it.
"Ask ourselves every day, who's at the table," she said. "I think it's time to have more diversity in our decision-making."
Vermont needs to support and protect freedom of speech, but make it clear that there "is no room in our Vermont for bigotry or racism," she says.
Law and order are not enough, she said: "We need to ask is it legal, but also is it right? It's our job to move the law in the the direction of what is right."
Gray knows the ins and outs of Vermont's legal system, and she thinks a few clear steps can be taken to end police brutality and excessive use of force.
One step would be prosecuting any police officer who uses more force than is necessary. And, even if charges aren't filed, she thinks a criminal justice training council could review such cases and possibly revoke an officer's certifications.
"More openness and accountability, period," she said.
Gray thinks the state's use-of-force policies need to be reformed and body cameras should be worn at all times by all officers, but she also acknowledges that Vermont police officers are often dealing with situations that they aren't really equipped or trained for.
"We have police responding to serious mental health crisis without the proper tools or training," she said. They need help, she says.
Revamping agriculture
The pandemic has revealed cracks in Vermont's agricultural economy, as mainstays like large-scale dairy farms have been crippled by the impacts of the economic shutdown that accompanied COVID-19.
Gray thinks the state needs to focus on a more diverse agricultural economy, one that still includes dairy on a smaller scale but also emphasizes and focuses on Vermonters feeding Vermonters.
"Growing food for the community," she said. The number of people who have needed help feeding their families over the last few months draw a dramatic picture of Vermonters' real issues with food insecurity. Gray thinks local producers can help answer that call.
She thinks COVID-19 is just a warmup for the havoc that climate change will cause in the future, and has shown that "we can't rely on food coming from five or six time zones away."
"We need to grow food for Vermont in Vermont," Gray said.
Moving money around
Gray knows changes cost money, but she thinks money will be available. The pandemic, and state efforts to overcome it, are an opportunity to assess where money should be spent, and to invest it in the right places.
"We have an opportunity to align our budget with our greatest needs and also, in doing that, think about how we prepare for the future," Gray said. "To see a return on investment, we have to invest."
For example, "spend a little less on highways and we spend a little more on broadband," Gray said. Corrections would be one of her top choices for spending cuts.
"Bring home detainees being housed out of state," she said, and save up to $6 million that could then be invested in, say, child care.
"It's time to take a step back and look at our greatest needs, and then make sure that we are aligning our budget with those needs," she said.
A more resilient Vermont
Gray sees 2020 as a key moment in how Vermont's future will be shaped. With the right guidance and leadership, Vermont can become a more resilient and equitable place.
A lot of Vermonters have been left behind in recent decades, she said, with internet access as a prime example.
"As lieutenant governor. I'd want to focus on the very issues and needs that are going to make us more resilient and more viable for the future," Gray said.