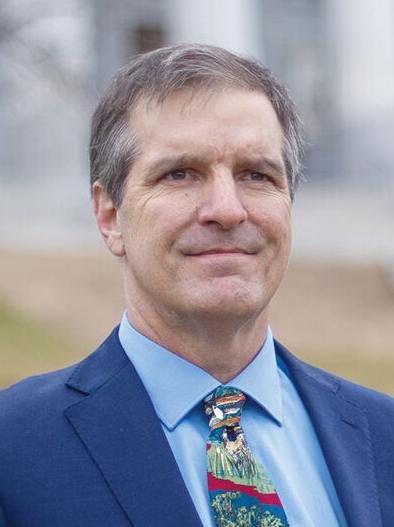 John Klar has been farming in Vermont since the late 1990s, and that influences plenty of the Republican gubernatorial candidate's positions.
In an interview with our news staff, Klar offered himself as the conservative counter to Phil Scott, saying many think the popular incumbent governor has moved too far to the left.
In something that might have been politically en vogue 20, 30, 40 years ago, Klar thinks farming should be prioritized as much as tourism. In a way, he says, the two are closely linked.
"To be dependent on tourism alone would be silly, and Vermonters would be abandoning their heritage and their experience, but moreover, they would lose their tourism," he said. "We need to understand how much our tourism is because we have cows and such."
Klar has a 14-page "farming manifesto" on his website, which he uses as jumping-off points for ancillary issues like environmental law, the property tax structure, the economy and education. It repeatedly uses the phrase "farms close, bureaucracy grows" — he also substitutes schools for farms in one passage.
He thinks farms have been unfairly targeted by clean water laws. While not a fan of "Big Dairy," he thinks large dairy farms were "the easiest fix" when it came to water pollution.
"Meanwhile, 60 percent of the runoff and pollution in our waters in this state are coming from Burlington, and urban and suburban runoff, which does not produce food."
He doesn't see hemp as the green gold rush that hundreds of farmers, and would-be farmers, did last year, jumping on that bandwagon and diluting the market.
"This was bound to happen," he said. "Everybody thought they were going to jump in and make a buck."
In essence, if you want to know what makes Klar tick, read his manifesto — klar2020.com/ Content/Pdf/2020-Vermont-Farming-Manifesto.pdf — which provides the farmer's tilth for many of his conservative political views. One of his main platforms, education, is in there. Better farms equal better communities, equal better local schools with greater autonomy — he's no fan of Act 46.
He also calls it "bizarre" that Vermont boasts a coffee industry when the beans can't be grown here. The ski resorts that draw so many visitors "defile rivers, consume power, and attract polluting visitors for a purely recreational 'industry.'"
He decries the "financial penalties on fixed-income natives" that go to fund solar panels, pellet stoves and electric vehicles from Japan.
"This farm plan reveals the folly of these shortsighted and hypocritical wealth transfers," he writes.
More conservative than Scott?
Klar questions Scott's conservative bona fides.
Even as one of the Democrats running for governor, Pat Winburn, tries to paint Scott with the same brush as Donald Trump — "I guess Mr. Winburn hasn't watched the news," Klar said — Klar called Scott the "walkaway from the Vermont Republicans."
"We've seen him walk further and further every couple of minutes, every time the wind blows a little bit," he said.
Klar had taken Scott to task for saying he wouldn't do any campaigning as long as the pandemic state of emergency was still in effect. Scott has since softened that stance, and agreed to at least two, maybe three debates ahead of the primary — including one last week hosted by Vermont Public Radio and PBS, in which the four Republicans who are not named Phil Scott took shots at the one who is.
"It's an absolutely specious argument that he doesn't have time, and he's proven it over and over by dropping everything to invest huge amounts of time in other issues as they come along," Klar said.
Scott also said he wouldn't work on campaign fundraising during the pandemic, and that has been mostly true; he's raised $8,000 since March, compared to the high six-figure sums he was raking in two years ago. Klar had, as of July 1, raised $28,000 and spent $17,000 of that.
Klar thinks its "disingenuous" for Scott to talk about robust fundraising in the primary, since he would likely save his spending for the general election anyway, assuming the power of incumbency.
"He spends that primary money against me, and he's actually going to educate Vermonters about my existence," he said. "Particularly, those who are disenchanted are going to run to find out who I am and what I represent, because they're looking for an alternative."
He also thinks $28,000 "is a fortune" in the campaign he's running. He said his is a "currency of ideas."
"I'm a really cheap, frugal Vermonter," he said. "I drive old vehicles till they're ready to die — I consider that to be very green, by the way."
Social issues
While some of Klar's conservative cred comes from his traditional farm-based conservationist leanings, some of it comes from his embrace of conservative issues, particularly racial equality and reproductive rights.
Early in July, after volunteers painted "BLACK LIVES MATTER" in yellow paint along State Street in Montpelier — right in front of the Capitol — Klar petitioned the city council to allow the words "Liberty and Justice for All" to be included in the mural. The council denied that petition.
Although Klar has insisted on the campaign that "all lives matter," when asked in a newspaper interview "do Black lives matter?" he said, "Of course."
"Black lives matter to me in a big way," he said. "I don't have to prove to anybody that I'm not a racist. If anybody knew how enriched my life has been from the diversity I've enjoyed."
He said state police officers he's talked to "scoff at the idea that they're targeting people," and he thinks police are pulling over people of color at the same percentage as their makeup of the Vermont population. He did, though, acknowledge that Black people's cars are searched more frequently, usually by police looking for drugs.
Klar was also pressed on his opinion about Planned Parenthood, based on a public-records request he made in May, asking Attorney General TJ Donovan's office for correspondence between the office and Planned Parenthood.
In a blog post on his campaign website, Klar said he was looking for correspondence "during crucial legislative wrangling over the passage of Vermont's notorious abortion law, H.57."
He spent $3,244 on the request, raised partly through crowdsourcing, with $861 coming from Vermont Right to Life, which Klar said also wanted to see the records.
Asked for his motivation, Klar said he was looking for "conflicts of interest." He said Donovan received an award from Planned Parenthood, and he had seen him in photo ops where "they just about hold him up as their movie star." He said "you could put it as a right-wing thing," and surmise it would be inappropriate to accept an award from the NRA, too.
Asked if he supports Planned Parenthood, Klar's answer was a simple "No." He said he supports sexual health, but opposes third-trimester abortions.
"That's what I believe is a bridge too far in Vermont," he said.